Embracing the primal wisdom that "you are what you eat", Hunter and Gather Foods reaffirms its commitment to impeccable nutrition with a compelling offer that health enthusiasts and ancestral diet followers won't want to miss. The company has announced an exclusive 20% discount on their acclaimed PERFORM Capsules, made from 100% grass-fed lamb liver and heart, by using the discount code GYMFLUENCERS.
PERFORM Capsules are the embodiment of nutritional excellence, crafted for those who seek to fuel their body with the purest of ingredients. Harvested from wild roaming lambs, these capsules contain a harmonious blend of 50% liver and 50% heart, offering a rich concentration of natural coenzymes, vitamins, and minerals.
No Compromise on Quality
In a market saturated with synthetic supplements, Hunter and Gather's PERFORM Capsules stand out with their unwavering dedication to quality. Free from sugar, bulkers, fillers, anti-caking agents, and silica, these capsules are an authentic source of nourishment for those on keto, paleo, low carb, dairy-free, sugar-free, gluten-free, and carnivore diets.
A Special Offer to Elevate Your Health
For a limited time, customers can harness the power of these nutrient-dense supplements at a fraction of the cost. With the exclusive discount code GYMFLUENCERS, wellness advocates can enjoy a 20% reduction in price. That's not all – Hunter and Gather are also offering free U.K. shipping on orders over £30, a 3% discount on additional purchases, a 5% savings on select bundles, and a complimentary gift to enrich your health journey.

Loyal Customers Share Their Experiences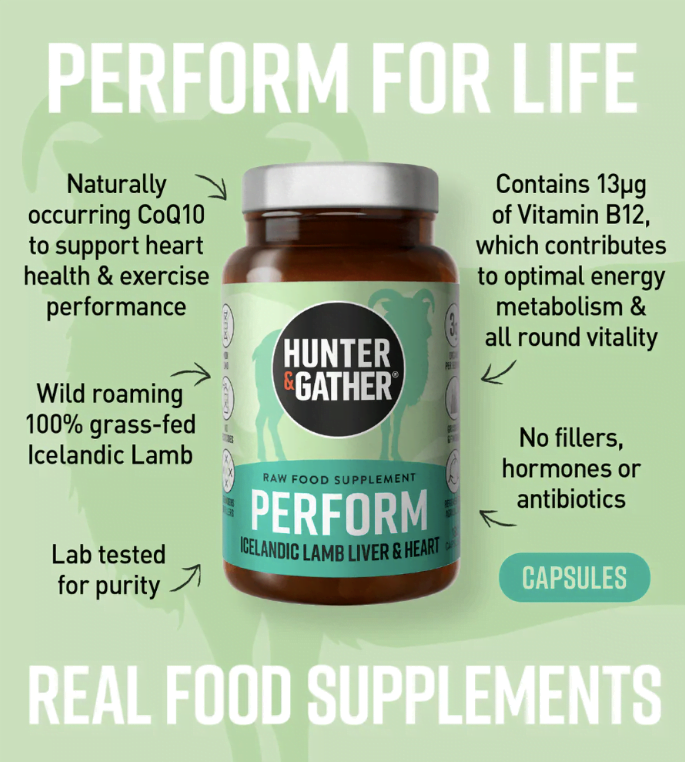 The effectiveness of PERFORM Capsules echoes through the testimonials of dedicated customers like Ximena de la Serna, an ancestral biohacking and metabolic health coach, and Kev Mason, a ketogenic health coach, who both cite the capsules as perfect complements to their dynamic lifestyles. Health coach Jack Graves has been recommending the product for over two years, while CrossFit coach Cara Lovett commends the absence of fillers, antibiotics, or hormones – a stark contrast to other supplements on the market.
Ease and Flexibility in Your Wellness Regime
Customers can choose between 90 or 180 gelatin capsules, with the added convenience of a subscription service that offers a 10% saving and delivery every four weeks. This hassle-free approach ensures that you never run out of your essential supplements, and with the flexibility to skip or cancel at any time, you maintain control over your health regimen.
A Company Rooted in Transparency and Education
Hunter and Gather not only provides top-tier products but also educates its consumers. Their website features a comprehensive "Learn" section filled with recipes, nutritional information, and the remarkable story behind the brand. Furthermore, customers can take an online quiz to receive personalized recommendations and read through an extensive list of FAQs for any additional support.
Don't Miss Out on This Opportunity
It's not just about the savings; it's about investing in a product that aligns with your health values. Seize this chance to infuse your body with the purity of nature's finest with Hunter and Gather's PERFORM Capsules. Visit their website to shop now and remember to apply the code GYMFLUENCERS at checkout for your exclusive 20% discount. Perform today, thrive for life.