A wise man once wrote, "As long as there's chocolate, there will be happiness." I'm sure many of you will agree with this statement to some extent, regardless of the fact that the diet industry has tried to demonize this delicious, sweet treat. Free Soul is claiming chocolate back by creating a more nutritious version of your favourite chocolate spread that'll satisfy that sweet tooth without all the sugar!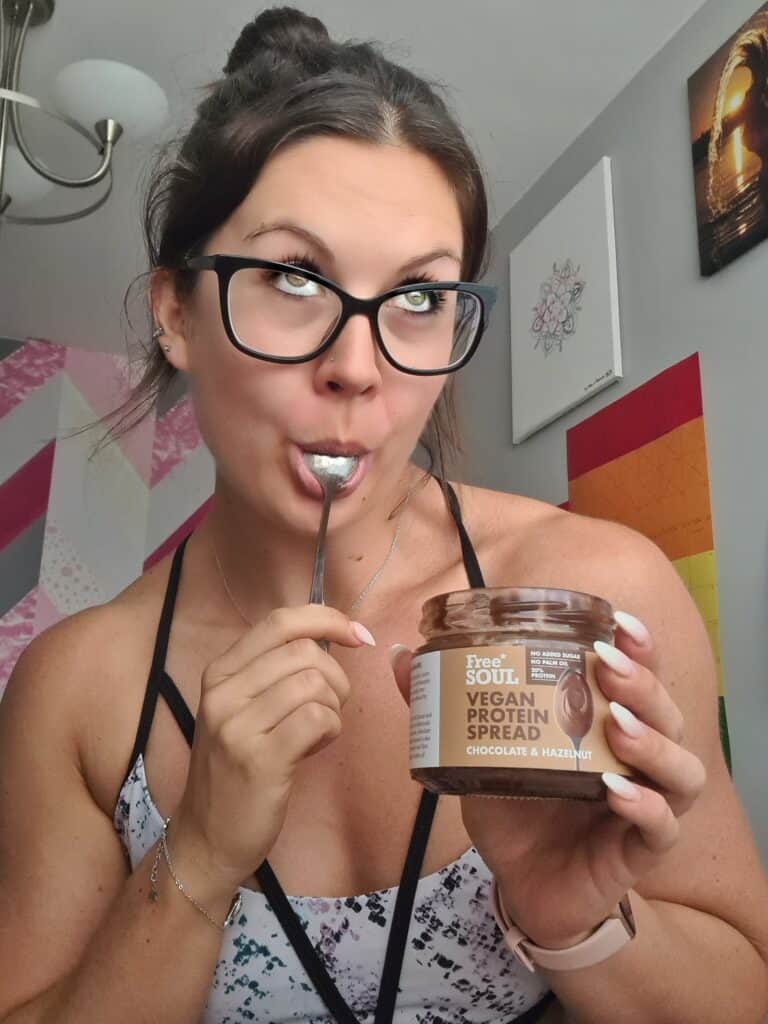 Free Soul is a brand that focuses its efforts and gears its products toward the unique needs of women. Whether you are looking to improve your nutrition, need healthier snack alternatives, or want to get your skin glowing, Free Soul, with the help of their fantastic nutritionists, have products that will be great for you.
Free Soul's Chocolate & Hazelnut Vegan protein Spread is just one of their fantastic products that'll get your mouth watering. It's creamy, deliciously decedent, and is also a great source of protein and fibre. This indulgent chocolate and crunchy hazelnut spread has zero added sugar, no palm oil, and is 20% protein, what's not to love about that?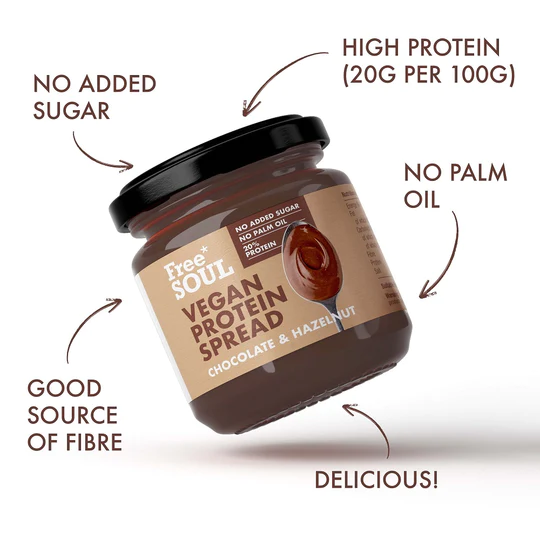 The website is super user-friendly and was easy to order my 250g jar of chocolatey goodness for just £7.99. They are also running a special where you can save 33% and only pay £15.99 for 3 jars. Shipping was quick and efficient which was ideal as I wanted to try this chocolate spread as soon as possible. The jar was delivered in rather a large box for its size but was well branded and all recyclable material.
Finally, the moment of truth. I grabbed a spoon, opened the jar, and scooped out a rather non-conservative helping of the creamy, dark brown, nutty spread. First examining it, seeing the tiny pieces of chopped-up hazelnut scattered throughout the spread, before raising the spoon to my lips and tasting it. I expected a full-blown sweetness attack but was pleasantly and blissfully surprised by the rich dark chocolatey flavour. Free Soul's spread doesn't have the artificial flavour that many of the other chocolate spreads have but actually tastes like dark chocolate has been melted into the jar with raw hazelnuts chopped up and sprinkled in. All I can say is it's absolutely delicious!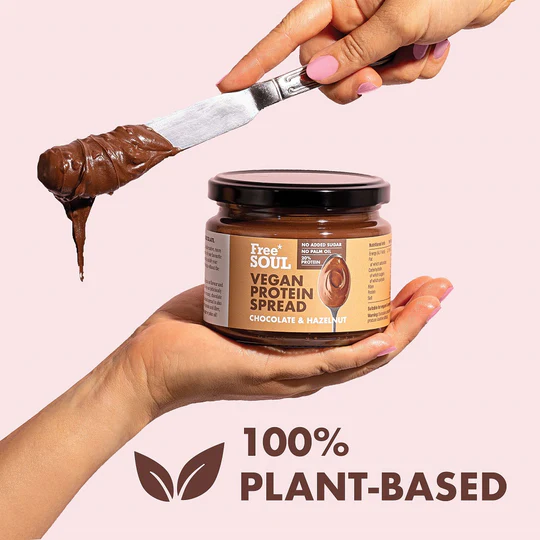 If you have been looking for a delicious little treat to incorporate into your diet, I'd say look no further than this! It's easy to spread, mouth-wateringly yummy and is Vegan!
For those of you who are nutritionally/macro-minded, here is a breakdown of what goes into Free Soul's Chocolate & Hazelnut Vegan Protein Spread:
| | | |
| --- | --- | --- |
| Nutritional Info. | Per 100g | Per 5g Serving |
| Energy (kJ/kcal) | 2,186/528 | 109/26 |
| Fat | 40g | 2g |
| of which saturates | 9g | 0.4g |
| Carbohydrates | 33g | 1.7g |
| of which sugars | 0.1g | 0g |
| Fibre | 4.4g | 0.2g |
| Protein | 19g | 1g |
| Salt | 0.59g | 0.03g |
Use code GF15 for 15% off Here.