As a coffee lover, a cup of coffee is usually the motivation to leave the comfort of my bed every morning and start my day. With a can of ready-to-drink coffee in my hands and the smell of coffee assailing my senses, I can take on whatever the day throws at me. And I in no way mean an overpriced cup of Starbucks coffee; a can of Impact Coffee offers more for less.
Since discovering Impact coffee, it has become a staple in my morning routine. Delivering long-lasting energy without the crash, Impact Coffee is the UK's number one cold brew caffe latte. Made from delicious oat milk, this coffee is specially made to produce uninterrupted mental focus all day.
Long day ahead, and need all the energy you can get without the jitters? Let's show you why you should choose Impact Coffee.
Fuels the Brain
Tired of the mid-day slump hindering your productivity? Get your brain fired up with Impact Coffee. Infused with nootropics, which are known to sharpen your mental focus, improve productivity and keep grogginess away, Impact Coffee is the ideal brain fuel. 
Students prepping for exams can pop a can of this amazing coffee to help them study smarter. With Impact Coffee, you can fuel your focus and achieve outstanding results.
Long-Lasting Energy
The energy you get from your regular coffee is bound to fizzle out after a few hours, leaving you drained. If you want energy that lasts the entire day, ditch your old coffee for Impact Coffee.
Impact Coffee delivers the right amount of energy to last you the entire day. Whether it's smashing your goals at the gym or late-night grinds, Impact Coffee is your best bet.
Zero Jitters
Life can be demanding, and stress can creep in when we least expect it. That's where Impact Coffee comes to the rescue. Say goodbye to jitters and anxiety with every sip, and welcome a newfound sense of calm into your life. Impact Coffee is your secret weapon against nervousness.
Whether it's the pressure of a busy workday, an important presentation, or the daily hustle and bustle, Impact Coffee's got you covered. Each can of Impact Coffee is brewed to deliver a lasting, soothing experience.

Delicious Taste
Rather than spend big bucks on expensive coffee with a bland taste, the Impact Coffee cold brew latte has a delicious mocha taste. Not only does it taste exactly like mocha coffee, it doesn't give you bad coffee breath. Trust me, your palate would love Impact Coffee.
What's In It?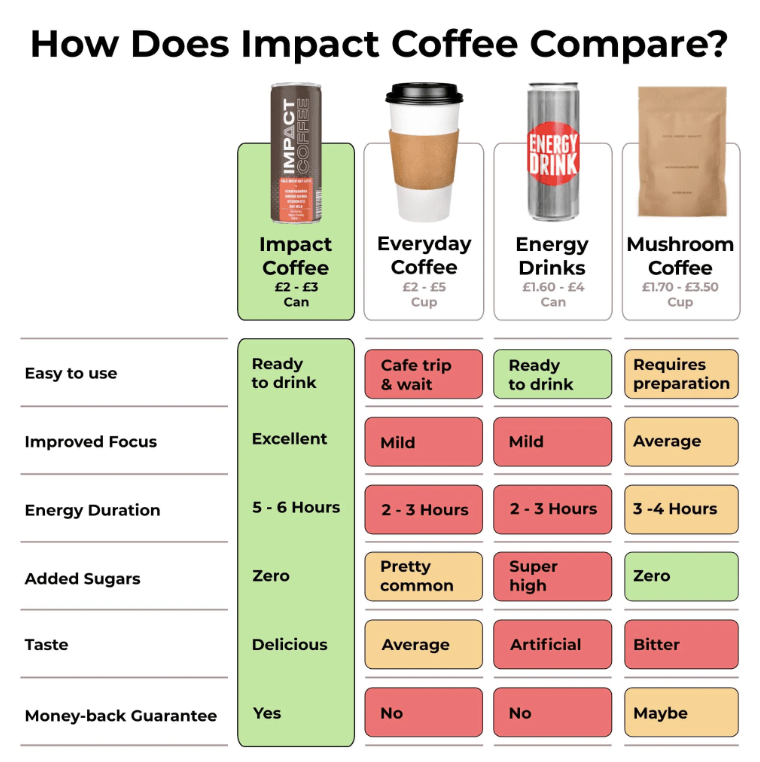 Impact Coffee is gluten, dairy, and soy-free, ideal for vegans, delivering premium quality without compromising your diet. It contains zero sugar and preservatives, allowing you to indulge in its sweetness with zero guilt.
With only 91 calories per can, here's a breakdown of Impact Coffee's healthy ingredients and benefits.
Oat extract: Oat extract is high in zinc, iron, and manganese, offering benefits such as improved brain health and reduced susceptibility to stress.
Arabica coffee: Arabica coffee is rich in phytonutrients and plant-based antioxidants that have special anti-inflammatory properties. It also provides a great energy boost because of its caffeine retention capacity. It is an excellent source of electrolytes, minerals, and vitamins which maintain your heart health and youthfulness.
Vitamin B12: Vitamin B12 is vital for good nervous and blood health. It keeps blood cells and nerve cells healthy by functioning as a cofactor in DNA synthesis while preventing the occurrence of anemia. It also helps to promote amino acid and fatty acid metabolism.
Ginkgo biloba extract: This has several therapeutic properties. Ginkgo biloba extract provides a therapeutic remedy for blood disorders and memory problems. It improves eye health and also enhances cardiovascular function.
Final Verdict
Impact Coffee isn't your regular coffee. This perfect blend of nootropics, Vitamin B12 and oats extract doesn't just provide a momentary respite; it offers a sustained sense of relaxation and energy. With Impact Coffee, you can stay zen for hours on end, making it the ideal companion for a demanding day.
Why let stress hold you back? Elevate your daily routine with a can of Impact Coffee. Head to the website and order yourself a pack today.