No. 1 Living was founded by England rugby legend Jonny Wilkinson back in 2018. Jonny had spent a lot of time working through mental health issues at the height of his success, and he was looking for ways to support his overall health in a holistic way.
His wife was also training to become a nutritionist at the time, and between them started learning more and more about the role of bacteria in the gut and how fermented foods can help our bodies and minds. Jonny discovered a real passion for living foods and the role that they can play in keeping us healthy both physically and mentally.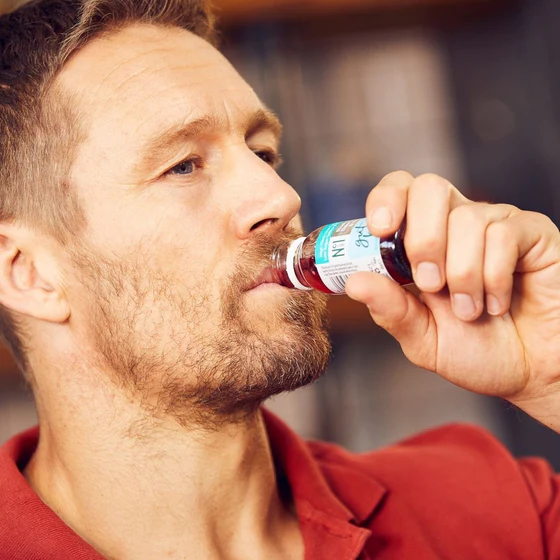 He developed No.1 as a way to try and help other people enjoy life through good health and well-being, after realising that the quality of the foods and drinks we consume can have a huge impact on how much we get out of our lives.
No.1 produces kombucha, water kefir, and health shots that have all been developed with gut-friendly live cultures to promote overall good health.
Kombucha in particular is a great, tasty way to get started with improving your gut health.
What is kombucha?
If you've not heard of it before, kombucha is a fizzy, fermented, sweetened tea. It's made by mixing sweetened tea with a culture of bacteria and yeast (known as a SCOBY). The mixture is left for at least a week for the bacteria and yeast to convert the sugar in the tea into ethanol and acetic acid.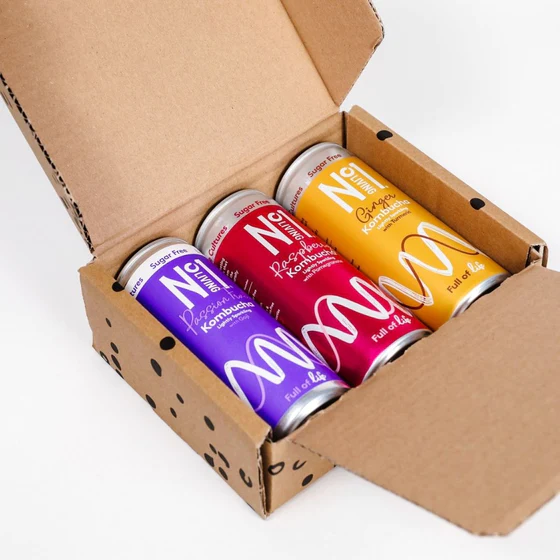 No.1 then uses stevia to sweeten their kombucha and then infuse it with natural fruit flavours.
The ethanol that's created in kombucha adds to the flavour of the drink but is there in such small amounts that it's still classed as non-alcoholic, so it's safe for everyone to drink.
And the acetic acid that's created in the fermenting process is what gives kombucha a distinctive sour taste.
What's special about No.1 Living kombucha?
There are lots of brands out there making kombucha now, so what makes No. 1 different?
Well, it's authentically brewed using naturally sourced ingredients, flavours and colourings, so there are no nasties in there.
Everything about No.1 is set up to be eco-friendly, from the ingredients to the packaging, which No.1 has worked hard to ensure is infinitely recyclable.

No.1 kombucha is also sugar-free, dairy-free, gluten-free and vegan so everyone can enjoy it. And once you try it, you really will enjoy it. The unique flavour of kombucha is like nothing else you've tried before – it's complex and tart, but balanced out with natural fragrance and sweetness from the added fruits.
No. 1 kombucha comes in 3 flavours; ginger, raspberry, and passion fruit. The raspberry and passion fruit flavours have that classic mix of tart and sweet notes, while the ginger kombucha has a fiery edge that gives it a great little kick.
The drinks are available in 250ml cans and 275ml bottles and you can save at least 15% on every order if you set up a subscription to have some delivered to your door regularly.
What are the benefits of drinking kombucha?
The main benefits of drinking kombucha are thanks to the probiotics, antioxidants, and vitamins that it contains.
The probiotics work to balance out the bacteria in your gut, which helps to improve digestion and is also thought to help with a whole range of other health issues, including mental health concerns.
Antioxidants in kombucha help fight the oxidative damage caused by free radicals, and the vitamins work to support your immune system and keep you fit and well.
And at under 15 calories per drink, it's a great option if you're trying to lower your calorie intake and lose weight. So, if you're looking to improve your gut health or just fancy a healthier alternative to your normal fizzy drinks, then No.1 kombucha is well worth a try.
Discount
Use our No.1 Living Discount Code GF15 to save 15% off all purchases