I don't think you need me to tell you that staying hydrated is not only crucial for sports performance but also for maintaining your existence on this planet.
That said, many of us still fall way short of the recommended 2 litres of water daily. Come to think of it, when was the last time you actually tracked how much water you were drinking?
I can guarantee that if you sit and have a proper think about it, a good portion of you reading this article will barely make it to 1 litre on a standard weekday.
Water is our lifeblood. In fact, it makes up around 60% of our body and performs endless crucial functions such as regulating body temperature, keeping joints lubricated, preventing infections, delivering nutrients to cells, and keeping organs functioning properly.
So, if you're looking to bump your hydration up your list of priorities then I'd recommend that you try Jungle Culture's Reusable Stainless Steel Water Bottle. 
I did, and it completely changed the game for me, and here's why I think it can do the same for you too.
An Important Message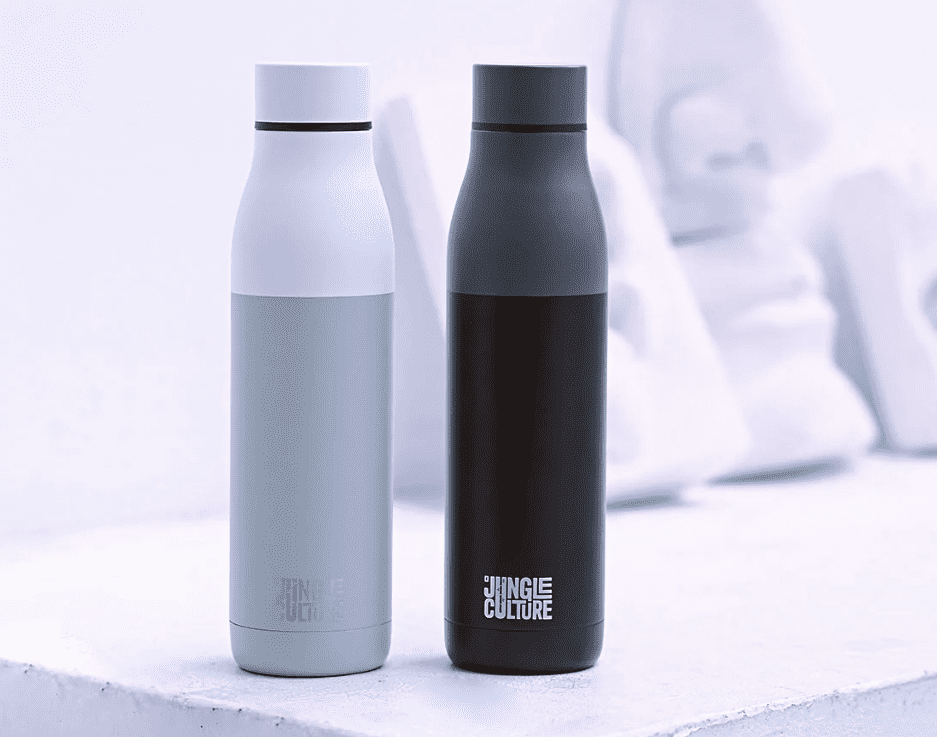 Before we take a look at the bottle itself, let's first look at the creator. While my initial preamble focussed mostly on your health, there's also another important aspect to this – the health of the planet.
Jungle Culture was originally conceived to remedy the damage a single straw can do to our environment. Currently, it says, 500 million plastic straws are discarded each year. 
Each of those straws can take 200 years to break down, and will still exist as microparticle plastics. So, its first action to tackle our throwaway culture was to produce ethically sourced, reusable drinking straws made from the lungs of the East, bamboo.
Since then, it has expanded its earth-friendly offerings in collaboration with small farms, craft workshops and ethical factories. Its transparent supply chain is focused on lowering waste whilst empowering small manufacturers and poverty-stricken communities around the world.
Jungle Culture Reusable Stainless Steel Water Bottle
That brings us to the bottle itself. Not only does it prevent multiple bottles from heading to landfill, but it also saves you money along the way. I believe that's what they call a win-win. But the fact it's easy on the environment isn't the only attraction.
Jungle Culture's uniquely designed range of two-tone metal reusable water bottles are vacuum insulated and double-walled to keep liquids cold for 24 hours or hot for 12 hours.
It uses professional grade 304 stainless steel to ensure that your eco flasks last a lifetime, remain rust-resistant and stay leak-proof. In fact, the brand is so confident in its bottle's quality that it offers a lifetime guarantee on all reusable stainless steel water bottles.
The bottles have a capacity of 650ml, which means fewer trips to the tap and are made with an airtight lid, so no spills, and no leaks.
Available in black or white and finished with Jungle Culture's stylish design, these bottles aren't too bad on the eye, either.
The Review 
I've owned reusable water bottles in the past and my main issue with them has been the retention of nasty tastes and smells. However, Jungle Culture's commercial kitchen quality materials ensure these bottles don't retain any lasting taste from whatever you've had in there before which, in my case, was usually flavoured rehydration tablets.
I know it's strange to say but I've become strangely attached to this bottle. I'm ashamed to say I've gone a long time without having a reusable water bottle, but now I couldn't live without one.
Plus, after a tough workout, it was always comforting to know I'd have ice-cool water at the ready to cool me down, even if the bottle had been cooking in my bag for the whole day. I even loved the packaging it came in. It's the little things in life, isn't it?
For me, this bottle is absolutely essential. Not only does it encourage you to drink more water, but you know your money is supporting less fortunate communities around the globe.
Speaking of money, this bottle costs just £24.99. Think how quickly you'd rack that up by buying plastic water bottles that you either throw away or lose.
Do yourself a favour and head over to Jungle Culture's website and grab yourself one today.
If you'd like to explore more eco freindly drinking water options, check out our post on Virgin Pure Smart Water Systems.