In the quest for optimal health and well-being, Hunter & Gather Foods has set a new standard with their latest product – PERFORM Capsules, crafted from 100% grass-fed lamb liver and heart. As part of their dedication to enhancing life through nutrition, these capsules are a testament to the company's commitment to quality and purity in health supplements.
Harness the Ancestral Wisdom with Hunter & Gather PERFORM Capsules
Adhering to ancestral dietary principles, Hunter & Gather's PERFORM Capsules are a perfect blend of nature's multivitamins. Sourced from wild roaming lambs, the liver and heart used in these supplements are rich in essential nutrients, supporting a range of bodily functions from metabolic health to muscle maintenance.
A Cut Above the Rest: No Compromise on Quality
Where most supplements fall short, PERFORM Capsules excel. They are free from synthetic additives, sugars, bulking agents, anti-caking elements, silica, GMOs, and antibiotics. The capsules are keto, paleo, low-carb, dairy-free, sugar-free, gluten-free, and carnivore-friendly, ensuring that they cater to a wide array of dietary preferences and requirements.

Customer Testimonials: A Staple for Health Enthusiasts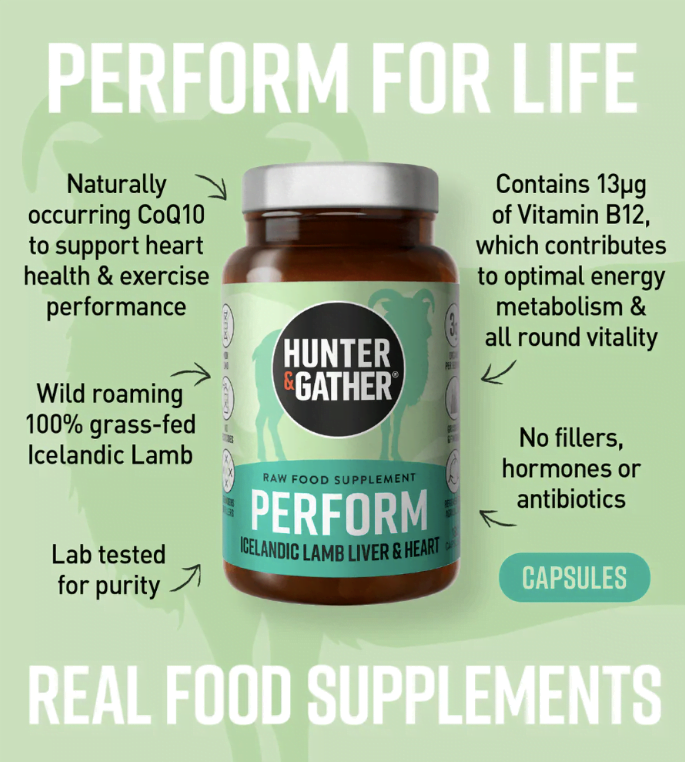 Endorsed by health experts and fitness coaches, Hunter & Gather's organ capsules have received rave reviews. Metabolic Health Coach Ximena de la Serna calls them "a staple in my home," while Ketogenic Health Coach Kev Mason lauds them for being "perfect for my busy lifestyle." Customers have noted the capsules' ease of use and their integral role in a healthy life.
Special Offer: Your Path to Wellness Made Affordable
Embracing the power of these nutrient-packed capsules is now easier than ever. Hunter & Gather is offering a 20% discount with the code GYMFLUENCERS, along with perks such as free U.K. shipping on orders over £30 GBP, a 3% loyalty reward, and even a free gift to sweeten the deal. The company encourages a subscription model, which offers a convenient 10% discount on scheduled deliveries, simplifying the path to consistent wellness.
Nutritional Excellence Delivered
Every bottle of PERFORM Capsules contains the freeze-dried goodness of lamb organs, locking in all the natural nutrients without the need for preservatives. The company's dedication to transparency and quality is further highlighted in their recyclable packaging, BPA-free bottles, and commitment to environmental sustainability.
Join the Health Revolution
Customers seeking a trustworthy health supplement can now rely on the authenticity and efficacy of Hunter & Gather's PERFORM Capsules. The brand's entire range of products, which includes mayos, oils, and other supplements, is designed to support a healthy and active lifestyle. Visit the Hunter and Gather website here now to shop.