When you're hitting the gym hard there are bound to be times when you really feel it the next day, even if you make sure to stretch out properly after your workout. This soreness is known as Delayed Onset Muscle Soreness (DOMS) and it tends to kick in around 24 hours after you've been lifting heavy or pushing yourself hard in the gym.
Most people tackle DOMS with warm baths and gentle exercise but we've found something that can help you recover better than ever – Mighty Green CBD Muscle Balm. We also found a mighty green discount code that gets you 10% of your purchase if you use "Gymfluencers" on checkout.
Mighty Green
Mighty Green are a health and wellness brand made up of a team of medical and wellness professionals to help you achieve a sense of balance and all round health in your life. Their products are all high-quality and plant-based, with a real focus on natural ingredients.
They're also on a bit of a mission to make CBD accessible to as many people as possible and also to share the latest research on it with the health and wellness community.
The power of Mighty Green CBD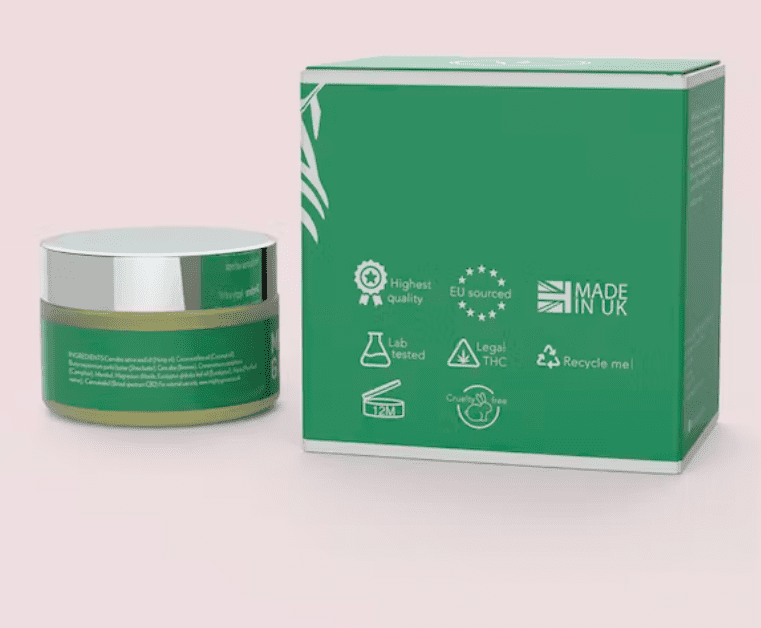 People use CBD to help with all sorts of things from anxiety and depression to sleep issues and pain, thanks to the calming effect it has on the mind and body. You can find it mixed with foods and drinks,in the form of tinctures and oils, and included in body products like creams and balms.
Mighty Green's range of CBD products includes relaxing, pampering products like bath bombs and massage oil, and pure CBD for promoting a real sense of calm and quiet.
The product we're super excited about though is the Mighty Green CBD muscle balm which is a real powerhouse of a product for soothing sore muscles, relaxing tired bodies, and helping you recover better than ever before after hard workouts and tough gym sessions.
Mighty Green CBD Muscle Balm
This gorgeous balm combines CBD with Magnesium, Eucalyptus, and Menthol to soothe aches and pains in the most natural way possible.
Magnesium is a well known anti-inflammatory that's brilliant for athletes to use after exercise to reduce swelling, ease joint pain, and soothe muscles. Basically speaking, magnesium helps muscles go from a contracted to a relaxed state, which is key after pushing their limits in the gym.
The addition of eucalyptus and menthol makes the balm cooling on the skin which is so lovely when you're stiff and sore, and the scent is also calming and soothing which helps you relax as you apply it.
How to Use Mighty Green CBD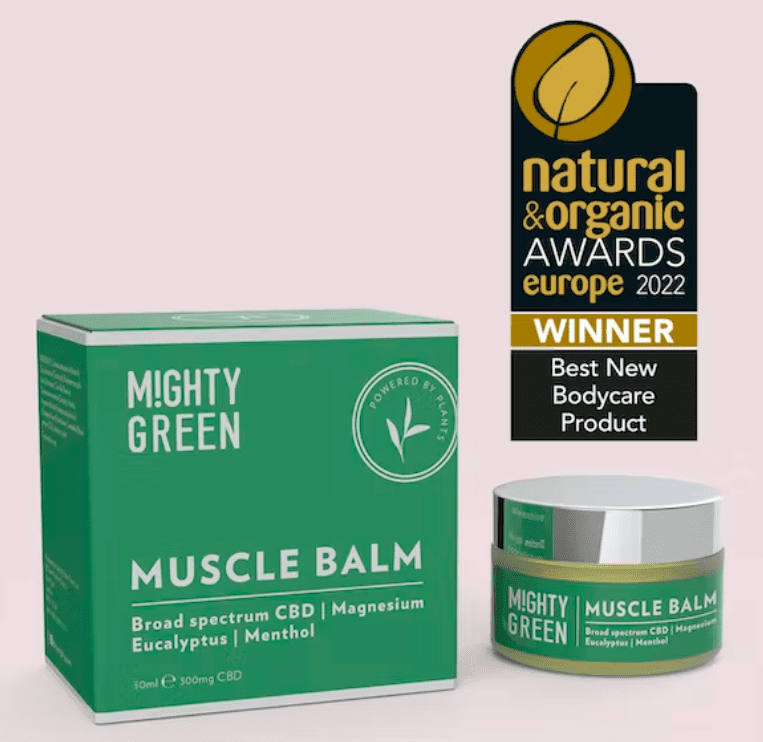 Mighty Green muscle balm is incredibly easy to use; you just pop a small amount onto your fingertips and gently rub it into any sore spots for a few minutes. After about 20 minutes you'll start to feel the relaxing effects kick in as the CBD and magnesium get to work soothing away the soreness.
You can use the balm as and when you feel you need it, for post-workout pains, pulled muscles, or any time you just feel you've overdone it a bit and are holding tension in your body.
We love the fact that the muscle balm is non-greasy and absorbs really easily into the skin, but it's also incredibly nourishing thanks to the combination of hemp seed oil, shea butter, and beeswax in the formula.
This little wonder balm really is the perfect thing to have on hand to soothe any aches and pains. It smells amazing, is lovely and relaxing to use, and has been scientifically formulated in collaboration with medical professionals so you know it's the real deal.
Getting Mighty Green CBD
A 30ml jar of Mighty Green Muscle Balm is £25 and is perfect for popping in your gym bag for on-the-go recovery, while the 100ml jar is even better value at just £35 and is great to keep on hand at home for any time you need to relax stiff, tired muscles.
Whichever size jar you decide to go for you can get 10% off the price by using our discount code 'Gymfluencers' at the online checkout. Visit the Mighty Green website now to shop.
Before you go, check out other CBD sports aid, like Incredible For Sport and Provacan.