In an exciting announcement for wellness enthusiasts, Hunter & Gather is now offering a fantastic opportunity to boost your health regimen with its premium Bovine Collagen at a significant discount. Get ready to rejuvenate your skin, hair, nails, and joints with nature's high-quality protein, and for a limited time, save 20% on your purchase with the exclusive code GYMFLUENCERS.
Why Collagen?
Collagen is the protein that keeps our skin elastic, our joints moving smoothly, and our gut health optimal. Hunter & Gather's Collagen Peptides Bovine Protein Powder is sourced from grass-fed EU cattle, ensuring that you're getting the best quality product without contributing to deforestation. With 13,000 mg of hydrolysed collagen peptides per serving, this supplement is perfect for anyone following keto, paleo, low-carb, dairy-free, sugar-free, gluten-free, or carnivore diets.
Sustainability Meets Wellness
The Collagen Peptides Bovine Protein Powder not only supports your health but also the environment with its 100% recyclable resealable pouch. Hunter & Gather takes pride in offering a product that is forest-friendly and sourced responsibly.

What's the Deal?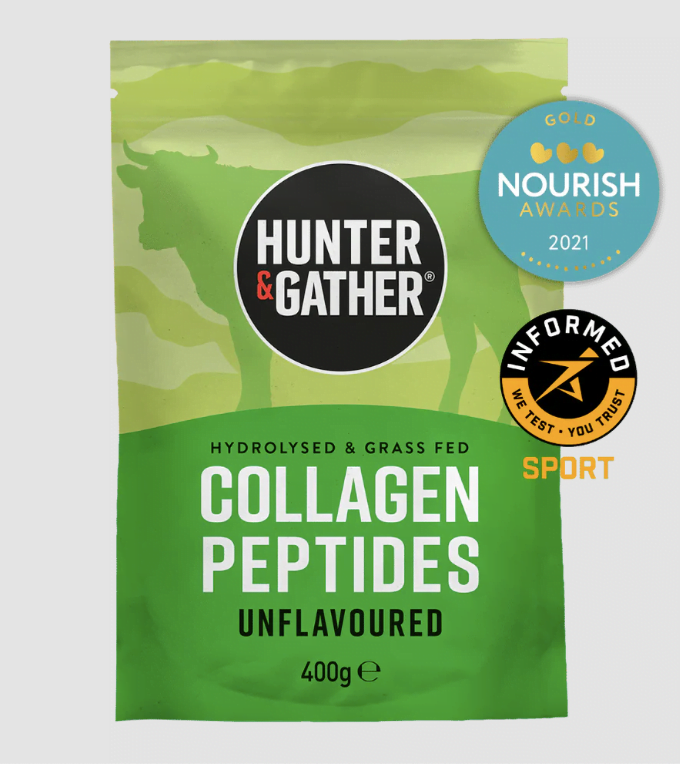 Here's the scoop – Hunter & Gather is offering a seamless blend of quality and value with their Bovine Collagen. Usually priced at £28, it can now be snagged for just £25.20 with the one-time order option. Better yet, subscribe and save 10% more, with the flexibility to skip or cancel anytime.
Rave Reviews and Real Results
Customers like Amanda from Helston and Louise from High Wycombe rave about the improvements they've noticed in their skin, hair, and nails, not to mention the seamless addition of the tasteless powder to their daily coffee. With a nearly perfect average rating based on 1,347 reviews, it's clear that this is a beloved staple in many health-conscious consumers' lives.
Your Health Journey, Supported
Whether you're a seasoned gym-goer or starting a new health journey, Hunter & Gather's Collagen is designed to support your progress. With free U.K. shipping on orders over £30 and additional savings up to 10% with bundles, it's never been easier to invest in your health.
Take Advantage Today
To redeem your 20% off, enter the Hunter & Gather discount code GYMFLUENCERS at checkout and join the multitude of satisfied customers who have made Hunter & Gather Collagen a non-negotiable part of their wellness routine. But hurry – your body and savings await, and offers like this won't last forever!
Shop now, transform your health, and thrive with Hunter & Gather. Visit the website here now to shop.