Maintaining healthy eating habits, especially if you love fitness or desire a healthy lifestyle, is challenging. Chances are, you've experienced the struggle of staying consistent with your healthy diet. Time constraints, laziness, and the temptation of unhealthy fast food can discourage anyone from maintaining a healthy diet. That's where meal-prep services come in handy, and Scoff Meals is one that you need to try.
Scoff Meals is a meal prep service that takes the guesswork out of meal planning and preparation. With their pre-packaged, chef-prepared meals, Scoff Meals aims to make healthy eating effortless and enjoyable.
Are you tired of bland meal preps that leave your taste buds unimpressed? Well, let me tell you why I love Scoff Meals. Before we jump into all that, you should know that you can get the meals off Scoff Meals for 30% off with our Scoff Meals discount code, GF30SCOFF.
Customisable and Extensive Meal Plan
With Scoff Meals, you never have to run out of options. From Korean to Thai and classic favourites, there's always something new and exciting to try. Customers can select from a range of meals, including snacks, which can be customised based on quantity and caloric intake.
Similarly, whether you want to lose weight, build muscle or restrict to a specific diet, like keto or vegan, Scoff Meals has the perfect meal plan that caters to your nutritional needs. This attention to dietary needs sets them apart, with the level of flexibility being a game-changer for people with specific food allergies.
Quality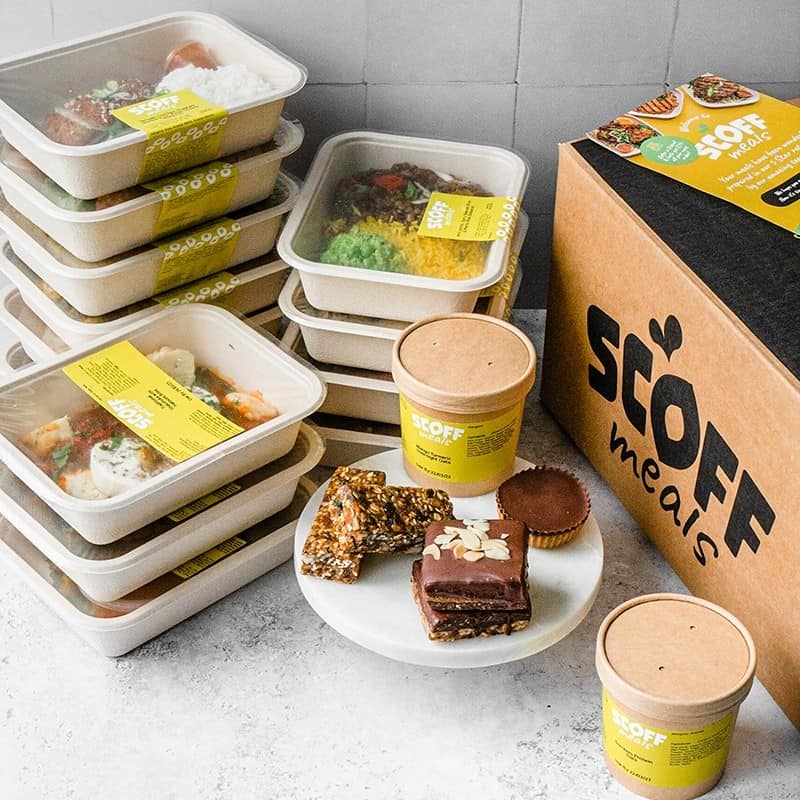 One of the most impressive aspects of Scoff Meals is the quality of the food without compromising on taste. Scoff Meals sources fresh produce to ensure each dish is packed with flavour and vital nutrients. Their dedication to using natural, minimally processed ingredients sets them apart from other meal prep services.
Each meal is carefully crafted by culinary experts who understand the importance of balancing taste and nutrition. Whether it's Chicken Caesar Kale salad or Beef Bolognese, Scoff Meals consistently delivers on flavour and quality. Likewise, the nutritional information, including calorie counts and macronutrient is available on the website before you place your order.

Pricing and Value for Money
When considering any meal prep service, it's essential to evaluate the value for money. Unsurprisingly, Scoff Meals strikes a good balance between quality and affordability. While it may be slightly pricier than cooking your meals from scratch, the convenience, customisation, and high-quality ingredients justify the cost. The time saved, and the reduction in food waste also contribute to the overall value of the service.
Furthermore, Scoff Meals offers various meal plans and subscription options to suit different budgets and lifestyles. However, you can't order less than six meals.
With flexible options to accommodate your needs, you can get meals for an entire week or just a few days. This way, you can find the perfect balance between keeping your wallet happy and your body healthy.
Convenience and Delivery
One of the most significant advantages of Scoff Meals is the unparalleled convenience it offers. With their meal delivery service, you can say goodbye to time-consuming trips to the grocery store and stressful meal preparation. Scoff Meals takes care of everything, from planning and cooking to packaging and delivery. Also, you get free delivery if your order is above £100.
Another impressive feature of Scoff Meals is its packaging. The meals come in neatly packed eco-friendly containers that are microwavable and simple to store. With this, the brand not only helps customers make conscious decisions about their meals but also reduces waste and supports a healthy planet.
Scoff Meals understands the importance of convenience in today's busy lifestyles, and they have streamlined the meal prep process to make healthy eating more accessible than ever before.
Bottom Line
Scoff Meals is a fantastic meal prep service that provides healthy and nutritious meals. The food quality, customisation options, and packaging make it stand out from the competition. The ease of subscribing and delivery is a massive advantage for busy individuals or anyone looking to achieve specific health or fitness goals. With Scoff Meals, healthy eating has never been more convenient and enjoyable.
But don't just take my word for it – try Scoff Meals for yourself and enjoy a 30% discount using the code GF30SCOFF. With Scoff Meals, healthy eating has never been more accessible or enjoyable! Order now on the Scoff Meal website.