It's an irrefutable truth that the digital landscape has transformed nearly every facet of our lives, including fitness. The phenomenon of online fitness coaching has surged, reinventing the way individuals engage with their health goals. However, the life of an online fitness coach is far from a breezy stroll in the park. With challenges such as time management, personalised nutrition plans, and the quest to keep clients engaged and satisfied, the task becomes daunting. It's a rewarding job, yet demanding in its unique way. But, guess what? A beacon of hope has emerged on the horizon, destined to streamline the online coaching game forever—Weekmeals.
Weekmeals has arrived on the scene, promising to infuse ease, efficiency, and innovation into the fitness coaching realm. Long hours hunched over spreadsheets, meticulously crafting personalised nutritional plans? That's now a relic of the past. The new era ushers in a service that optimises the process, putting control back into the hands of clients while still adhering to their personalised diet plans.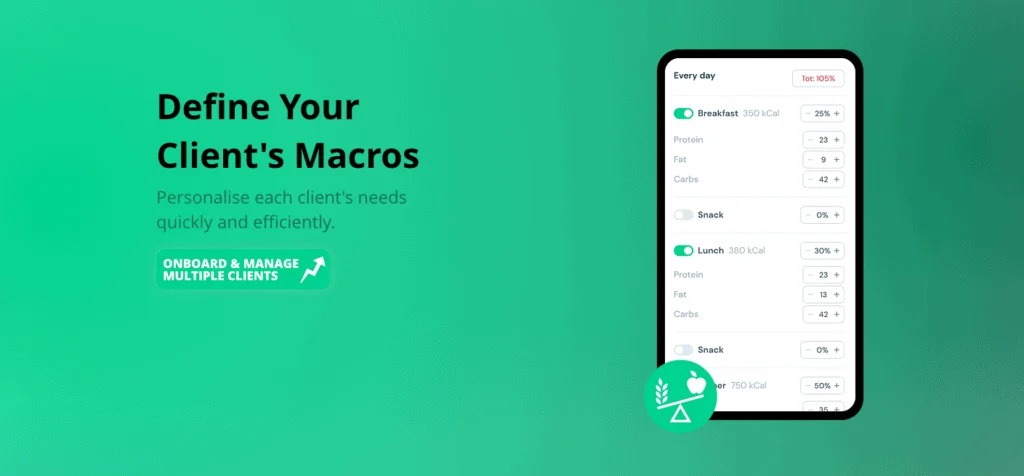 What sets Weekmeals apart is its extensive database of over 450 healthy and tasty recipes, carefully curated to tantalise taste buds. With this diverse selection, clients can satisfy cravings while staying on track with their health goals—a combination that's as rare as it is appealing.
The genius of Weekmeals lies in its simplicity. As an online coach, you set up profiles for your clients—inputting essential data such as their weight, body fat percentage, and activity level. This detailed information forms the basis for defining their macro-nutrient requirements. The intuitive app will suggest macros based on these inputs and the clients' goals, but the power of ultimate fine-tuning remains in your capable hands. This power extends to determining how macros are divided among meals, providing an additional level of customisation.

Upon setting these parameters, the baton is then passed on to the clients. They can sign into the app and simply pick meals that correspond with the pre-set values. No more guesswork, no more tedious calculations—just pure, unadulterated choice of delicious and nutritious meals.
But it doesn't stop there. Weekmeals takes convenience to the next level by generating an online grocery list tailored to the chosen meals. This ensures clients know exactly what they need to buy, reducing waste and promoting efficiency. This feature offers a dual benefit—it not only saves you valuable time as a coach, but also empowers your clients, leading to better results and greater satisfaction.
Branding is an integral aspect of running a successful online coaching business. Recognising this, Weekmeals offers a feature allowing you to personalise the app with your logo and colour theme. This option enhances your professional image and helps clients feel more connected to your brand.
For anyone yet to hop on board the Weekmeals revolution, there's an enticing incentive. The platform is offering a £50 Amazon voucher for new customers. It's an excellent opportunity to enhance your nutrition plans and simultaneously enjoy a generous reward.
In the dynamic world of online fitness coaching, adaptability is key. Weekmeals presents a brilliant solution that bridges the gap between simplicity and personalisation—making life easier for coaches while giving clients control over their nutritional journey.
With Weekmeals, we can finally say goodbye to laborious spreadsheets and hello to a seamless, efficient, and rewarding coaching experience. It's not just an evolution; it's a revolution that's here to redefine the online coaching game forever. To embark on this transformational journey, head over to the Weekmeals website today. Your reward awaits.