The Top 3 best high impact sports bras is a list every gym going woman has been searching the internet for, desperately trying to find a sports bra that actually works and delivers everything you need. Style, functionality and pricing are all important but what matters most is will the sports bra actually support you during big gym sessions. We found out!
Top functionalities for women's sports bras includes:
Breast support.
Sweat resistant.
Stretch.
Sports bras are needed for all forms of exercise including cardio, low-intensity and high-intensity workouts and lifting. Women can also wear sports bras as a fashion statement or at home for comfort. The best material for sports bras are nylon, spandex and polyester or even blends of all the above. This will give you a longer lasting, easier cleaning and better quality garment.
With so many gym wear companies such as Nike, Gymshark, Simply Be, Sweaty Betty, Sports Shoes, Pour Moi, Ryderwear and Bravissimo it has been a tough gig to find the Top 3 Best High Impact Sports Bras You Need but we believe we have done it.
Top 3 Best High Impact Sports Bras
Nike Alpha UltraBeathe Sports Bra
SQUATWOLF wonder woman straps Sports Bra
Under Armour Seamless Low Long Sports Bra
Number One
Nike offer a high impact sports bra for a £49.95 and available in black and black/dark smoke grey. The Nike Alpha UltraBreathe sports bra is our top pick and one you need to take notice of. Not only is it made by the biggest sportswear company in the world but it's made to support women in every high impact activity they can think of thanks to it's design and material.
Nike Alpha UltraBreathe Sports Bra is the highest level of support which is guaranteed to dry fact, keep you comfortable and let you focus on what exercise you are doing and not if your sports bra is riding up between sets. Featuring an overlay on the chest which minimises bounce and prevents spillage it adds an extra level of security and support for your breasts.

The Nike Alpha UltraBreathe sports bra is available in sizes XS, S, M, L, XL and 2XL which should fit all shapes and sizes. Their thorough sizing guide on their website will keep you in check.
Rated 4.2/5 stars on their website you will constantly read reviews on how supportive and easy to wash throughout.
Number Two
The SQUATWOLF wonder woman straps sports bra in Onyx retails for just £50 but is now currently on offer in their sale for just £35. Available in XS, S, M, L and XL you can find most sizes available. Their incredible Wonder Woman design, Onyx black and white logo really sets off this sports bra. SQUATWOLF sports bras are built to withstand the toughest of training sessions and to offer women support thanks to their 4-way stretch fabric. With removeable bra cups and easy cleaning this sports bra is long lasting and ready to be as tough as you are.
SQUATWOLF high impact sports bra also features a custom woven strap, double spaghetti strap, elasticated under bust band and a 3D rubber logo. The fabric is made up from 75% Nylon and 25% Spandex which as mentioned at the beginning of this article are the best possible fabrics for a high impact sports bra. The sports bra can be washed as normal with hot or cold water.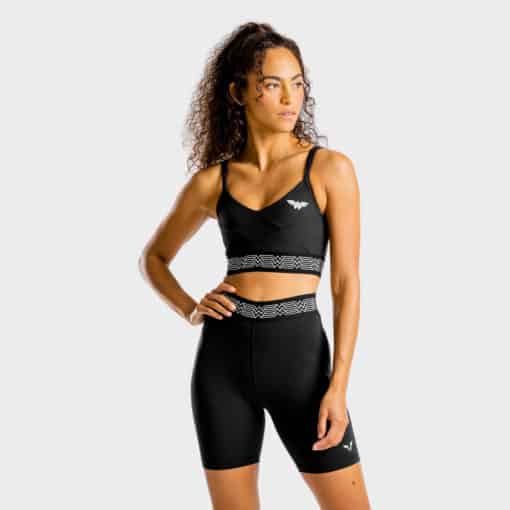 Number Three
Under Armour Women's Seamless Low Long Sports Bra makes it into our top 3 high impact sports bra list thanks to it's beautiful design, core branding, support and it's colour selection which includes purple, black, white and green. Also for a sale price of £14.97 down from £30 makes it the most affordable sports bra on our list.
Available in sizes XS, S, M, L and XL all women are catered for. Under Armour are also proud to offer plus size women's activewear and sports bras.
Ultra-tight, second skin fit and made from a combination of Nylon (93%) and Elastane (7%), this is a sports bra which will not fade quickly in the wash or let you down during your HIIT or lifting session. It can be tumble dried on low or washed in hot or cold water.
The 4 way stretch construction allows you to be able to move better in every direction and also allows sweat to dry fast. Soft, removable cups to enhance shape and coverage plus their wide jacquard watermark band provides amazing stretch and comfort.