Greens supplement powders are becoming more and more popular due to the new found way of actually making them tasty and enjoyable. Gone are the days of bad tasting, chalky, grass only flavours and welcome to the new tropical flavours and refreshing after tastes. We have compiled our Top 3 Greens supplement powders for you to and have taken into account taste, flavour choices, price and ingredients.
Greens are essential for your body to get natural vitamins and minerals and they also help support a healthy diet. If you can get your 5 fruit and vegetable servings per day by eating them, please do so. If not these green powder supplements will give you everything you need and can be taken at any time during the day.
Number One
Lean Greens have offered their signature greens supplement powder since being founded in 2012 by Tim and Sam Goodwin, a power couple who have a background in personal training and social media advertising. Founded due to a nasty flu Tim developed whilst travelling and using green vegetables to aid his recovery he researched the market and listened to clients and found a lot of the so called greens supplements were often snake oil products promising the world but not actually packing the necessary nutrients or ingredients that they should. With that in mind he started to develop his own recipe which resulted into one of the most purchased green products in the world.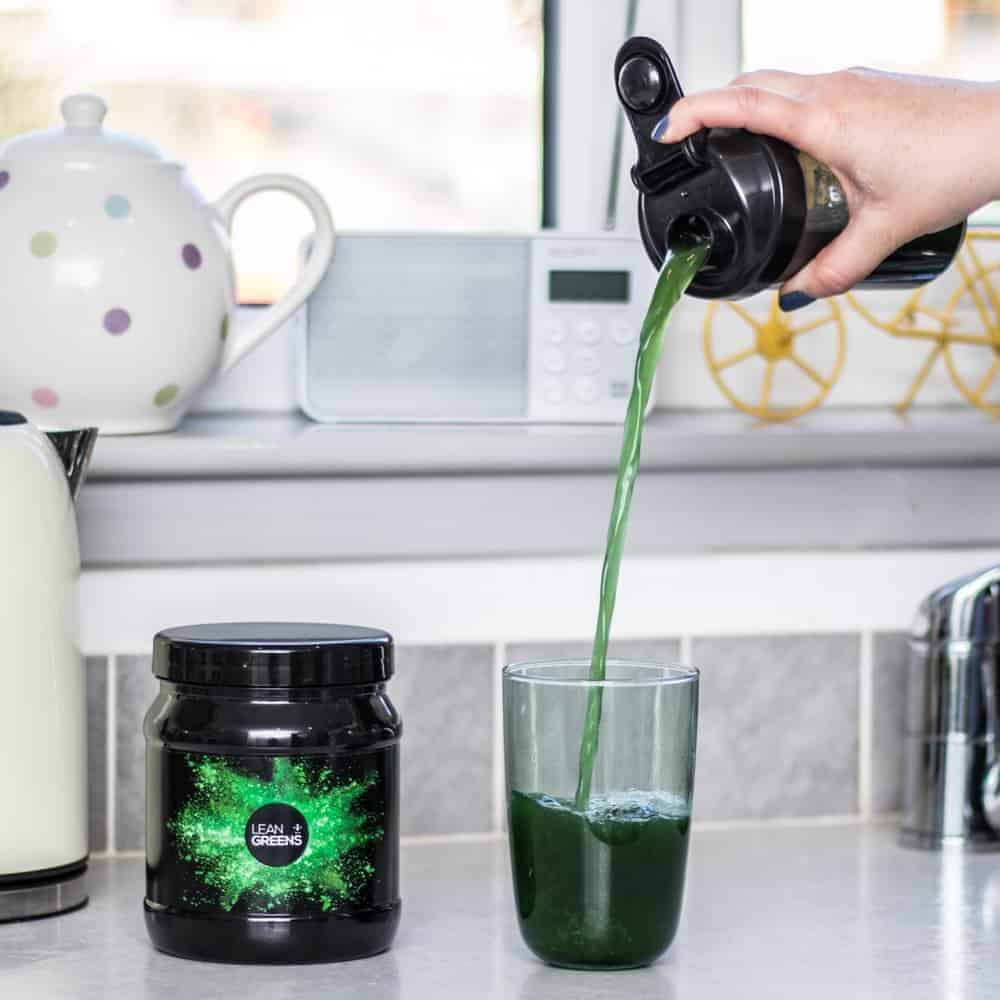 Lean Greens price point is £44 for a 500g tub which will keep you going for 33 days. This is low-mid tier pricing but for the quality of the product you are receiving and for what's going inside it, you are actually getting a complete bargain. You can also use discount code GF10 to receive a 10% discount at checkout.
Ingredients
Lean Greens boast that you flood your body with 18 vegetable nutrients, 1 sip at a time which are compiled from raw veg and green sources which include: Spinach, broccoli, carrot powder, wheatgrass barley grass, spirulina, blackcurrants, blueberries, lipase, lactase, protease, amylase, bromelain, cellulase, green tea extra, Siberian ginseng and stevia leaf extract. Now do you see why £44 is such a bargain? These ingredients have been hand selected due to the amazing qualities they possess and the good it does for your body.
Nutritional Information
| | |
| --- | --- |
| Per 15g Serving | |
| Calories | 55 |
| Carbs | 12.5g |
| Protein | 0.5g |
| Fat | 0g |
| Fibre | 0.5g |
Reviews
With 5 star ratings across Amazon, their website and Facebook you can expect nothing but the best service and product available. Fast delivery, instant customer service and a caring, hands on team you really can't go wrong when buying from Lean Greens.

Taste
As described from Lean Greens customers 'Moe W': "It's the best tasting greens drink….ever". Having tried this product we can definitely confirm it's certainly one of the best out there. It is a very easy shot to take each day, tastes like very mild fruity grass and is quite the pleasure to drink. It even has quite an addictive taste to it and some of us even serve it over ice as a refreshing drink once in a while.
Number Two
If it was just down to taste Ghost Greens would have hands down won. This is officially the best tasting and easiest to down Greens supplement powder on the market thanks to their flavour choices of: Iced Tea Lemonade, Original, Lime and Guava Berry. If you can only choose one we would recommend Lime as it's super refreshing and leaves and incredible after taste.

Ghost Lifestyle has become one of the largest supplement brands in the world thanks to their social media presence, host of sponsored athletes and their flavour partnerships with the likes of Oreo, Swedish Fish and WarHeads. Their products are quite simply fantastic and their Vegan rage continues to impress.
The cost of a tub which has 30 servings is £36.99 which is pretty much what you expect to pay for a quality tub of greens powder. Also for each tub sold they plant one tree. This is about making you healthier and making the planet a better place. What's not to like about that!?!
Ingredients
Inside each tub you will find 4.3g of greens, 2.2g of reds, spectra, prebiotics, probiotics and digestive enzymes which are available due to them using ingredients such as kale powder, matcha, spirulina, broccoli powder, green tea extract, pomegranate powder, blueberry juice powder and organic goji berry powder.
Nutritional Information
| | |
| --- | --- |
| Calories | 25 |
| Carbs | 6g |
| Fiber | 3g |
| Sugars | 1g |
| Iron | 1mg |
Number Three
TheProteinWorks Super Greens powder is the best value for money we could find with the flavour being tasty and easy to enjoy. Costing just £28.79 for 500g and available in flavours tropical punch and pomegranate and cranberry you are set to get a lot of bang for your buck. You can even use our discount code 'FIRST20' for 20% off the RRP and get free next day delivery.
With a 96% rating and customer reviews loving the taste and simplicity of this product you are in for a treat. Easy to digest, nice flavours and a refreshing aftertaste are constantly mentioned.
Ingredients
Showcasing some amazing ingredients such as Spirulina powder, kale powder, wheatgrass powder, spinach powder, broccoli powder, beetroot powder and about a dozen more your body will be fuelled by the best quality nutrients.
Nutritional Information
| | |
| --- | --- |
| KJ | 108.4 |
| Kcal | 25.9 |
| Fat | 0.4g |
| Carbs | 2.4g |
| Fibre | 1.5g |
| Protein | 2.4g |
| Salt | 0.0 |