Cooking can sometimes feel like a chore, and juggling multiple ingredients just creates added washing up and, ultimately, added time in the kitchen. So, ZENB's protein pasta is the perfect one-pot ingredient which will tick boxes for all your macros.
Made by harnessing the power of skin-on yellow peas, the range of pasta shapes are low fat, high in protein and super easy to cook. Each 85g portion returns 283 calories, 44g of carbohydrates, 11g of fibre, 1.9g of fat and a whopping 17g of protein. Combine them with a sauce or substitute them into your favourite recipe, and, well, you're seriously cooking.
Let's take a look at some of the shapes, shall we?
Spaghetti
If you're a fiend for a good bolognese or carbonara like I am, then you'll be going straight for ZENB's Spaghetti. Once you add mince into the equation, vegan or otherwise, there is serious potential for the macros to be off the scale. Plus, the Spaghetti takes just 5 to 7 minutes to cook.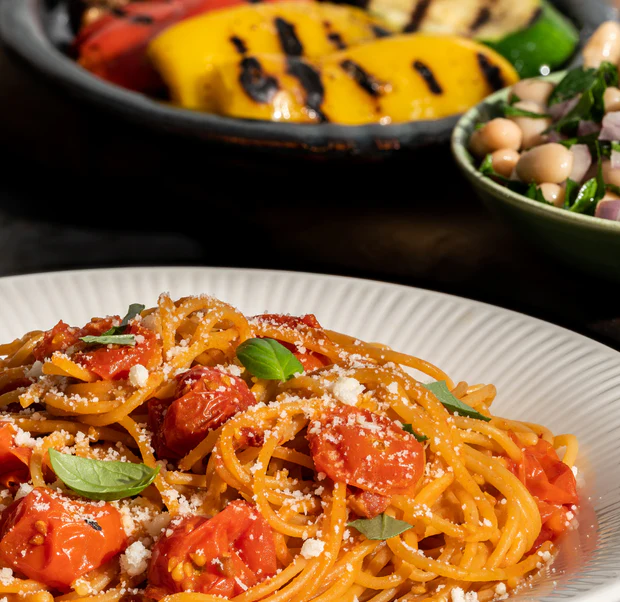 Penne
Another cupboard classic, ZENB's Penne is an absolute protein powerhouse. A real versatile pasta shape that works great with a heap of different sauces, it cooks in 10 to 13 minutes depending on how you like your pasta.
Pasta Agile
Making a meal in minutes has never been easier. ZENB's quick, no-drain pasta is a real winner if you're after a protein-packed lunch or dinner in a rush. The unique, new shape, was developed through a proprietary method with precision-cut surfaces to retain a tasty, al dente texture in under three minutes of preparation. The thin, curved walls encourage flavour absorption and allow sauces to grip every nook and cranny. To prepare, simply add it to your sauce or dish at the end of cooking. You just need to make sure there's at least half a cup of liquid.
Macaroni
Whether you're making a pasta salad or a classic macaroni cheese, ZENB will ensure you're getting a healthy dose of protein. If you're boiling it, it'll take around 8 to 11 minutes depending on the desired texture.
Fusilli
Simple and classic, fusilli is a much-loved kitchen staple. If you want something which works great in a tonne of different dishes, then this shape is well worth its weight in gold. It cooks in 9 to 12 minutes.
If you want to sample a selection of all ZENB's shapes, you can also buy selection boxes in quantities of 3, 6 and 9 boxes.
To grab yours today, visit ZENB's website.