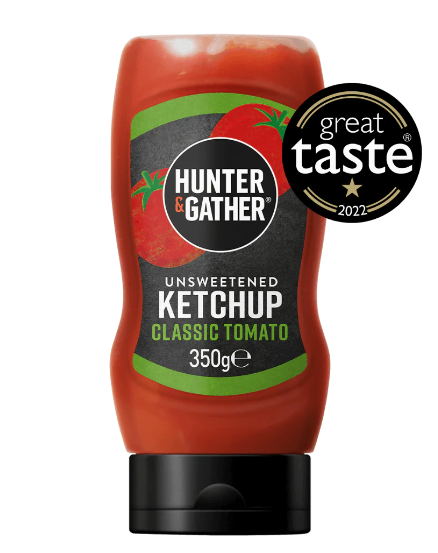 20% OFF Hunter & Gather Tomato Ketchup Discount Code
20% off
Terms & Conditions:
20% OFF Hunter & Gather Tomato Ketchup Discount Code GYMFLUENCERS
Rediscover the Classic Taste with Hunter & Gather Tomato Ketchup
In the world of condiments, few have made as lasting an impression as the timeless tomato ketchup. Yet, as the world changes, it's essential that our cherished ketchup does too. Enter Hunter & Gather's Classic Tomato Ketchup—a revolutionary blend that promises and delivers a delightful and healthier twist.
Award-winning Flavour
At the heart of this ketchup lies an award-winning taste that hasn't traded authenticity for health. Earning accolades for its mouthwatering, natural tomato zest, Hunter & Gather's ketchup is precisely how it should be—a tasteful companion to any dish.
Embrace the Real
Shedding the artificiality of many modern sauces, Hunter & Gather believes in using only genuine ingredients. So, when you drench your fries or dress your burger with this ketchup, you're enjoying an ensemble of ingredients that are 100% natural, and more importantly, pronounceable.
Commitment to Health
"Less is more" rings true here. With an astonishing 72% less sugar than leading brands, this ketchup stands out. Say goodbye to hidden sugars, fruit syrups, or mysterious sweeteners. Your health matters, and every squeeze from this bottle underlines that belief.
Packaging with a Purpose
The care doesn't stop at the sauce. Ensuring you get your ketchup effortlessly, this UK-made sauce is housed in a BPA free, 100% recyclable squeezy bottle. A symbol of Hunter & Gather's commitment to the environment.
Pure and Preserved
With no chemical preservatives in sight, the ketchup is preserved naturally through a harmonious blend of vinegars and pink Himalayan salt. And once you pop the cap? Enjoy its unmatched freshness for up to six weeks.
More Than Just Ketchup
Beneath its classic taste lies a myriad of benefits. Designed for diverse diets, this ketchup is Keto, Paleo, Low Carb, Gluten-Free, and Plant-Based friendly. It's not just a condiment—it's a health partner.
Exclusive Offer
Dive into a delicious world of genuine taste and healthier choices. Use our 20% OFF Hunter & Gather Tomato Ketchup Discount Code GYMFLUENCERS and treat yourself to the realness of Hunter & Gather Classic Tomato Ketchup.
Step up your condiment game and embark on a journey of true flavours and unmatched health benefits with the tastiest lineup in town. After all, life's too short for average ketchup. Rediscover classic with Hunter & Gather.