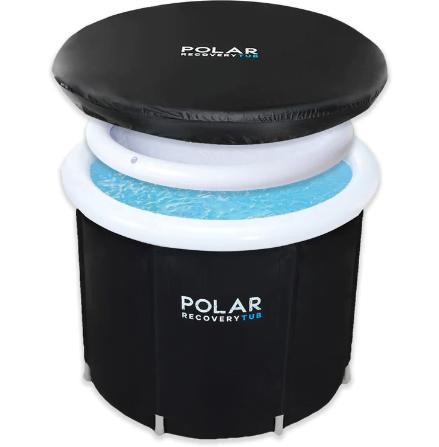 Extra 10% OFF Polar Recovery Tub Discount Code
10% OFF
Terms & Conditions:
Extra 10% OFF Polar Recovery Tub Discount Code GF10
Discover the Magic of the Polar Recovery Tub and Boost Your Wellness!
With the modern world continually testing our physical and mental endurance, it's imperative to find ways to replenish and rejuvenate. The Polar Recovery Tub may just be the answer you've been searching for.
Extra 10% OFF Polar Recovery Tub Discount Code
Originally priced at £149.99, this unique wellness solution is now available for only £89.99—a whopping 40% off its retail price! And here's a bonus: Use our Extra 10% OFF Polar Recovery Tub Discount Code GF10 at checkout for additional savings.
Measuring a generous 80cm in diameter and 75cm in height, this tub is designed to comfortably accommodate individuals as tall as 6ft 7″. Plus, its 270L water capacity ensures an immersive experience every time. Despite its size, the tub weighs a mere 3kg when empty and can handle up to 270kg when full.
One of the standout features of this recovery tub is its ease of assembly. Even those not especially DIY-inclined can have it ready to go in under 5 minutes. Additionally, each purchase includes a complimentary protective cover, streamlining the maintenance process.
But what truly sets the Polar Recovery Tub apart is its therapeutic benefits:
RESET Your Body And Mind: Cold water therapy stands out as an intuitive way to refresh both physically and mentally.
ENHANCE Performance And Recovery: Cryotherapy, a celebrated method among athletes, can potentially minimize inflammation, reducing muscle swelling and spasms through the temporary constriction of blood vessels.
RELIEVE Stress And Anxiety: Regularly immersing yourself in cold water can stimulate the nervous system, potentially mitigating symptoms of depression and anxiety, and promoting neural regeneration.
BOOST Your Immune System: The same cold therapy also contributes to increased neuroplasticity, which might reduce the risk of neurodegenerative diseases.
The process is simple: Fill your tub with water and ice, and let the transformative powers of cold water therapy work their magic. Ideal for athletes and anyone seeking to prioritize self-care, the Polar Recovery Tub is more than just a tub—it's a ticket to a better quality of life.
So, are you ready to dive into a world of relaxation, rejuvenation, and recovery? Why wait? Dive in and experience the magic firsthand.