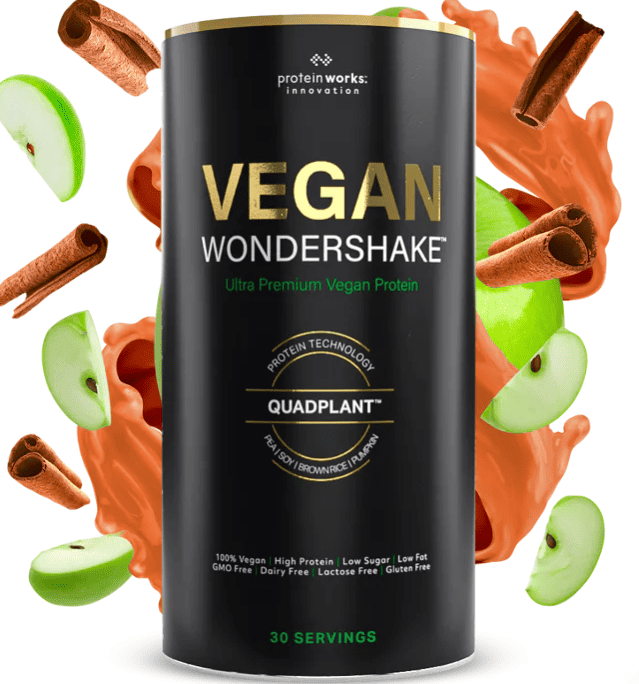 Extra 10% Off Protein Works Vegan Wondershake Discount Code
Extra 10% Off
Terms & Conditions:
The accolade of the Best Vegan Protein Shake has officially been awarded to none other than the Protein Works Vegan Wondershake by Women's Running Magazine.
In the global arena, Vegan Wondershake stands as the first-ever vegan protein shake that rivals the taste of a traditional dairy shake. This product is the breakthrough you've been seeking, offering a balance of perfect sweetness, creamy richness, and smooth texture.
With a mere 89 calories per serving, Vegan Wondershake provides you with an impressive 21g of plant-based protein, and less than a gram of both sugar and fat. Surprised?
Whether you're a devout vegan, curious about reducing your dairy protein intake, or simply wanting to enjoy a delicious 100% plant-based protein supplement for your active lifestyle, Vegan Wondershake is your perfect match.
The concept behind Vegan Wondershake was simple yet transformative: developing a plant-based protein shake that replicates the feeling and taste of a dairy-based one. This unique vegan protein shake is unparalleled, widely recognized as the finest in its category.
Formulated using our innovative Quadplant™ technology, Vegan Wondershake unites four superior protein sources: premium pea protein, pumpkin protein, brown rice protein, and soy protein, creating an optimal plant-based protein blend that excels in both nutrition and taste.
Not only is Vegan Wondershake rich in protein and low in sugar and fat, but it also boasts of being GMO-free, dairy-free, lactose-free, and gluten-free. Above all, it is 100% vegan, helping you lessen your ecological footprint without any sacrifice in texture or taste.
As more people are becoming aware of the health and environmental implications of meat consumption, switching to plant protein is seen as one of the most significant lifestyle changes an individual can make for the planet.
Switching from dairy-based protein powders to completely plant-based alternatives has never been easier with our Vegan Wondershake. Keep it handy in your kitchen cabinet, on your work desk, or wherever you might need a protein boost. It's an excellent go-to snack whenever hunger pangs strike. Combine a scoop of Vegan Wondershake with water or your preferred non-dairy milk, and you've got yourself a tasty, smooth, and creamy shake that not only satisfies your cravings but also delivers the protein your body requires.
Vegan Wondershake ensures that your vegan dietary needs don't come at the cost of taste. It provides a phased release of protein to energize you whenever you need a protein boost – be it morning, afternoon, or night. It's high in protein, low in sugar, and low in fat, with 21g of premium plant-based protein, just 0.6g of sugar, and 0.7g of fat per 89g serving!
True to the quality of all Protein Works products, Vegan Wondershake is GMO-free, gluten-free, dairy-free, and lactose-free.
Despite global supply chain issues, our innovations team continues to uphold our promise of always using top-quality ingredients. They actively adapt our Quad Plant Protein recipe when shortages arise, ensuring you receive high quality consistently.
With Protein Works, you can place your utmost trust in the product quality and supply source. Every ingredient supplier must pass strict audits and checks to earn the Protein Works™ Quality Seal of Approval. Traceability, remarkable quality, and sustainability are demanded for every ingredient. This philosophy permeates every product we create.
Vegan Wondershake has received numerous prestigious awards, including the Best Vegan Protein Shake by Women's Running Magazine in 2020, Men's Health Editor's Choice Award in 2021, and Women's Running Magazine Editor's Choice Award in 2021. The reason for all these accolades? Because when it comes to taste and nutrition, Vegan Wondershake is unparalleled; no other plant-based protein shake can compare. It's undeniably the best vegan shake available.
Also, don't forget to take advantage of our extra 10% off Protein Works Vegan Wondershake Discount Code GF10. It's your opportunity to enjoy the best vegan protein shake while saving some money.