The Vegan Wondershake by Protein Works is the best in the business, and here's why.
My partner has been a devoted vegan for 5 years, and being the supportive boyfriend that I am I've tried many ways to cut my meat and dairy consumption in a showing of solidarity. Although I have to admit, a lot of that effort was driven by fairly consistent nagging.
One of the easiest substitutes to make was swapping my standard protein shakes for vegan ones. Well, that's what I thought, anyway.
However, it turns out that most vegan shakes on the market are grainy and gloopy, and leave an unpleasant aftertaste lingering in your mouth. And don't even get me started on the protein bars that would be better used as building materials.
I'd pretty much given up on plant-based powders until I discovered the Vegan Wondershake by Protein Works.
In this article, I'm going to be taking you through a few reasons why I think this aptly named Wondershake is not only the best on the vegan market, but also rivals a lot of its dairy counterparts, too.
Oh, and before we go any further, it's probably worth mentioning that you can get an extra 10% off all sale prices by using our Extra 10% off Protein Works Vegan Wondershake discount code 'GF10'.
Plant-Based Goodness
The Vegan Wondershake was born out of a simple, yet radical idea: to create a plant-based protein shake that feels and tastes just like a dairy shake.
Protein Works is pretty confident that it has achieved that brief with the Wondershake, boldly hailing it as 'the best vegan protein shake on the planet'.
That is, however, an understandable claim. Protein Works clearly took all of the classic pain points of vegan shakes into account while designing this one.
Its formula boasts an ultra-smooth, creamy texture and tastes exactly like a dairy shake. There's none of the grainy bitterness we've come to expect from vegan alternatives, and, if you shake it well, no lumps.
It's made using Protein Works Quadplant™ technology, which combines four types of protein sources: premium pea protein, pumpkin protein, brown rice protein, and soy protein.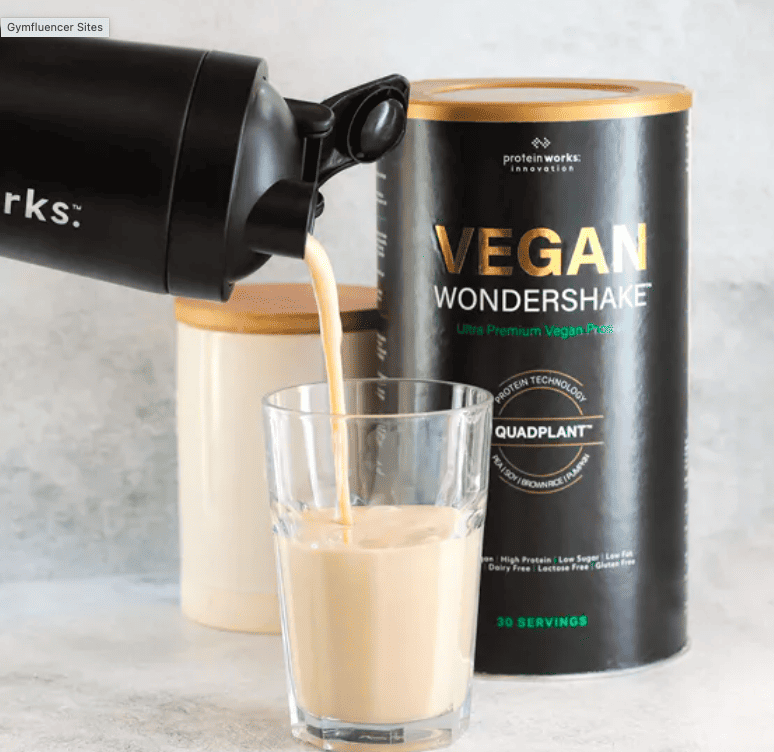 Soy, pea protein, and pumpkin are complete protein sources, meaning they contain all 9 essential amino acids.
Pumpkin and pea protein are lower in Methionine and Tryptophan, but those aminos are also found in brown rice and soy, meaning the protein sources complement each other well to provide the full range.
Enough of the science, let's take a look at the macros, shall we?

Macros
The Vegan Wondershake is high in protein, low in sugar and low in fat. It provides 21g of plant-powered protein per 89g serving, with just 0.6g of sugar and 0.7g of fat. As with all Protein Works products, the Vegan Wondershake is GMO-free.
It is also gluten-free and, as you would expect with any vegan shake, it is dairy-free and lactose-free too.
But there's another benefit that we've yet to discuss: the environmental impact. Research is continually making links between meat and dairy consumption and environmental issues, which has been a key driver for many people re-inventing their diets.
Swapping animal protein for plant protein has been hailed as the 'single biggest change' an individual can do to lessen their impact on the planet.
What easier place to start than substituting your protein shake?
If you aren't yet sold, a quick scan of the many positive reviews this product has received may just sway you.
In fact, the Vegan Wondershake has won a number of coveted awards including Best Vegan Protein Shake by Women's Running Magazine, 2020, Men's Health Editor's Choice Award 2021, and Women's Running Magazine Editor's Choice Award 2021.
The Cost Of Going Green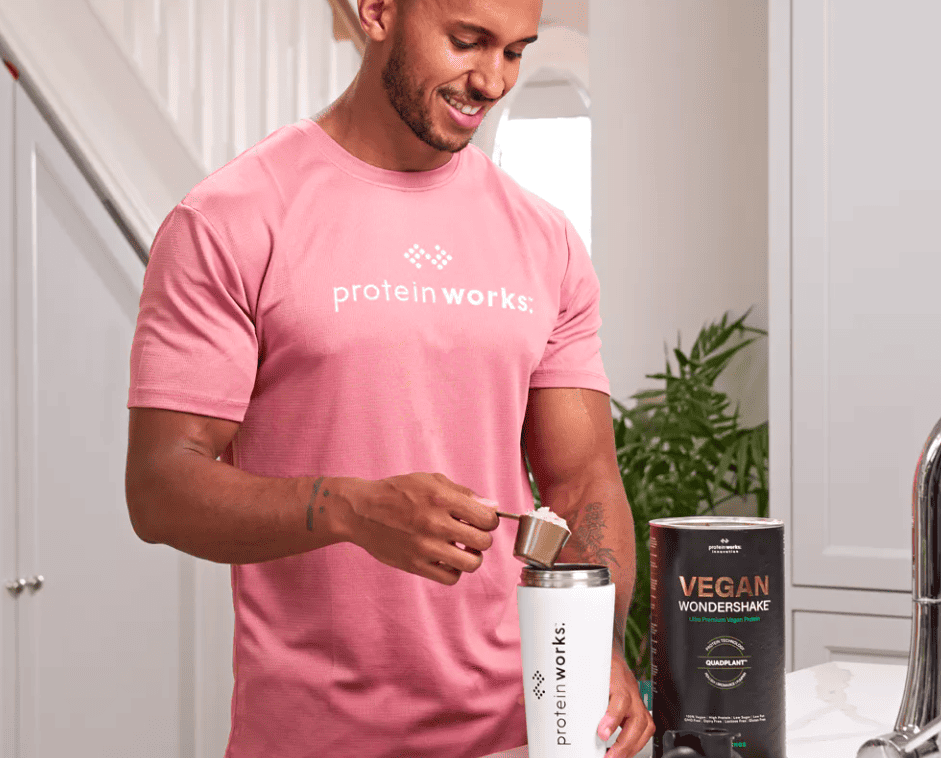 A tub of Vegan Wondershake – which contains 30 servings – costs just £28.40. That equates to 95p per shake, significantly less than what you would pay by stopping at your local shop and picking up a pre-mixed protein shake every day.
Remember, you can save an extra 10% by using our code 'GF10' at the checkout. If you're ready to make a positive change then head to the Protein Works website and order yours today.