I think it's safe to say Eddie Hall has rubber-stamped his name in weightlifting folklore. The legendary strongman is among a select few professional bodybuilders whose fame has transcended the confines of the fitness community. 
In fact, he's a household name and in many respects a national treasure, too. Nicknamed The Beast – and for good reason – Hall's CV is up there with the very best.
Quick Overview
He first rose to mainstream fame when he won the World's Strongest Man Competition in 2017. But before that, he had already scooped a variety of national titles, including UK's Strongest Man, Britain's Strongest Man, and England's Strongest Man.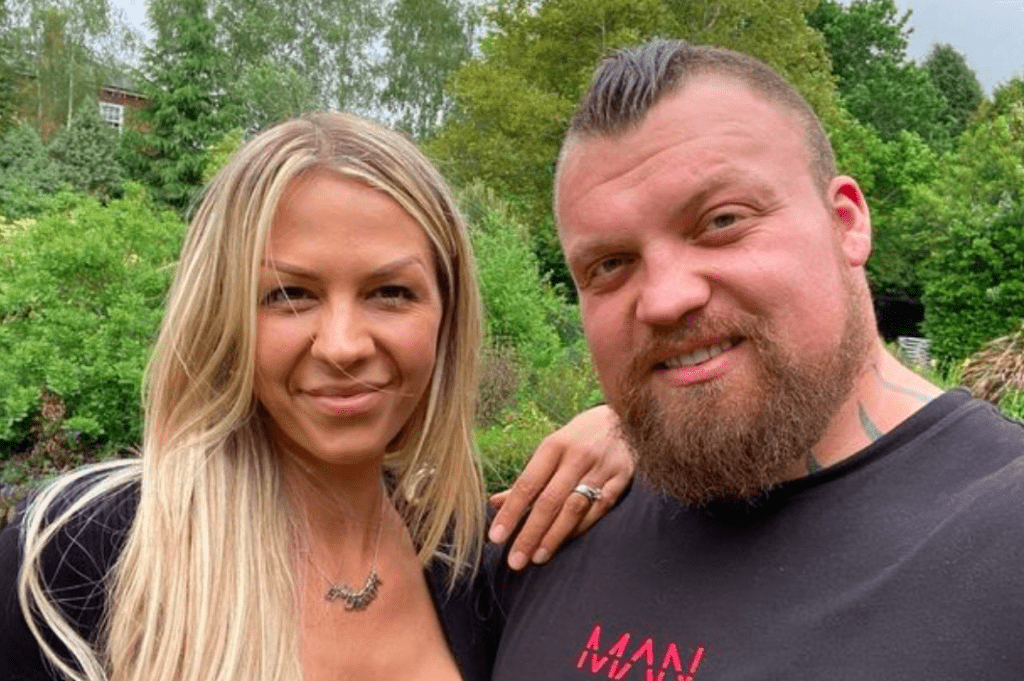 As if all that wasn't impressive enough, he formerly held the deadlift world record, pulling an incredible 500kg in 2016. Such was the strain on his body during the leviathan lift Hall admitted he passed out and had nosebleeds afterwards.
His effort has only been bested once since, with Icelandic Strongman and Game Of Thrones star Hafþór Júlíus Björnsson going a solitary kilogram further in 2020. Hall later described Thor's deadlift as 'bullsh**' as he was in Iceland at the time surrounded by a small team of 20 people.
The duo would go on to settle their bitter rivalry in the boxing ring, but we'll get to that in good time. So, sit back, relax, and let us take you through everything you need to know about one of England's greatest-ever athletes.
Eddie Hall: The Origin Story
Hall, 35, was born in Newcastle-under-Lyme on 15 January 1988. Like many great competitors, Hall has an athletic background and was involved in sport from an early age – but it certainly wasn't one many would guess given his current boulder-like physique. Long before he started seriously pumping iron, Hall's first foray into the world of sport was as a swimmer – and by all accounts, he was pretty damn good.
As a youngster, Eddie Hall won gold medals at the national level and was accepted into Team GB's Olympic potential program. However, soon after, Hall's life started to spiral after he lost his grandmother, with whom he was very close, to cancer. Hall was diagnosed with anxiety and depression, which led to a dark time when he turned to drugs and alcohol as a makeshift coping mechanism.
Speaking to Men's Health back in 2020, he said: "18 years ago I was locked in my room, thinking about and trying to kill myself."
But unlike so many who become consumed by addiction, Hall managed to channel his demons into something else, something that would see him become the icon he is today – bodybuilding. He started lifting seriously at just 15 years old, modelling himself on his childhood hero, Arnold Schwarzenegger.
"If there's one thing I learned from Arnold, it's that there's a big difference between arrogance and confidence," he added. "Arrogance is thinking you're better than everybody else, but then confidence is knowing that you're better than everybody else.
"But in order to be that confident guy, you've got to be arrogant. You've got to believe it before you become it. And that's what Arnold did, he believed it before it happened; he was the master of seeing his future."
He originally set his sights on the Mr Olympia title, but soon realised his build was perhaps better suited to strongman competitions. Fast forward to the present day, and I'd say he probably made the right call.
How Much Does Eddie Hall Weigh?
Nowadays, Hall tends to create more content for social media than he does compete. But at the peak of his physical powers, he weighed an incredible 430lb, or 195kg depending on your preferred unit of measurement. To maintain his mammoth stature, Hall was previously consuming an estimated 16,000 calories a day. I feel full even thinking about it.
More recent pictures of Hall show he's almost unrecognisable from his former self. As it stands he's now sitting at 357lb, or 162kg, and is still squatting 300kg, bench pressing 250kg and shoulder pressing 'ridiculous' amounts.
The Beast shifted a good portion of that weight while training for a Clash Of The Titans-style boxing match against arch-nemesis Björnsson. The pair of giants agreed to fight following years of tension over cheating claims when Hall was crowned the World's Strongest Man in 2017.
Björnsson was the victor by unanimous decision when they met in the ring, but nevertheless, Hall put on a fine spectacle for a man of his stature. Hall took some time off after the fight to film content, explore new business ventures and train with his son, Maximus. But he recently revealed he has set his sights on honing his physique, tanning up and taking to the stage.
Speaking on his YouTube channel back in January, he said: "Obviously the Olympia was just last month in Las Vegas, I saw the likes of Big Ramy (Mamdouh Elssbiay) and Chris Bumstead on the stage looking absolutely phenomenal. And it's something I've never done, it's something that I'm not 100% on, but I'm going to try my hand at it just to see where I can get to. I've done the strongman, done a bit of boxing, I was a national champion swimmer back in the day, and I think bodybuilding is a great transfer over from strongman."
He added: "I'm going to do a big bulk, blow up and get all my muscles big and juicy again. And then we're going to do a trim, hoping to get on stage the back end of next year, so probably October, November, or December."
How Many Followers Does Eddie Hall Have?
Since turning his attention to social media Hall has collaborated with some of the biggest names in the industry, including Larry Wheels, Jamie 'The Giant' Christian, and Jesse James West.
His content strikes a fine balance between gritty workout videos and more light-hearted challenges such as rock climbing, diet swaps, and attempting to drive his very own tank through a McDonald's drive-thru. And no, that last one wasn't a typo, you can actually pay Hall to turn up at weddings, birthday parties, or other big occasions in his tank.
As a result, The Beast boasts 3.8m followers on Instagram, 1.7m more on TikTok, and 2.41m subscribers on YouTube. Alongside his social platforms, Hall also has fingers in lots of other pies. As well as having his own online shop and fitness app, he's also an author and an ambassador for top brands such as MyProtein, BoohooMan, and the Skinny Food Co.
If you want to keep up to date with the crazy life of Eddie Hall then be sure to drop him a follow. You won't regret it!