If you're a gym junkie or just like to lounge around in activewear, you probably have a few go-to activewear brands you trust most. According to Global Data, the sportswear market profited approximately £13.8 billion in 2020 – and this figure keeps growing. Interested to know what the public's favourite activewear brands are? Want to know which are the most sustainable activewear brands? Keep reading, it's about to get sweaty, Betty.
Activewear is trending – but not just for exercising. As it turns out, activewear is also popular attire for lounging, too. And who doesn't like a 2-in-1? Less time spent panicking outside your closet, that's for sure.
To discover what the Top 10 UK activewear brands are, we've used a mixture of keyword research on AHrefs, Instagram following and the yearly turnover (if our PI did their job properly).
Top 10 UK Activewear Brands (in no order)
Sweaty Betty
Gymshark
Pangaia
Aybl
Montirex
Adanola
We Are Tala
Varley
OnerActive
ApexGray
Sweaty Betty
Did you know Sweaty Betty was British? Well, you do now! This popular activewear brand has 696K Instagram followers, and its range includes the all-important necessities from yoga leggings to waterproof gilets. 
Their stores are located worldwide and they do just as well online, with over 217,000 monthly searches to be precise.
At the tail end of 2020, Sweaty Betty smashed it out of the park with over £88 million worth of sales. Now that's what we call a hot shot!
Gymshark
Founded by Ben Francis in 2016, Gymshark boasts 5.8M followers on Instagram. Every month, over 638K people Google "Gymshark" to scour the site for their top products.
It's no wonder Gymshark is so popular, especially considering the vast range of styles and regular launches to keep you on your toes. But what tips them slightly over the edge is that they market to men and women – lovely jubbly.
In 2021, Gymshark sold over £86,000 of activewear in the UK alone. That's a hell of a lot of happy customers!
Pangaia
Moving onto Pangaia, a UK-based sustainable activewear brand donned by the likes of Harry Styles. This scientifically-backed activewear has gained over 1.1 million Instagram followers. They get over 43,000 people searching for their site monthly, and their most popular item is the Pangaia tracksuit. Men, women and kids are pioneers of Pangaia, who are on a mission to save the planet, one biotech step at a time.
Aybl
You might have come across BeAybl's ads on TikTok recently, but this UK activewear brand has been on the block since 2018. With over 48,000 hungry searches a month and 576K Instagram followers, it's no surprise they make the top 3.
Aybl is a women's activewear brand aimed at 18-24 year-olds. They've scaled to 576K Instagram followers and clearly, are no stranger to fitspos! Courtney Ruth is one of the BeAybl babes and it's easy to see why women love Aybl – just look at those hot colours! Who doesn't want to feel pretty in pink?
Montirex
This Scouse menswear activewear brand won't skip our attention! It also seems Montirex hasn't skipped yours either…
The scores show that 25,000 of you like to explore Montirex outfits monthly. Did someone say "shopping addiction"?
Defining themselves as "cutting edge sportswear", Montirex has grown to 52.8K Instagram followers. Oh, by the way, if you'd like to get 12% off your next purchase, all you have to do is ask.
Adanola
Adanola is a women's activewear brand founded by Josh and Hyrum Cook back in 2015. You may recognise the brother duo from Dragon's Den, and these entrepreneurial wits were way ahead of the game.
In the last 7 years, they've recruited a loyal following of 297K on Instagram and over 25,000 monthly searches.
Ladies, from leggings to sweatshirts, you'll find everything you need right here.
We Are Tala
Grace Beverly is the SHE-E-O of sustainable activewear for women. We Are Tala was launched in 2019 and it's been a non-stop success ever since. The whole brand's ethos is sustainability and feel-good styles that suit all bodies, shapes and sizes.
Google shows us that We are Tala generates over 3,000 searches monthly and they've racked up an impressive following of 303K followers since it began.
The founder behind this sustainable activewear brand is none other than Miss Grace Beverly, also known for Shreddy (the female fitness programme) and being a leading fitspo whilst studying at Oxford. Phew, I need a pair of Tala leggings just thinking about all that running around!
Varley
The chic of the week has to be Varley. With over 198K Instagram followers and 7,000 monthly searches, Varley is one of the most fashionable women's activewear brands in the UK.
This activewear brand appeals to the modern woman: career-oriented, active, and a social bee. Their slogan is literally "a wardrobe for how you move and live". Ain't that a fact!
Although on the pricey side of the spectrum, the flattering fit is worth it.
OnerActive
Led by fitness icon Krissy Cela, OnerActive also makes the cut as a popular UK activewear brand, which also focuses on two important factors: sustainability and affordability. On average, you're looking at spending £50 for a two-piece set that will last pretty much forever.
We found that over 14,000 people search for OnerActive products monthly, and they also have 275K followers on Instagram.
In an interview, Krissy said that she "doesn't believe in trends". That's the character of the brand: activewear that you can wear again and again, without spending thousands to replace poor quality material or feel unfashionable. Hence why it's called the Timeless collection. Activewear that's not complicated.
Apexgray
And last, but not certainly not least, Apexgray deserves a mention on the UK's top activewear brands. Its mission is to be an ethical and environmentally-friendly sportswear brand that caters inclusively for men and women.
The stats show that although they only get around 70 organic searches a month, they've already hit 7K followers on Instagram.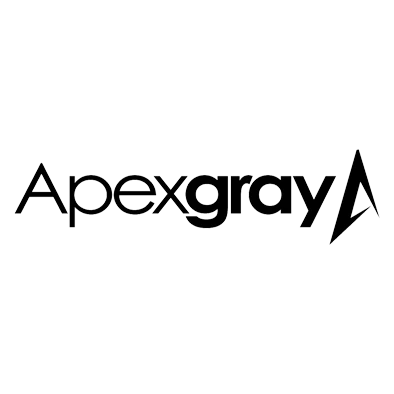 In terms of price, a pair of sports leggings costs around £30, and they plant a tree every time a purchase is made. It's cool to be green.
With a focus on sustainable and affordable activewear, they're an up-and-coming force to be reckoned with! You can also get 20% off your first Apexgray activewear today, just use our code at checkout. (You're welcome.)
Want more exclusive news and incredible discounts?
Subscribe to our free newsletter to get the latest updates and follow Gymfluencers for first-hand access to discounts for your favourite brands.