It's no secret that us Brits love a good curry, but it's not always easy to cook up authentic dishes at home. Well, that was until BANG! came along and changed the game.
BANG! is a curry company that's all about bringing the bright, bold flavours of Bangladeshi cooking to your kitchen. It was created by scientist, mum of 2, and self-confessed foodie Shelly Nuruzzaman, who grew up right in the heart of London's Bangladeshi community on Brick Lane.
Shelly wanted to bring the delicious flavours of her family's recipes to her friends and family, in a way that meant they could easily recreate them in their own homes. So she got to work, spending 2 years on over 200 curry experiments to create the BANG! kits that are now enjoyed by families all over the country.
The scratch spice kits contain the perfect blends of spices to cook up mouth-watering, authentic curries in your own kitchen. They're all 100% natural and made with top-quality spices for full-on flavour that's also low sugar, low fat, gluten free, and vegan friendly. These kits are the real deal, with nothing processed or artificial, just high quality, sustainably sourced spices for curries that taste incredible every single time.
Whether you like to keep things mild or prefer to turn up the heat, BANG! have something for everyone. Their kits range from the mild and fresh Warm Moghul to the Naga Bang which is fiery and bold.
The Warm Moghul makes a Bhuna-style curry that's ideal for people who prefer a milder curry. It works brilliantly with white meat, fish, and vegetables, so it's easy to adapt to vegetarian and vegan diets.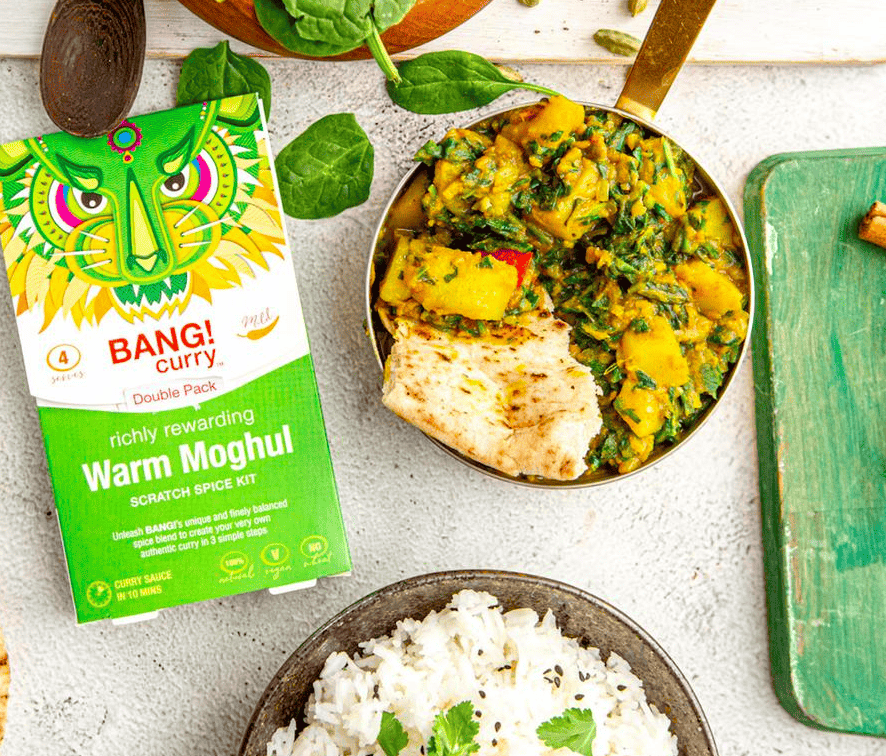 And just because it's mild doesn't mean the Warm Moghul mix doesn't still pack a real flavour punch. With spices including Turmeric, Cardamom, Cumin, and Ginger, this makes an incredibly tasty curry that's perfect for more sensitive palates and children. And you can make it even more creamy and delicious by stirring in a spoonful or two of natural yoghurt at the end of the cooking time.

As for that Naga Bang, well this mix is ideal for people who like their curries on the fiery side. It's full of rich flavours and has a gorgeous chilli bite to it. You can use the mix for Balti, Bhuna, and Rogan Josh style curries and, just like the Warm Moghul mix, it works beautifully with meat, fish, and vegetables.
Cooking with these scratch spice kits is super simple. Just dice up some onions, crush some garlic, and chop up your chicken ( or fish, veg, or other meat-free alternative), and get them cooking. Then mix up the spice mix with some water and add to the pan and leave your amazing curry to cook.
You can then make the meal your own by adding tinned tomatoes, using more or less water for a thinner or thicker sauce, or stirring in some yoghurt or cream at the end of the cooking time.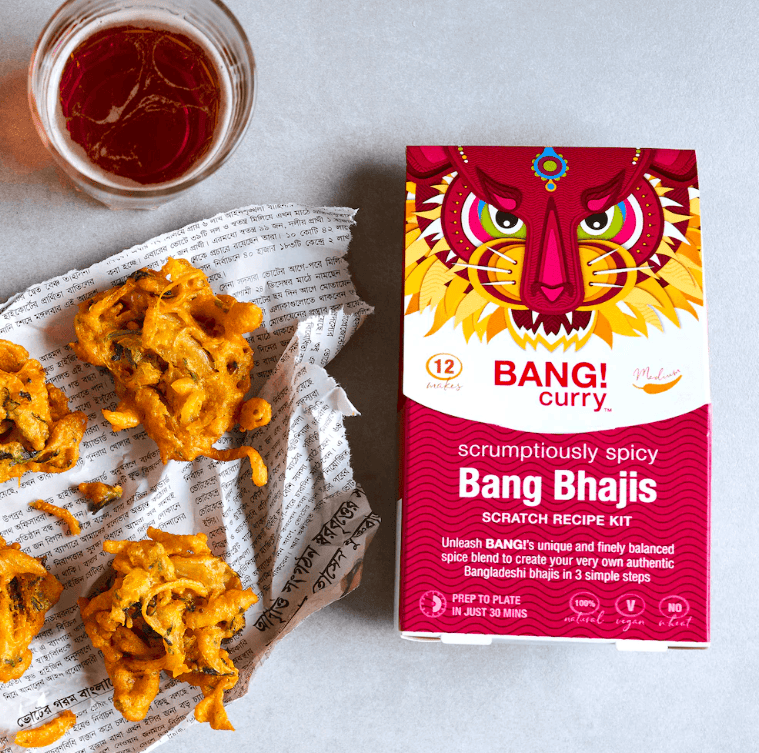 As well as main dishes, BANG! also have kits for you to cook up enticing sides like warming Dharka Dahl and spice Bang Bhajis.
So in just a few simple steps you can have a whole meal in the table full of authentic flavours, perfect for a quick weeknight family dinner, a date night, or a dinner party with your mates.
And the best part? BANG curry is really low in calories!
You can buy the spice kits individually or in packs of 6, which is perfect when you have particular tastes and know what you like. But if you want to mix things up and try out the different blends in the range then you can't go wrong with the Big Bang Box or the Curry Gift Set which both contain a variety of the scratch spice mixes.
Still not feeling entirely confident about your ability to make the most of the mixes? Don't worry, BANG! have got you covered with their easy-to-follow recipe books that you can also buy from the website, that walk you through cooking up incredible curries using their spice blends.
So whether you're an experienced cook or a kitchen novice, with BANG! you can enjoy cooking up authentic, flavour-filled curries at home. Just keep a stash of the scratch spice mixes in the cupboard and you can whip up your favourite dishes whenever that curry craving strikes!
Visit the website here to shop now.