Built for Athletes has been a reliable source for premium quality sports and fitness accessories for quite some time now. One of their latest products, the Black 45L Hero 2.0 Backpack, has been making waves in the athletic community. In this review, we'll delve into its features, design, and overall performance to determine if it lives up to the hype. You should also know that you can get this backpack for 15% off if you use our discount code, GYMFLUENCERS15 on checkout.
Design and Aesthetics
The Black 45L Hero 2.0 Backpack comes in a sleek, all-black design that exudes both style and functionality. The materials used in its construction are of high quality, ensuring durability and longevity. The backpack features a 45-liter capacity, which provides ample space to store all your workout essentials and sports gear.
Storage and Organization
One of the most significant selling points of the Hero 2.0 Backpack is its well-thought-out storage compartments. The main compartment is spacious enough to accommodate a wide range of items, such as clothing, shoes, and accessories. A separate shoe compartment keeps your footwear clean and organized, while the easy-access front pocket can be used for your keys, wallet, and other small items.
The bag also features a laptop sleeve that can hold up to a 17″ laptop, making it perfect for those who need to carry their work with them to the gym. Multiple internal pockets allow for easy organization, while the external molle system lets you attach additional pouches and accessories for maximum customization.
Comfort and Support
The Built for Athletes Black 45L Hero 2.0 Backpack has been designed with user comfort in mind. It features padded shoulder straps and a ventilated back panel to ensure breathability during prolonged use. The adjustable chest strap provides additional support, helping to distribute the weight of the bag evenly across your torso.
Durability
Constructed with military-grade 600D polyester, the Hero 2.0 Backpack is built to withstand the toughest of conditions. It is water-resistant and can easily endure daily wear and tear, making it ideal for those who demand ruggedness and reliability from their sports gear.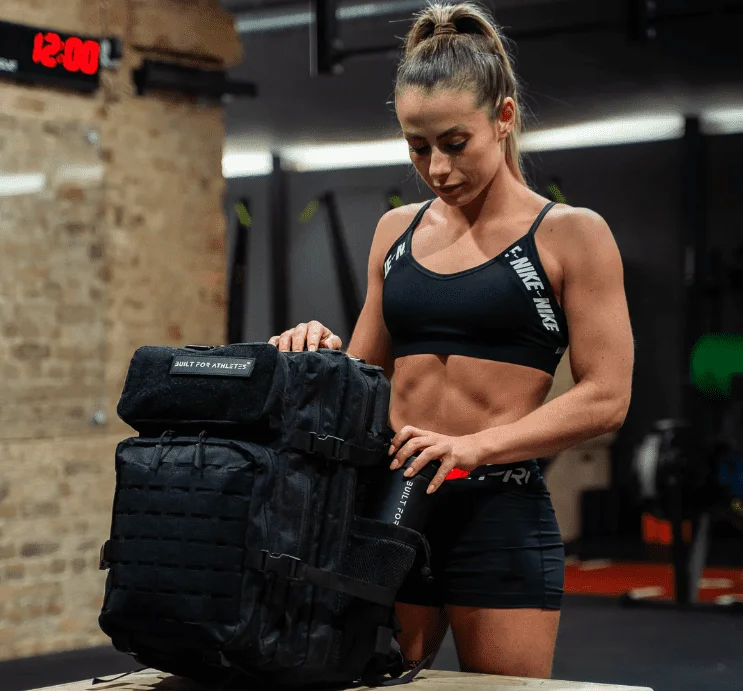 Price and Value
The Black 45L Hero 2.0 Backpack is priced competitively within its market segment. Considering its durable materials, ample storage, and ergonomic design, it offers excellent value for money for athletes looking for a versatile and dependable backpack.
You can get yours for £99.99 or save 15% off all orders when using our Built For Athletes Discount Code GYMFLUENCE15. 
The Built for Athletes Black 45L Hero 2.0 Backpack is an outstanding option for athletes and fitness enthusiasts alike. Its combination of durability, storage capacity, and comfort make it a valuable addition to any sports gear collection. With its sleek design and practical features, this backpack is sure to turn heads at the gym, on the field, or during your daily commute.