In a world of fast fashion, whitelabelled supplements and cheap beauty products it's been refreshing to learn of Dalia Botanique and the amazing work founder Dalia Hawley has done to create small batch, low environmental impact and vegan friendly products… the kicker? The products are incredible and do exactly what's promised…help your skin! 
So why would a beauty product review like this end up on Gymfluencers? It's created for people who love the great outdoors and one thing we always hear from our members is how battered their skin is from hiking, how their hands hurt from competing and how dry their skin gets after every single competition they enter. Incomes Dalia Botanique!
Dalia Botanique Product Range
When going onto a shop on a new brand like this you almost expect to see just one or two items but Dalia has really impressed us with the great selection on offer and just how beautiful the website looks. Some of the products you'll find include:
Botanical Facial Serum: All season skin protection.
Chamomile and Calendula Body Lotion: To soothe your skin.
Chamomile and Calendula Hand Cream: Achieve healthy, nourished and radiant hands.
Green Clay and Rosemary Conditioning Shampoo Bar: For nourished hair.
Huile Nettoyante Cleansing Oil: To wash away even your hardest day!
Lavender and Ylang Ylang Body Oil: To achieve soft skin.
Lavender Conditioning Shampoo Bar: No plastic plus deeply moistured hair.
Mandarin and Bergamot Body Oil: To treat tired stressed skin.
Rose Gerganium Body Oil: To achieve softer skin.
Rose Geranium Conditioning Shampoo Bar: To improve damaged hair.

Although we would like to review all of this wonderful items we are going to concentrate on just two which impressed us the most and are perfect for almost everyone reading this article. What we will say straight away is this is a brand that truly cares about you, provides the nicest scented products imaginable and has impressed us more than any other 'skincare' brand ever has. 
Dalia Botanique Facial Serum
Let me set the scene, you're working out harder than ever before, getting your outdoor steps in and notice that your skin isn't looking as vibrant as it maybe once used to. Incomes Botanical Serum. Made from antioxidant rich oils, white poppy seed and borage oil, this serum is going to help you no matter what the season. 
Simply apply 2-3 drops onto the palm of your hand and gently massage from your neck up to your face. You will instantly smell this incredible blend and your skin will feel refreshed immediately. Typically using a serum at night will help wash away all of the hidden nasties you encountered during your gruelling day. It also for me personally set a proper bedtime routine which left me feeling refreshed, cleansed and relaxed before my head finally hit the pillow.
A 30ml Botanical Serium will cost £30 for a one-off purchase or if you are smart you will opt-in for the Subscribe and Save that offers a 13% off discount and costing just £26.10 each month. Hassle free and delivered to your door automatically… what a time saver!
Dalia Botanique Huile Nettoyante Cleansing Oil
A blend of Raspberry see, hibiscus, moringa, castor, geranium and grapefruit oil… it costs £23 and you should buy it here. Just kidding…but I am not. Even just that list of ingredients and scents made me want to use this product. Where can you read that anymore when it comes to beauty products and skincare? I am impressed! 
Apply a couple of pumps of the product to your palm with a touch of lukewarm water and massage it into your skin. OMG let me tell you this left me feeling like a new person. The scen this gave off and the clean energised feeling it was left behind was like no other.
It's a cleansing oil so there is not much more we can say apart from it truly cleanses your skin and is a product everyone needs to own. Girls? Even think of buying this for your man. I noticed mine using it one morning and that says it all… he has never even moisturised but after smelling the scent on me after I used it he fell in love with it.
… Dalia can we ask you to create essential oils for our home diffuser please? You are scent Goddess!
Dalia Botanique Review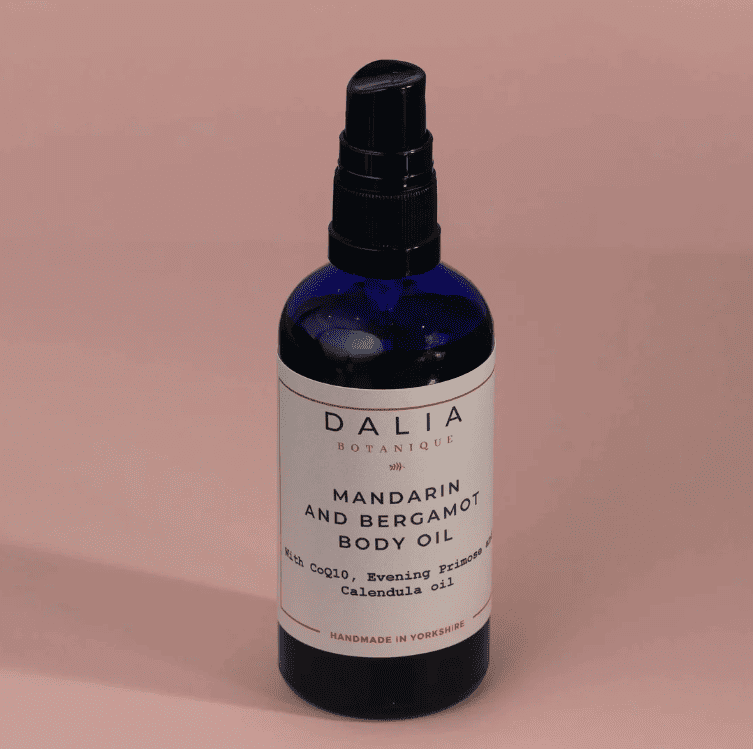 What's more to say? An independently owned, Yorkshire based skincare company that has done everything it can to help the eco-system and provide you with incredible products. Mission accomplished. What is most exciting about this brand is how new it is and the journey they will no doubt be taken on thanks to this fantastic product line.
We are lucky to work with some brands and we will no doubt look forward to seeing and hearing more about Dalia Bontanique everywhere in no time.
Vist to the Dalia Bontanique website and treat yourself Here.