Vitl Daily Biotic helped me say goodbye to digestive discomfort and here's how.
I recently celebrated my 26th birthday, which roughly marked the 10-year anniversary since I first started training.
During that time I've tried all manner of fad diets, quite frankly ruining my gut health in the process. The one which really hammered the final nail in the proverbial coffin was 'If It Fits Your Macros'.
While having the freedom to gorge yourself sounds good, you'll pay for it in the long run. Trust me.
I did, of course, start to read and learn more about nutrition as I fell deeper into the gym life, and I did eventually reach a point where I was eating a healthy, balanced diet that I was content with.
But the scars of the past were still there, and bloating coupled with the dreaded bubbly belly was still commonplace after I ate.
In search of a solution I came across Vitl's Daily Biotic, a high-strength formula that promises nothing but goodness.
Today, we're going to be taking a look at whether it came good on that pledge, and if so, what makes it so special.
That's enough pre-amble, let's get into it, shall we?
Vitl Daily Biotic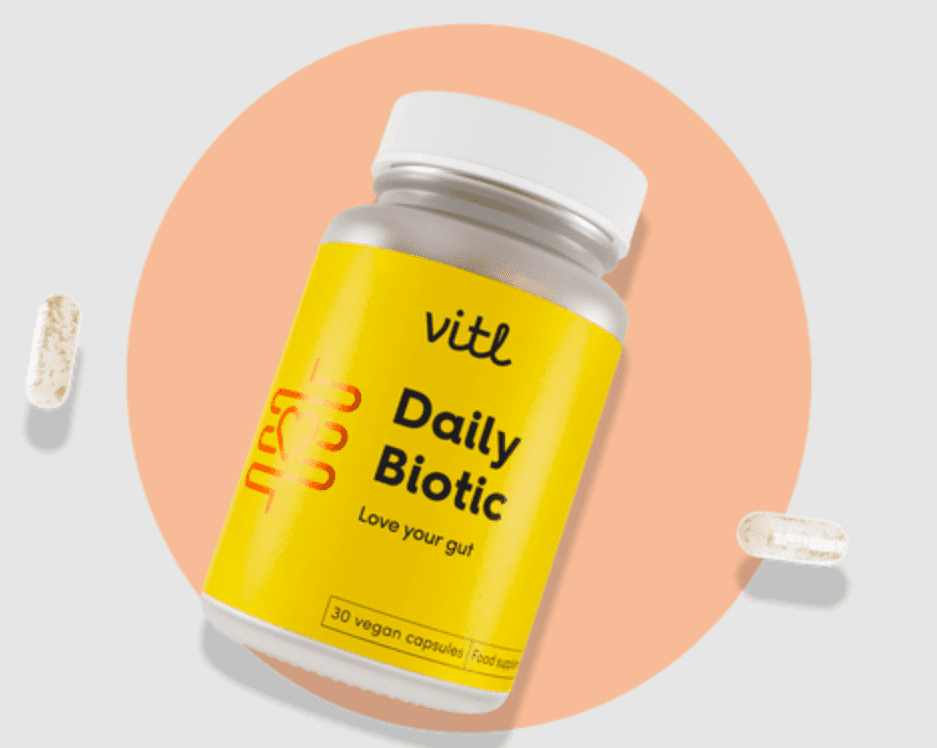 Before we start, it's time for a little biology lesson. Your gut contains trillions of microorganisms, mostly bacteria, that are both helpful and potentially harmful.
The bacteria help to break down food, turning it into nutrients your body can absorb, impacting both your physical and mental health.
As you can probably imagine, an imbalance of healthy and unhealthy bacteria isn't good news for your gut health, and generally speaking, that's when you'll start to experience uncomfortable symptoms after you've eaten.
Vitl's Daily Biotic is made with 14 billion live cultures to support your gut's rich microflora and help your body digest food, control blood sugar, manage cholesterol, manage hormonal balance, prevent infections, and regulate mood.
It's a lesser-known fact that maintaining gut health benefits your whole body and not just your digestive system.
Not only does it ease symptoms like bloating, constipation, and IBS, but it nourishes the strong connection between your nervous system and your gut, regulating your mood, anxiety level and concentration.
Plus, a healthy gut activates protective white cells and assists your immune system's response, aiding your body's fight against harmful infections.
So, what goes into Vitl's Daily Biotic to make it such a potent formula? Let's take a look at the top 3 ingredients:

Lactobacillus Acidophilus
Typically found in cheese, yoghurt, tofu and fermented pickles, Lactobacillus Acidophilus helps break down sugars and is included in a quantity of 4 billion.
Chicory Root Extract
Chicory Root Extract contains plenty of good fibre that feeds your healthy gut bacteria, supporting a positive microbiome composition.
Bifidobacterium Animalis Subsp. Lactis
This little gem is commonly used to alleviate constipation and improve bowel regularity. It can be found in dairy products such as yoghurt, cheese, cottage cheese and buttermilk. Some 6 billion cells are included in Vitl's formula.
The Vitl Difference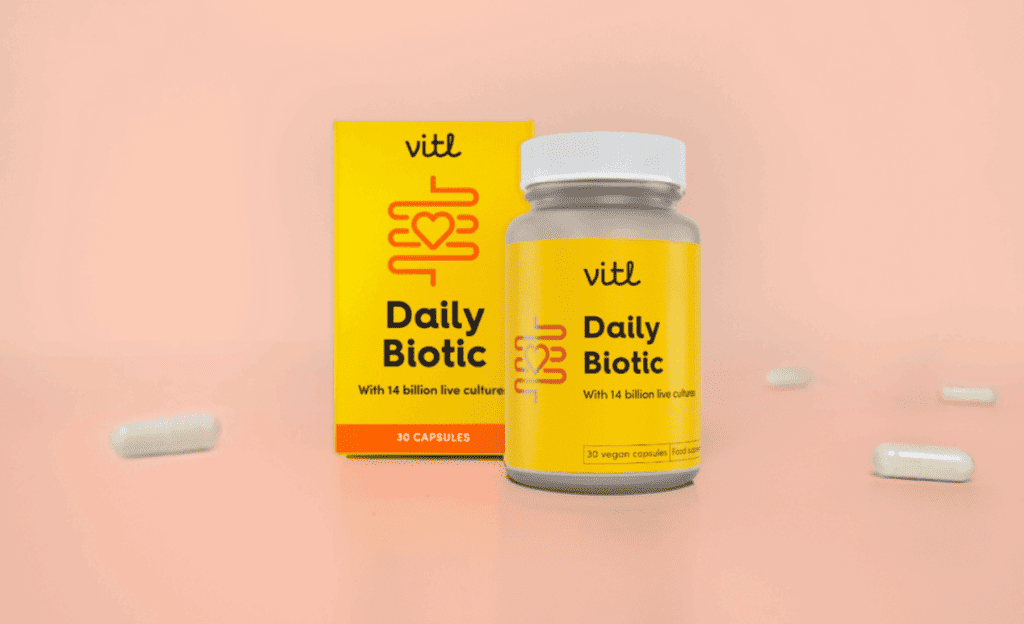 I know what you're thinking, 'Frankie, aside from listing fancy ingredients that I don't really understand, what makes Vitl's formula different to any others?'
I'm so glad you asked. As a brand, Vitl takes its commitment to quality extremely seriously, and if your body doesn't need it, then it doesn't go into its supplements.
That means Vitl's Daily Biotic is crafted with science-backed, high-quality ingredients that are ultra-absorbable for maximum benefit. The formula is also vegan-friendly and non-GMO.
What you won't find is all the added rubbish such as fillers, poor nutrient forms, artificial colours or flavourings, chemicals and preservatives, and sugar.
How To Take Vitl's Daily Biotic
Adding Vitl's Biotic to your routine couldn't be easier, simply take one capsule daily with food. But remember, restoring your gut's natural balance isn't an overnight process. For maximum benefit, Vitl recommends supplementing its Daily Biotic for a 3-month period.
With that in mind, it's probably worth opting for the monthly subscription, which not only saves you money but ensures you get 30 capsules delivered monthly.
To start your journey to better gut health head to Vitl's website today.