Pump up your workout routine with a much-needed caffeine kick from the UK's premier whole bean coffee roasters, Barista & Co. From a dedicated gym buff to the adventurous trail runner, every fitness enthusiast knows the essential role that a perfectly brewed cup of coffee plays in our pre-workout regime.
But what if there was a coffee that not only powered your workout but also enhanced your coffee-drinking experience with unbeatable flavour and aroma? That's precisely where Barista & Co steps in with its whole bean coffee, changing the game one cup at a time.
Whole bean coffee is the power-packed secret to unlocking a whole new level of taste and freshness. Encased in a natural protective shell, the beans preserve a symphony of robust flavours and enchanting aromas, setting up a brew that's far superior to your regular preground coffee.
Imagine extending that unbeatable post-workout euphoria with the exhilaration of a cup of coffee that lasts longer and tastes better. Whole bean coffee offers a staggering 12-week lifespan, nearly ten times longer than supermarket-bought preground coffee, ensuring you always have the optimal fuel for your workouts on standby.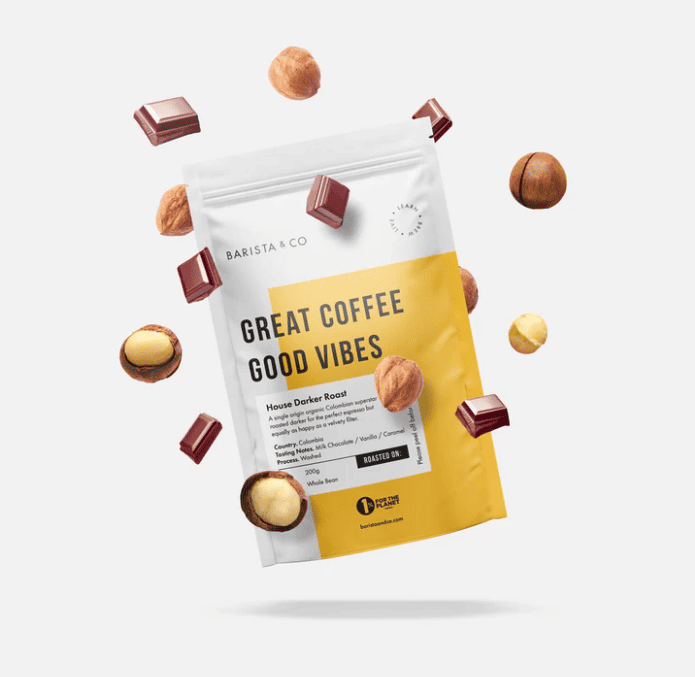 Additionally, Barista & Co's whole bean coffee approach significantly reduces the environmental impact. Opting for larger bags of whole beans means fewer deliveries, fewer procedures, and thus, a substantial decrease in carbon pollution. It's a step forward towards a healthier you and a healthier planet.
Embodying a philosophy of community empowerment and environmental consciousness, Barista & Co goes beyond just roasting beans. They source their high-quality coffee beans from farms driven by local communities, paying an incredible 4x more than the Fair Trade rate. It's a perfect blend of great taste and ethical sourcing that benefits both the global coffee-growing communities and the environment.
As a part of '1% for the Planet' and 'Project Waterfall', Barista & Co also dedicates itself to actively reducing its environmental footprint. Their conscious efforts include offsetting carbon in their delivery and manufacturing processes, offering spare parts to prevent coffee makers from ending up in landfill, and using 100% recyclable packaging.
Your workout deserves the best caffeine fuel, and now you can get it at a bargain. Use our exclusive 10% off Barista and Co Discount Code GYMFLUENCERS at checkout. Treat yourself to an aromatic cup of whole bean coffee that elevates your workouts and contributes to a sustainable future. It's time to power up your fitness routine with Barista & Co, because a better you deserves a better cup of coffee.