We love a good seamless set for working out in and right now Gymshark have some great seamless pieces in. The range for women includes key pieces like leggings, cycling shorts, and tops that are all amazingly comfy and perfect for lifting, running, and stretching, as well as just relaxing.
We've had a good scroll through the Gymshark women's seamless collection and picked out our top 3 pieces that you need in your life right now.
1. Gymshark Vital Seamless 2.0 Leggings
We've got a feeling these Vital Seamless 2.0 leggings will quickly become your go-to choice for hitting the gym.
Made with sweat-wicking fabric and seamless contours they are unbelievably comfortable, whether you're working up a sweat during a tough workout or stretching out in a yoga class.
The high-waisted fit and supportive, ribbed waistband makes these leggings super supportive during workouts, and they leave you feeling and looking great.
They're available in a great range of colours including Black Marl, Evening Blue, Marl, Sorbet Pink Marl, and Woodland Green Marl. And you can get them in a range of sizes from XS to XXL for £45.
We really love the breathable marl mesh dots on these leggings which not only help to keep you cold and dry during your workout, but also make a subtle design feature that really elevates these from your plain, standard leggings.
2. Gymshark Adapt Animal Seamless Sports Bra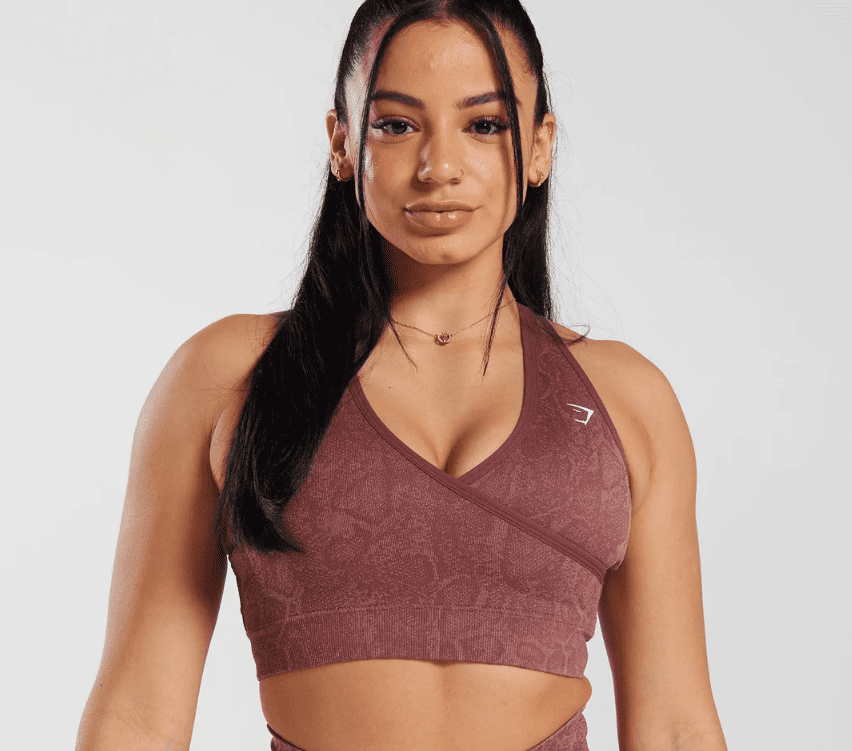 Ladies, we all know how essential a good sports bra is when you're working out, whether you're hitting a class, or working the weights corner, and the Gymshark Adapt seamless sports bra is a particularly good option.
It comes in four gorgeous colours – Modern Blush Pink/Magenta Brown, Willow Green/Core Olive, Urban Grey/Black, and Iceberg Blue/Thunder Blue – and you can get it in a range of sizes from XS to XXL, for £38.
The Adapt seamless bra is made with sweat wicking fabric to keep you cool and dry while the
seamless finish gives you ultimate comfort during your workout.
It comes with removable pads and has funky crossover back detailing and all over hybrid animal jacquard finish that we absolutely love. Sports bras are quite often simply functional, so we adore the fact that Gymshark have made this one actually look great too, so you feel amazing wearing it.
With medium support, the Gymshark Adapt sports bra is perfect for weight training, yoga, and lower impact classes.
Just need light support? Then check out the Rest Day Seamless Bralette. It costs £30 and comes in colours like Charred Blue, Black, and Earthy Brown. With its super soft fabric, double layered design, and seamless construction it's absolutely perfect for rest days.
3. Gymshark Adapt Animal Seamless T-Shirt
Our third pick from the Gymshark seamless collection is the Adapt Animal seamless t-shirt, which you can grab for just £32.
It's available in four understated colours – Modern Blush Pink/Magenta Brown, Urban Grey/Black, Mushroom Brown/Urban Grey, and Willow Green/Core Olive – and while we love all the options, the Blush Pink combo is our favourite!
You can get the t-shirt in a range of sizes from XS to XXL, just remember that it's designed with an oversized fit so keep that in mind when you decide which size to get.
Lightweight and sweat wicking, the Adapt seamless t-shirt also has dropped shoulders for a laidback fit and seamless construction for ultimate comfort and no irritation.
We love the way that the ribbed collar, Gymshark logo, and all-over wild animal jacquard design add subtle style to the classic tee, making this a top you'll reach for over and over again.
Perfect for relaxing and for days you want a bit more coverage in the gym, you need this t-shirt in your wardrobe.
Conclusion
These three pieces are our top picks, but you have to go and check out the entire seamless collection at Gymshark because there are also more amazing tops, shorts, and sports bras in the range so you can completely revamp your workout kit and hit the gym in total, seamless comfort! 
Next, check out our post on the Gymshark Hoodie We Can't Stop Talking About or Why We Adore Our Tikiboo Leggings.