You will know MattDoesFitness from his viral Vlogs and social media posts which he publishes to millions of his followers daily so you will have also probably seen his release of the Morsia Energy Drink which is the newly hyped product in the energy drink market. The big question is what Morsia Energy tastes like and whether is it worth buying.
Currently, with 2.17Million YouTube subscribers, 1M+ Instagram followers, and many more across his other channels marketing this release was always going to be the easy bit let's have a deeper look into this brand and what the future holds for MattDoesFitness and his company Morsia LTD.
Morsia Energy Drink
Released on October 23rd, 2022 Morsia Energy has already seen some items sell out on their online store but luckily you can still find individual cans, 6 packs, and 18 packs at WHSmith, Amazon, and YouTube.
Celebrities, influencers, and athletes have all been seen trying and loving the Morsia Energy Drink including the skit King Olima Omega.
Morsia Energy is available currently in 3 delicious flavors Strawberry Crush, Fruit Punch, and Cloudy Lemonade which delivers 200mg of caffeine per can with 0 calories and 0g of sugar. All of it sounds good but what does it taste like?

Morsia Energy Taste Test
OK, it's delicious. We won't play this out and make you read the full article so just to confirm it tastes fantastic and the standout flavour is Fruit Punch which is perfectly sweet, has a slight tang, and is incredibly refreshing. Morsia Energy doesn't taste like many other synthetic-tasting energy drinks and is more like a flavoured water taste and feel.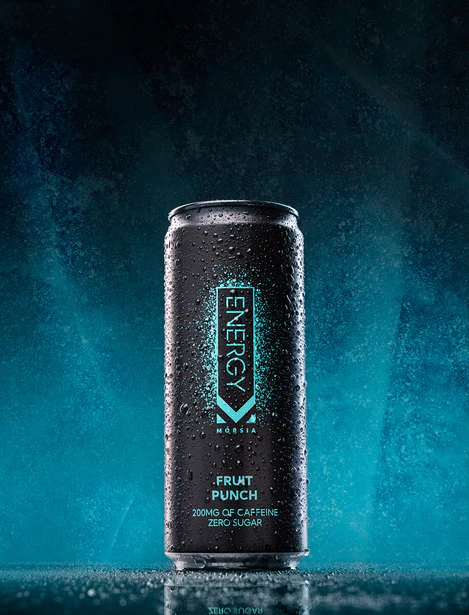 The 200mg of caffeine in each Morsia Energy drink will definitely give you a boost and help you hit your personal best and if you are anything like Matt Morsia then those PBs will even go viral on Instagram once posted.
Price
The price point is also spot on. Nobody will ever compete with £1.49 500ml Monster Cans but each Morsia Energy Drink 330ml can start from around £1.40 when purchased in multi-packs. This is still an incredibly good price point and one which has been well-received by the industry hence why it's selling out fast.
Morsia's online store currently has multiple available packs which are priced at:
Variety 3 Pack: £5.99
6 Pack Single Flavour: £8.99
12 Pack Single Flavour: £16.99
Other packs are available but are currently sold out. You can find the Morsia Energy Drink store Here.
The Future
With Morsia Energy being kept secret and developed for the past 12 months it's safe to assume that Matt and his team are already thinking years ahead and planning future flavours, ranges, packs, and more in-store availability. What would take a brand like this to the next level is being stocked in one of the big chain supermarkets including perhaps Tesco or Asda.
Morsia Energy is currently only available in the UK but we imagine that will soon change. Supply chain issues are still hindering the world of import & export but Europe and US are definitely likely in 2023. Also being part of the same distribution circle of Prime and 3D the big US stores such as Walmart and Sam's Club are also very likely to see this brand stocked as long as Matt's fame and presence carry over to the American market.
Morsia LTD still continues to grow and is now offering Energy Drinks, Morsia Gym, Headphones, Merch, Lifting equipment, and the infamous Morsia 90 day challenge workout plan. What's next for Matt, Sarah, Ben, and the rest of the team? Who knows but we will be here eagerly awaiting to try it all and of course show our support.