The weather's getting warmer. The sun is beginning to shine. You're heading to the gym to work on your beach body and probably keen to get some more protein in. Sometimes when it's hot outside though, you're not in the mood for a thick and milky shake – that's where MyProtein clear whey isolate which we think is the perfect summer drink!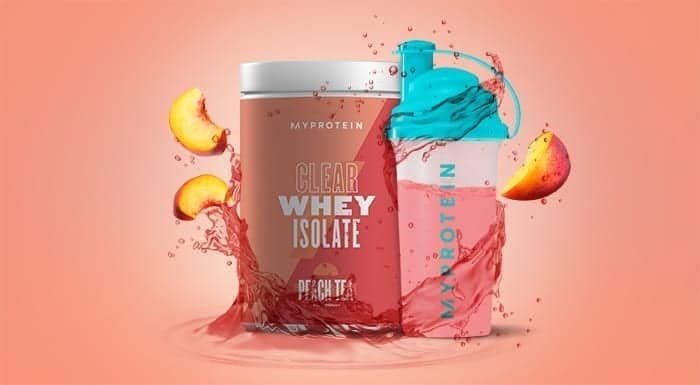 New In: MyProtein have just launched their new 'Black Cherry' flavour clear whey isolate as part of their Impact Week sale. Head over to the site before it sells out to get your hands on a tub Here.
MyProtein
MyProtein is a leading sports nutrition brand, delivering a range of quality products including protein powder, vitamins and minerals, high-protein foods, snack alternatives, and performance clothing.
Founded in 2004, Myprotein is now Europe's No. 1 protein brand. Based in Manchester they now operate in over 70 countries through a diverse and dedicated team of staff, athletes, and active influencers. Every day they work to inspire people of all ages and genders to believe in their fitness potential, then fuel them to achieve it.
Everything is produced in-house, cutting third-party costs to deliver great prices, and guaranteeing the greatest quality. They've invested strongly in state-of-the-art production facilities and advanced testing measures to deliver on purity promises, so you can be sure that everything leaving their warehouse meets the highest standards.
MyProtein Clear Whey Isolate – an award-winning refreshingly juicy protein shake
Macros (per 25g serving):
Calories: 84
Protein: 20g
Carbs (of which sugars): 0.7g (0g)
Fat: 0g
Ingredients:
MyProtein Clear Whey Isolate Hydrolysate (Milk) (96%), Natural Flavouring, Acid (Citric Acid), Acidity Regulator (Phosphoric Acid), Anti-Foaming Agents (Dimethyl Polysiloxane, Silicon Dioxide), Sweetener (Sucralose)
Price: £26.99
Winner of 'The Best Sports Nutrition Product' in the European Specialist Sports Nutrition Awards 2019, Clear Whey Isolate is not just another protein shake. MyProtein have taken their high-quality hydrolysed whey protein isolate and created a light and refreshing alternative that tastes more like juice than a milky protein drink.
Key benefits of the shakes include:
A whopping 20g protein per serving
Light and refreshing, with all shakes under 100 cal
No milky taste or texture
4g BCAAs and 3g glutamine
Low in sugar
The formula for MyProtein Clear Whey Isolate comes in a wide range of fruity flavours, which include:
Bitter Lemon
Blood Orange
Pineapple
Peach Tea
Mojito
Rainbow Candy
Tropical Dragonfruit
Yuzu Green Tea
The Verdict
MyProtein clear whey isolate is deliciously refreshing, incredibly sweet and perfect mixed or blended with ice on a hot day. My personal favourites were the zesty Mojito and sweet peach tea but, to be honest, I loved all the flavours I tried almost equally.
It makes a lovely change from regular whey and feels so much lighter than drinking a protein shake. Plus, if you're looking to experiment with the powder, they've got plenty of ideas over on their blog for other ways to use it – from making slushies and cocktails to gummy sweets and jellies!