Bodybuilding enthusiasts are gearing up for the premier event of the season: The Northern Bodybuilding Championship (NBC), slated for Saturday, 16th September. The Point in Sunderland will host this iconic event, showcasing the prowess and dedication of the finest athletes in Northern England.
From seasoned professionals to ambitious amateurs, all are set to take the stage and battle for the coveted title of the Northern Bodybuilding Champion. As they flex and pose under the limelight, they will be scrutinized by an expert panel of highly experienced and qualified adjudicators.
A new addition to the event this year is the opportunity to upgrade to a VIP experience. VIP ticket holders will reap exclusive benefits, including access to premium seating areas providing an unparalleled view of the athletes in action. The hassle of waiting in long lines will be a thing of the past, thanks to table services for drinks and snacks. Additionally, early check-in will be available at the Box Office through a 'queue jump' feature, ensuring that VIPs get a seamless experience from the very beginning.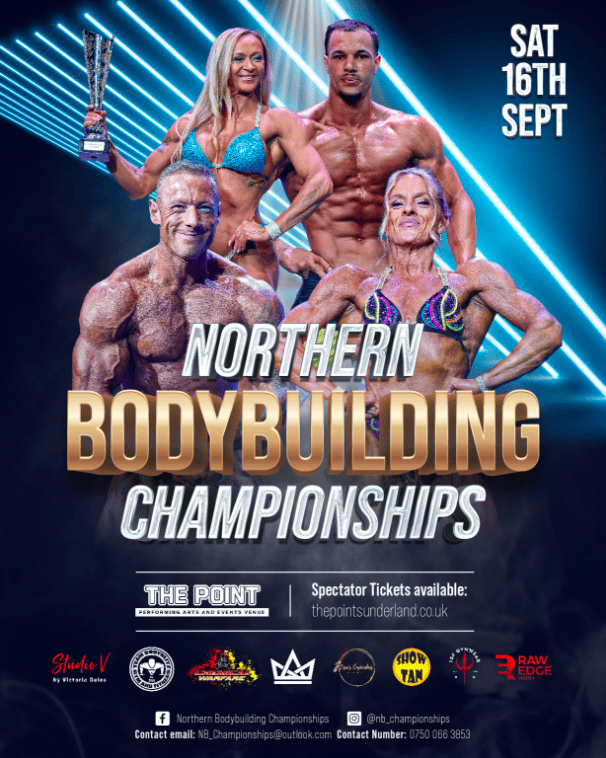 But what does it mean to win at the NBC? Beyond the prestige, the overall male and female victors will be awarded significant prize money. After individual class winners are determined, an electrifying showdown will ensue to crown the Northern Bodybuilding Overall Champion. Additionally, class winners will not walk away empty-handed as there are plenty of prizes awaiting them. One deserving athlete with the best presentation will also earn a sponsored photoshoot, an opportunity to capture their excellence.
Venue Details
Location: The Point in Sunderland, Holmeside, Sunderland, SR1 3HY
Date: Saturday, 16th September 2023
Time: 12:00 pm to 5:00 pm
This championship promises to be a grand display of dedication, discipline, and determination. As the athletes prepare to dazzle the audience with their toned physiques and dynamic presentations, spectators are in for an experience that's both inspiring and entertaining.
Tickets are selling fast, with the VIP tickets especially in high demand. Mark your calendars and be part of this enthralling event. The Northern Bodybuilding Championship is not just a competition – it's a celebration of human potential.
Check out the Northern Bodybuilding Championship 2023 event listing here. You can also explore the official website or check out other bodybuilding events on our events page.