Put down those coffee mugs, my caffeinated compatriots, for Phizz has unveiled its latest creation, Cherry Caffeine Boost.
This ground-breaking formula, which the UK-based brand has dubbed a 'global first', aims to optimise natural energy levels, combat fatigue and drowsiness, and deliver a daily dose of invigorating wellness. The great thing is that you can get this formula for 20% off, too, if you use our discount code EXCLUSIVE20.
Each tablet is somewhat of a triple threat. With 75mg of caffeine, equivalent to a cup of coffee, and fortified with invigorating Guarana, it provides a smooth and sustained lift that promises to keep the jitters at bay.
Further enhanced by a potent blend of essential B vitamins, it unlocks the body's natural energy resource by helping convert our food into fuel.
What's more, Caffeine Boost contains an electrolyte formula used by professional athletes to help your body absorb water up to 3x faster, combating fatigue caused by dehydration in the process.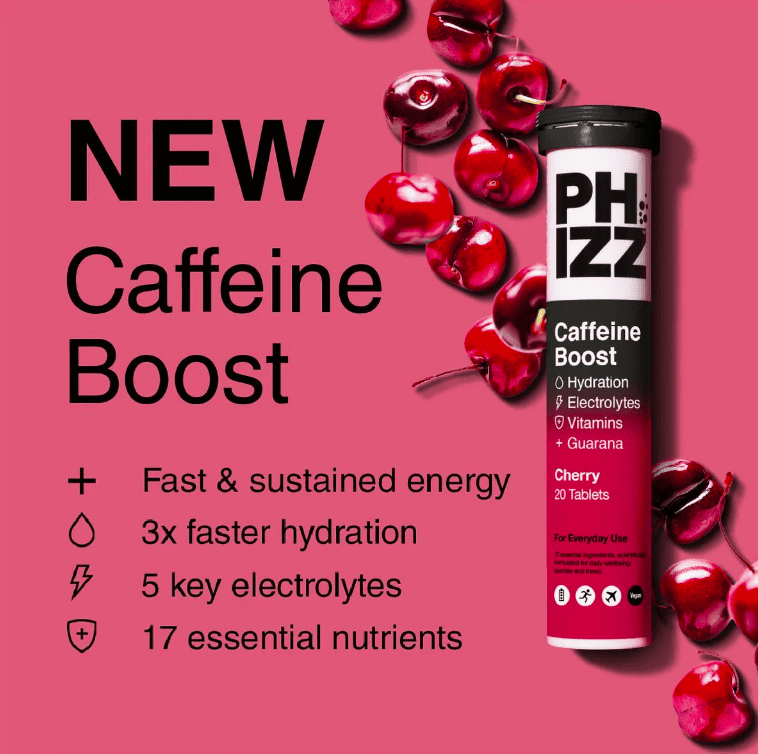 The low-calorie (10kcal) tablet is complimented with a range of 17 essential nutrients for optimal health, making it a convenient option for those who are stifled in their attempts to stay on top of their nutrition by work and family commitments.
Daniel Cray, CEO and founder of Phizz, said: "At Phizz, we provide comprehensive solutions with unmatched science to beat any other single product in the market. This product has a fresh perspective on the energy category while ensuring optimal hydration and health. And at only 40p per drink, we offer solid science at a great value."
The cherry-flavoured energy sensation launched nationwide in Tesco on June 19 and is also available on the Phizz website. Don't forget to use EXCLUSIVE20 for 20% off.