Point Zero Zero One clothing brand keeps popping up on our social media feed so we had to look further into this brand that focuses it's design and branding around motorsport. Founded by Justin Cernis, the independent UK brand vow to produce garments which look great in the gym, on the road, whilst shopping or even just as an every day garment and we have to say…they nailed it! Not only are the PointZeroZeroOne.Com clothing items nice on the eye they are also of the absolute highest quality thanks to the technical and premium fabrics used.
When it comes to customer service Point Zero Zero One have excelled where others have failed. Instant social media replies, 48 hour free delivery, free returns and a customer service team that replies swiftly to all incoming emails and DMs makes a refreshing change from the mass manufactured and larger brands in this space.
Activewear brands have come and gone, especially during 2020/2021 due to them just trying to make quick buck with basic designs and cheap materials. We are safe to say that Point Zero Zero One clothing brand is here to stay. We are actually really excited waiting to see future designs and if they bring on board any athletes from the motorsports space to represent their brand.
Point Zero Zero One offer men's and women's sportswear including t-shirts, hoodies, joggers, tights, vests, half zip jackets, leggings, sports bra and our favourite the Point Zero Zero One lightweight flow viz jacket. The price point of these items are mid range but the quality is of the highest we have ever seen. We received a care package from Point Zero Zero One and those are the items we are now going to review.
So when companies talk about a stand out item this has to be it for the .001 team. Any company can make a T-shirt or a hoodie but when it comes to specialist items like this only the ones who strive to be the best will bother with. The monotone colour pallet (used throughout to avoid motorsport rival branding colours) features in this jacket with black, grey and whites splashed and dotted across the entire jacket in a pattern we don't see anywhere else. What makes this design so stand out is the way the their .001 logo is placed on the chest and almost camouflaged into the jacket. This again shows the precision in design and manufacturing.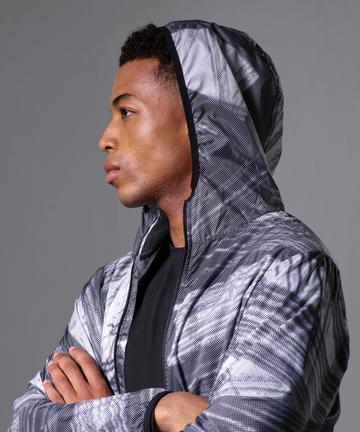 Attention to detail flows throughout this piece with their rubber branded zips, hanging tags and the rubber lined zip patch for both front pockets. Made from 100% breathable polyester with a PU water resistant coating this jacket is made to last and to be able to face everything you have to throw at it.
Priced at £65 and available in sizes XS, S, M, L, XL and XXL it reaches a wide audience. This is not a standard zip up jacket, it's special, it's fun, it's different and it's extremely comfortable to wear. As soon as I tried it on my first words were "I can't wait to wear this on my next run". Now that's exactly what an item of gym wear/activewear clothing should do to you…make you want to train and show it off.
At £40 this T-shirt had to shine and it certainly does that. The unique all over Flow Viz paint design sets this piece off along with it's reflective front and arm logo and it's pop of turquoise colour hidden in the neck tape. Made from 100% cotton Jersey this garment is super comfortable, light weight and perfect for training or just heading out to the shops in.

Unlike many other t-shirts made in this similar way it is not thin and it actually holds it's shape rather than completely holding yours (unlike a football shirt or underlayer). It's breathable, quick drying and can be worn loose if you size up. The arms fit nicely on the biceps and due to it being slightly thicker due to it's material it hands so much nicer and neater than it's rivals.
Available in sizes S, M, L, XL and XXL the Point Zero Zero One Flow VIZ TEE is an item you need to add to your wardrobe.
When it says oversized it means it! Make sure you read the sizing guide correctly as with many oversized items the shoulders do hang slightly over especially on a woman. If you are a size 12 wanting a slightly loose fitting garment then go for a size XL.
Yet again this hoodie blew us away. It's comfort level is like no other, the branding pops throughout and the little touches like concealed front pockets and the rubber branded toggle ends really set this piece off and makes sure it stands out from the rest. At £95 it's an item of clothing that you will want to show off no matter if that's in the gym, on the way to the gym, at home or for leisure. Once this hoodie is on, you will never want to take it off.
Made from 100% pima cotton you will have the super soft feel throughout. With rub cuffs and hem plus zipper pocket silicone dipped cords and a woven neck label you can be assured that your new .001 purchase has undergone the most detailed of design and manufacturing stages.
OK so what about branding? On the front is their subtle .001 logo but vertically down the back in uppercase text is POINT ZERO ZERO ONE which cleverly even runs up and over the hood (see image below). If you are walking down the street everyone will stop and turn. This is a premium garment with first class design. We love it (so much so I am wearing it whilst creating this Point Zero Zero One Clothing Brand Review article).
Point Zero Zero One Men's Logo Tee – English
You might have read the items title and thought there is a typo but we assure you it's not. The English part is for the brand name being spread across the entire front of this T-shirt in uppercase. It's also available in Japanese and Spanish which look even better than this English version.
Costing £40 and available in sizes XS – XXL it's a staple T-Shirt for everyone to want to add to their wardrobe. I would personally not wear this to the gym but more for casual occasions. The design is brilliant, the fit is relaxed and the material (made from 100% pima cotton) is luxurious. I feel like I am wearing a £120 high end fashion item and not one that could easily be worn to the gym thanks to it's premium quality and technical fabrics.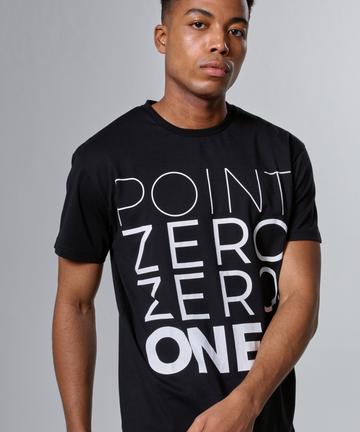 For us this was the only item where there was an issue…we ordered the wrong size. Being oversized we did not take this into account. So when wanting a size 12 we went for XXL when in reality a large would have given that slightly loose fit to go over a sports bra. That, however is on us and not .001. With branding on the front and a small logo on the upper back this is a subtle piece that screams quality and function. This is made to be trained in and to be used relentlessly thanks to it's Dri-Release finish, polyester/cotton mix fabrics and quick drying technology.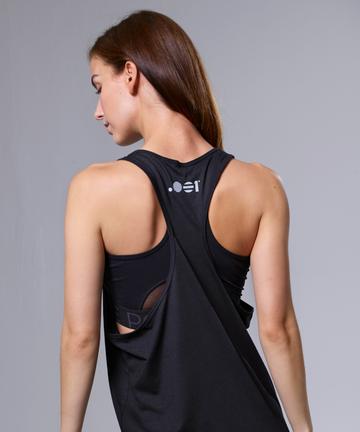 Conclusion
Our Point Zero Zero One clothing brand review was one of the most fun experiences we have had with a partner so far. Their eagerness to show off their items, next day delivery and quick customer service replies was actually like nothing we have ever received before. It's a great team and a team that's not here to provide bad quality items cheap but one who are going to continue to push the envelope to produce high tech, high fashion, high functioning pieces are a reasonable price point.
Discount: Make sure you use code GF10 at the checkout to receive a 10% discount. You can also read more reviews on activewear brands here and view a full list of discounts and promo codes here.