The world of snack foods has been revolutionized, thanks to Procorn, the protein-rich popcorn brand that's adding some muscle to our munching. Offering a boost to your regular popcorn, Procorn has ingeniously introduced a product that pairs pleasure with protein. The party now comes with protein, transforming a simple snack into a substantial supplement, ideal for gym-goers, athletes, or anyone looking to amp up their protein intake in the tastiest possible way.
Procorn offers two flagship flavours: "Sweet & Salty" and "Sweet Vanilla". Both have received a warm reception, although some feedback suggests that the vanilla could pack more of a punch. For fans of a vanilla protein shake who love a full-on flavour, a little more vanilla oomph would take this variety to new heights. Despite this, the overall flavour profile is pleasantly balanced, ensuring your palate is not overwhelmed.
"Sweet & Salty" leans towards the sweet side, but it carries enough saltiness to maintain a good balance. The aroma it wafts is simply irresistible, hinting at the flavourful experience that awaits within the bag. It's a testament to the brand that even though there's room for improvement in the flavour department, the product has been well received.
The entire Procorn line is sugar-free, vegetarian-friendly, and gluten-free. With just 170 calories per 36g bag, Procorn delivers a nutritious yet light and seriously tasty snack that appeals to health-conscious consumers. A welcome bonus is the 5g of protein per bag – a significant increase compared to the mere 3.5g protein found in a standard three-cup serving of regular popcorn. Moreover, each bag is packed with natural sweeteners, underlining Procorn's commitment to wholesome goodness.

One of the key selling points of Procorn is its suitability for those on a diet. With its high fibre content, low calories, and added protein, Procorn can satisfy snack cravings without compromising your diet regimen. The bonus protein also provides a feeling of satiety, reducing the urge to snack excessively. With its health-friendly preparation and portion-controlled bags, Procorn strikes the perfect balance between taste and health.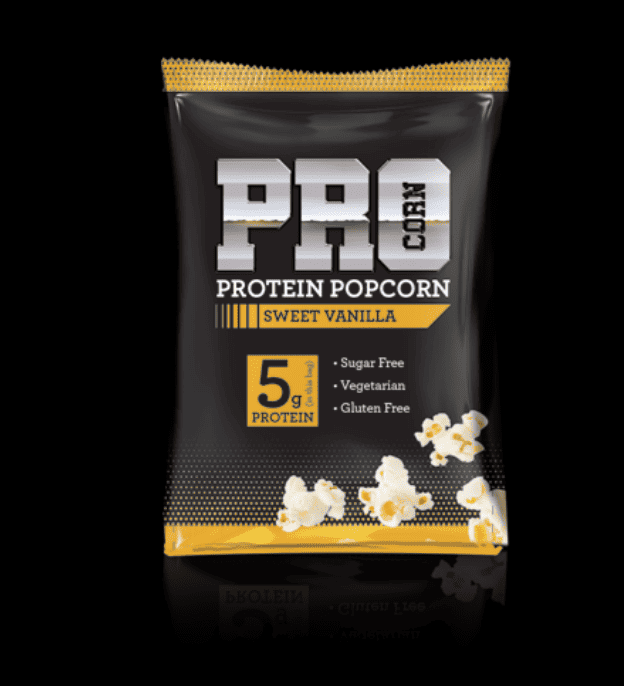 However, gymfluencers and the protein popcorn enthusiasts among us would love to see Procorn expand their flavour portfolio. Exciting, outside-the-box flavour suggestions include spicy, salt and vinegar, and even speculoos, which would truly set Procorn apart in the market and cater to the adventurous tastebuds.
In conclusion, Procorn is a commendable step forward in the snack food industry, redefining the way we perceive popcorn. Its innovative protein-enriched formula makes it a more balanced and healthier choice compared to regular popcorn. While there is scope for enhancing the flavour profiles and expanding the variety range, Procorn has successfully made a mark with its delicious and nutritious popcorn, perfect for those who want to enjoy snacking without the guilt. Popcorn just got a protein-packed upgrade, and we're here for it!
Visit the website here to shop.