If you're a coffee addict like me and you can't get through the day without your caffeine fix, then you might have seen Protein Works Endless Iced coffee and wondered if it might be a good alternative to your usual coffee fix. 
Maybe you're thinking that it looks pretty impressive, but is it really worth it?
Well, let's take a look at it together. Little spoiler alert though – it is absolutely worth it!
Protein Works Endless Iced Coffee is an instant coffee powder that you simply mix with cold water to create a delicious, iced caramel latte that is packed with 12 active ingredients that will supercharge your morning in a way that your normal coffee could only dream about doing!
So what's actually in it?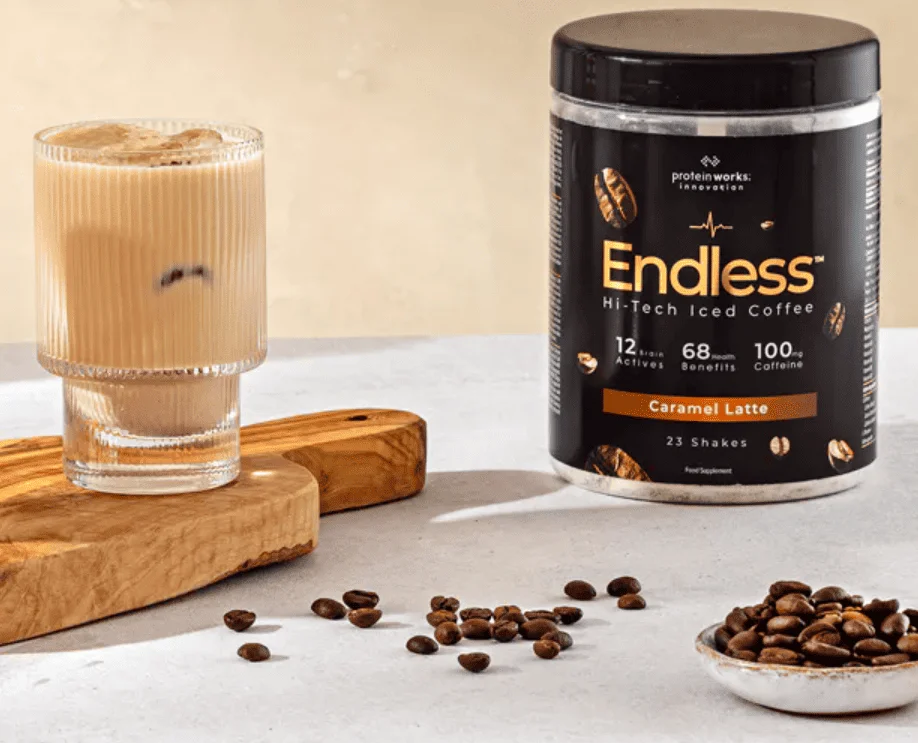 Well it's a potent mix of active ingredients that are well known for their brain-boosting powers. You've got Ashwagandha which helps reduce stress and anxiety, L-Theanine which boosts mental focus and cognitive performance, and MCTs for an increase in energy and brain function.
On top of that there's also Green Coffee Bean which adds the perfect amount of caffeine to work in harmony with the L-Theanine to give you energy and increase your focus, but without the jitters that you can get with caffeine alone.
And as if that wasn't enough, Endless Iced Coffee also contains a blend of vitamins including vitamin C, vitamin B5, and vitamin B12, which all contribute to better brain function, better focus, and better ability to handle stress.

All the ingredients come together in an amazing tasting drink to get your day off to the best start possible, giving you clear, sharp focus and a great dose of clean, lasting energy without the crash that you get with your standard cup of coffee.
Right now a 23-serving tub of Protein Works Endless coffee costs just £19.99, and you can get it for an even better price by using our exclusive discount code. Just add the code GF10 at the online checkout for an extra 10% off your order!
So is it worth it? Even at its normal price of £34.99 it is absolutely worth it for the benefits you get from drinking this instead of a standard cuppa in the morning. So at this current reduced price it's a real steal.
So what are you waiting for? Switch out your normal coffee for Endless Iced Coffee and see how quickly you notice the difference in the way it supercharges your day.