If you'd told me a few months ago how great I would be feeling after adding just one thing to my morning routine I wouldn't have believed you, but I swear having Protein Works Super Greens every day has been an absolute gamechanger. And if you want to try it for yourself (which you absolutely should!) you can save 10% off the price with our exclusive Protein Works discount code GF10.
Protein Works is a UK-based brand that's all about helping you reach your fitness goals, with high-quality protein-packed products and health-boosting supplements that help you build muscle, lose weight, and improve your overall health.
Everything in the Protein Works range is made with 100% pure, premium grade ingredients so you know you're only getting the absolute best with all their products.
My current obsession though, is their Super Greens powder.
It is honestly the easiest way to get loads of goodness into your diet without trips to the supermarket to buy fresh veg and greens that will inevitably go off in the fridge before you actually get round to eating them all up!
The powder is packed with 13 active ingredients including Spirulina Powder, Spinach Powder, Chlorella Powder, and Matcha Tea, all in optimal amounts for the best possible health benefits based on the latest scientific research.
Now, I know what you're thinking. With ingredients like these, this can't possibly taste good. I mean, greens powders don't exactly have a reputation for being delicious drinks that you look forward to having each day!
But somehow Protein Works have pulled off the impossible and made their Super Greens actually taste great. Actually, I know how they did it. They carried out over 200 taste tests to nail down the formula so it tastes incredible, making it something you really will happily drink every day.

The three different flavours in the range are Original, Pomegranate and Cranberry, and Tropical Punch, and my personal favourite is their best-selling Pomegranate and Cranberry. It's got a sweet, fruity flavour that's not overpowering but takes away that classic 'greens' taste, and it also works really well with the earthy texture the powder has.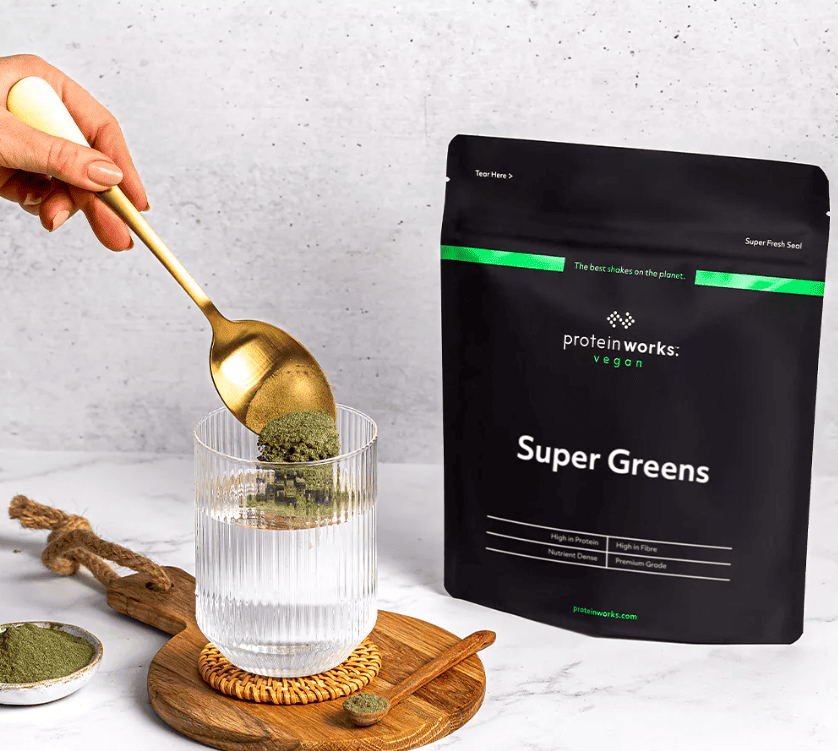 You can mix up a scoop of the Super Greens powder with water in a Protein Works shaker, or just stir it up in a glass with a handheld frother. And if you want to change things up a bit you can add the powder to a healthy, fruity smoothie for a real nutrient boost.
I love the fact that Protein Works have a good range of packet sizes to choose from that includes a 250g 20-shake pack, a 500g 41-shake pack, and a huge 1kg 83-shake pack. So if you know you'll easily make it a daily habit you can pick up the biggest size, but if you're new to the world of Greens powders and just want to give it a try now and then you can stick with the smaller pack.
Whichever flavour and size pack you pick up you'll get so many benefits from drinking these Super Greens.
Each serving is high in protein and fibre, and incredibly nutrient dense, made with premium grade ingredients. Which means that drinking a glass of Super Greens every day gives you a powerful boost to your immune system, supports your digestive system, fires up your metabolism, and gives you extra energy to fly through your day.
All the greens in the powder have their own unique properties that help your health in different ways, like Wheatgrass powder which contains amino acids and antioxidants, along with vitamins A, C, and E, and minerals like calcium and iron.
The formula also has Ashwagandha which is used as an adaptogen and helps us cope better with stress and anxiety, boosts energy levels and focus, and can even boost athletic performance.
With so many incredible ingredients in one formula, this really is the easiest way to get huge amounts of goodness into your daily diet.
So if you're looking for a simple way to improve your health and wellbeing, Protein Works Super Greens is a no-brainer. It tastes great, is really easy to mix up in the morning, and has so many health-boosting benefits. It's been a real game-changer for me, so go grab some and see how good it can make you feel too.
And when you do, remember to use our Protein Works discount code GF10 at the online checkout to save yourself 10% off your order. Visit the Protein Works website here to shop.