Don't you just love it when something lives up to its name?! Pure Heavenly vegan chocolate definitely does just that. It's vegan chocolate that is absolute heaven for chocoholics who are looking for a dairy-free, gluten-free, vegan alternative to all the other chocolate bars on the market.
Pure Heavenly's mission is to make the best, top-quality taste treats that offer a no-compromise solution for their customer's needs. And, having tried their chocolate bars for myself, I think they've well and truly succeeded in that mission!
Made with the best possible ingredients, Pure Heavenly vegan chocolate is rich, smooth, and indulgent, with a taste that will blow you away.
What is Pure Heavenly chocolate made from?
These chocolate bars are 100% vegan, so they're not made with cow's milk like most other bars (big win for the lactose intolerant folk out there!).
Instead they're made with rice cream for that perfectly creamy texture.
They're also made with cocoa butter instead of the palm oil that other brands use, and contain less than 1% sugar making them a popular choice with people who are keeping an eye on their macros and looking for healthier treat options.
Pure Heavenly was created back in 2018 after founder Stephen Conway got frustrated trying to find chocolate that his family, who have a range of different food intolerances, could enjoy without worrying about any unpleasant reactions.
He played around with a lot of different recipes before landing on the winning one that went on to become the basis of all of Pure Heavenly's bars.
Pure Heavenly on Dragon's Den
Pure Heavenly got a big helping hand in getting their name (and delicious chocolate) out into the world from an appearance on BBC's Dragon's Den in 2019.
All the dragons were bowled over by how good the chocolate was, with Peter Jones saying it was "the best chocolate I've tried in a long time", and after a bit of debate Conway shook hands with Jones on a deal for a £75,000 investment in the business.
The deal ultimately fell through though, with Pure Heavenly declining Peter's offer after a period of due diligence, several meetings with his companies, and reading through contracts with clauses that they weren't comfortable signing. 

Looking at the ongoing success that Pure Heavenly are having though it seems that they're doing just fine without the investment!
While a chunk of their success could be credited to the exposure they got from appearing on Dragon's Den, most of it really does come down to the fact that Pure Heavenly's chocolate is just really damn good.
Pure Heavenly Flavours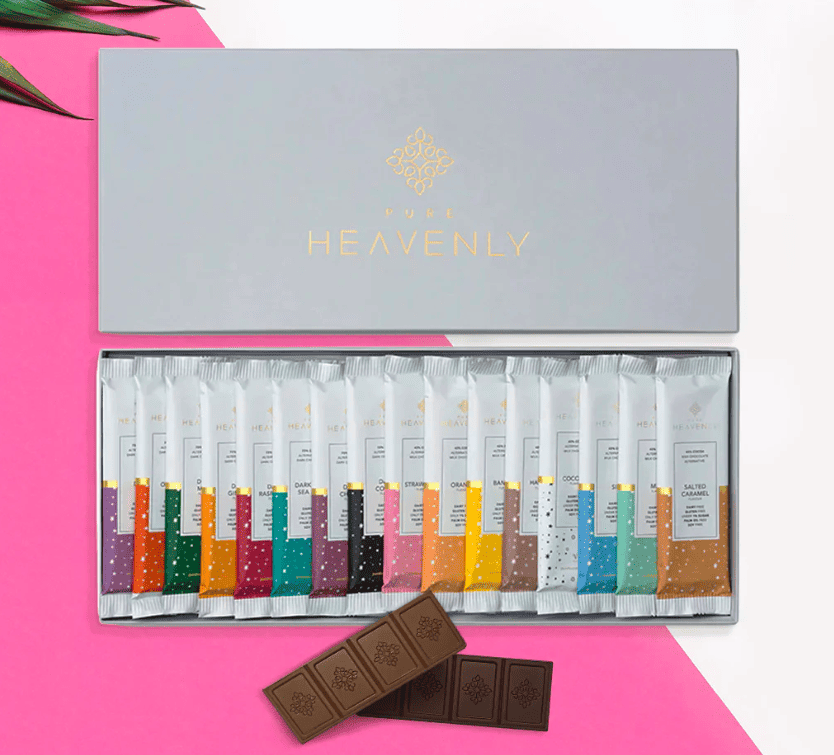 Just like standard chocolate, Pure Heavenly comes in three different forms – Silk Chocolate (their version of milk chocolate), Dark Chocolate, and White Chocolate.
It also comes in these irresistible flavours:
Salted Caramel
Hazel-Not
Mint
Orange
Strawberry
Raspberry
Cherry
Banana
Coconut
Ginger
Sea Salt
Coffee
My personal favourites are Dark Ginger, Dark Sea Salt, and Silk Salted Caramel, but whether you prefer something sweet and fruity or something a bit darker there really is something for every taste in the range.
What I really love is that Pure Heavenly puts great tasting chocolate back on the menu for so many people who've missed out on these kinds of treats in the past.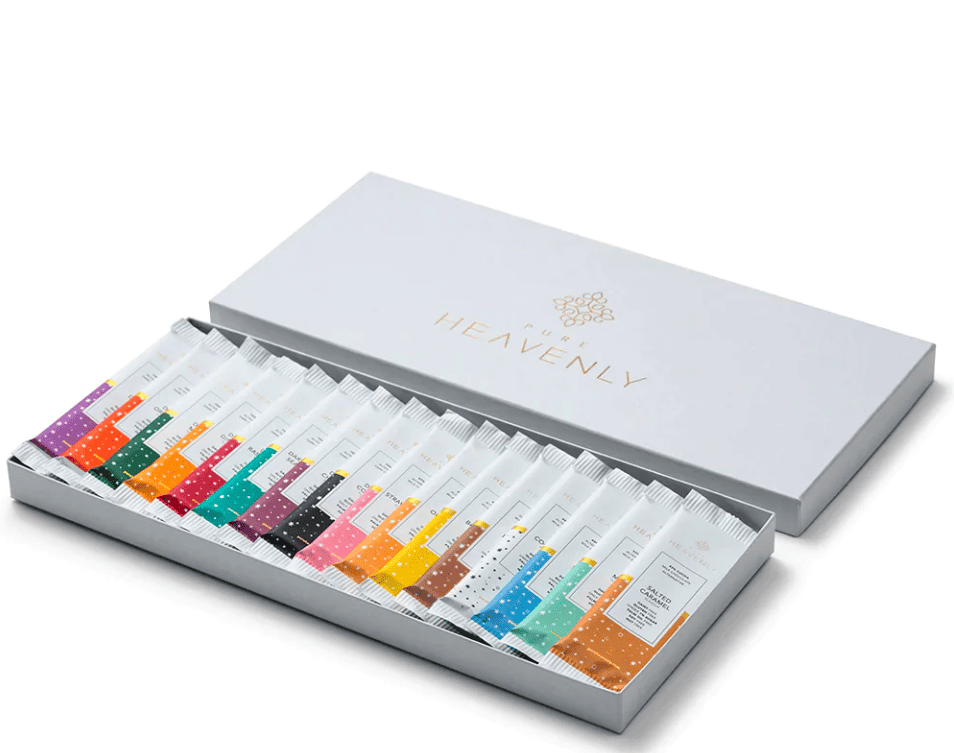 Whether you follow a vegan diet for ethical reasons, or need to avoid gluten or dairy thanks to intolerances, you can still happily enjoy a bar of Pure Heavenly chocolate knowing that it's made with your needs in mind.
It's also a great option for gym goers and fitness fans who want a healthier alternative to other chocolatey treats, thanks to the low sugar content.
The 30g snack bars in particular are perfect for that little hit of chocolate that I think we can all admit to needing sometimes after a meal or with an afternoon cuppa. They're big enough that you feel satisfied that you've had a decent treat, but at just 128 calories they won't do much damage to your diet.
If you want a more substantial treat though you can also get Pure Heavenly chocolate in 85g big bars.
You can buy the big bars on their own, or grab a 3-pack of the 30g snack bars, if you already know what flavour is your favourite. But I would personally recommend getting one of the variety packs like the Ultimate 'mixed' chocolate gift box so you can try all the different options out!
Whatever option you pick though you're in for a real treat with Pure Heavenly vegan chocolate bars, so head over to their site now and pick yourself up a few bars to enjoy next time that chocolate craving hits! 
Visit the website here now to shop.