Delayed Onset Muscle Soreness, or DOMS as it's most commonly known, is the intense, aching feeling you get in your muscles a couple of days after vigorous exercise.
Some even call it muscle fever, but I prefer to refer to it as the pain of achievement. That's because there's nothing more oddly satisfying than feeling the results of your hard work, and knowing that if you refuel right, all those little micro-tears will repair and help your muscles become bigger and stronger than ever before.
However, as nice as it is to know your workouts are paying off, no one wants to be walking around like The Tin Man for the few days that follow a heavy session.
Plus, if you're an athlete functioning at any level, it's likely you'll have to compete before you've had time to fully recover. That's exactly why more and more people are turning towards the natural healing power of CBD, and in particular, For Sport's CBD Muscle & Joint Balm. 
We managed to get our hands on a tub for 15% off using discount code GF15 on checkout. Here's what we thought:
For Sport CBD Muscle & Joint Balm
Before we get started, I think it's best I clear up a few common misconceptions. CBD is a chemical found in marijuana, but unlike the stuff you see Snoop Dog smoking between every breath of air, CBD doesn't contain tetrahydrocannabinol (THC), the psychoactive ingredient that produces a high.
That brings me to my next point. CBD isn't just a brain-receptor manipulator. It addresses symptoms of pain directly at their source rather than just masking it. You may experience relief before you're fully healed, but CBD also helps your body repair itself.
Each jar of For Sport CBD Muscle & Joint Balm contains a unique fast-absorbing mixture of high-dose pure CBD isolate (1000mg), Vitamin E and a blend of natural oils. The balm works to reduce muscle soreness, pain and joint inflammation within the application area.
If you're looking for a potent product which will get the job done, then you've come to the right place. For Sport's formula contains one of the highest doses of CBD amongst topicals available on the market, guaranteeing maximum effect.
But what exactly is that formula, I hear you ask?
Aside from the aforementioned dose of CBD, the balm also includes a host of tried and tested ingredients. Rosemary and Calendula Oils infusion may additionally aid muscle recovery and work to reduce skin bruises and contusions, allowing you to maintain an active lifestyle.
An addition of Menthol can have a relieving effect on sore, achy muscles and joints. What's more, Menthol features analgesic, antispasmodic, and anti-inflammatory properties that can aid with swelling.
Camphor Oil has been shown to calm muscle cramps and work to reduce joint swelling and discomfort, while Grapeseed, Avocado and Sweet Almond Oils along with Vitamin E moisturise, nourish and protect your skin.
It's also worth pointing out that this balm is perfect for anyone leading a demanding lifestyle, performing sports that have a high risk of contusion rate and suffering from joint swelling and muscle cramps. Remember, you don't have to be an elite athlete to treat your body like one nowadays.
The Review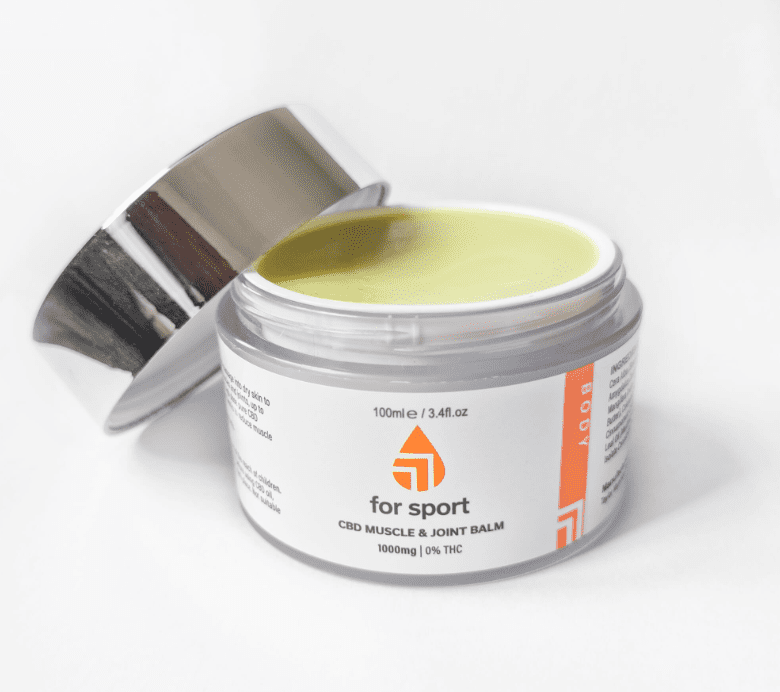 After a good few years as an armchair pundit, I recently decided to return to playing football. I'm not great at keeping on top of my cardio so playing twice a week ticks that box and gets me running. However, I quickly realised I'm not the indestructible 18-year-old I once was, and after every game, my legs would be on fire for a good few days. In turn, that was then affecting my performance in the gym, which was one thing I really didn't want.
So, after my games recently I've been rubbing a generous amount of this balm into my legs a couple of times a day. Aside from the performance benefits, which I'll get onto, it smells and feels great to use and is really relaxing after a frantic 90 minutes.
In terms of dealing with DOMS, I noticed a significant drop off in pain and stiffness, especially in my quads. Instead of dreading my midweek training session, I felt prepared and ready to go. It's safe to say this is another product that has earned itself permanent residency in my kit bag.
A 100ml tub costs £34.99, but be sure to use our code GF15 at the checkout for an impressive 15% off. Head to For Sport's website to speed up your recovery today.
We've also tested other CBD products you can check out, like Provacan CBD and Four Five CBD.