Yes, CBD lube is a thing. And if you're already wondering why on earth you would need CBD lube, or what it's even used for, let me explain.
You might already know that CBD offers both anti-inflammatory properties and also stimulates blood flow. And it gives you a nice tingly feeling too, right? Maybe you can see where I'm going with this now…
In short, there are several reasons why having a bottle of ShelleySupply CBD intimacy oil by your bed.
What can you use CBD lube for?
CBD lube is obviously used to lubricate and stimulate the genitals, in much the same way that you might have seen those other 'sensation' style lubes in the shops. Most CBD lubes target the female market, as the anti-inflammatory properties are perfect for vaginal soreness or dryness (ask any postnatal mother about discomfort during sex). But actually, the uses go beyond vaginal lubrication.
ShelleySupply CBD intimacy oil (as it's officially called, basically it's a lube), is made from 100% natural oils including grape seed oil, jojoba oil, and hemp seed oil. It also contains natural essential oils, so it smells lovely, and is 100% plant-based and natural.
The fact that it's called an intimate oil actually summarises why it's not just great as a sexual lube.
Yes, you can rub a few sprays on your bits, and about ten minutes later you'll have a pleasant buzz down there. With those natural oils, it makes for a great sexual experience, without that sometimes sticky or icky feeling that typical lubes might leave you with.
But you can also use this particular intimacy oil as a massage oil, for some post-workout pain relief, or simply to get each other in the mood.
And if you want to get really creative, you can rub CBD lube on any other erogenous zone you can think of. I know you're probably already going there in your mind, so yes, run with it…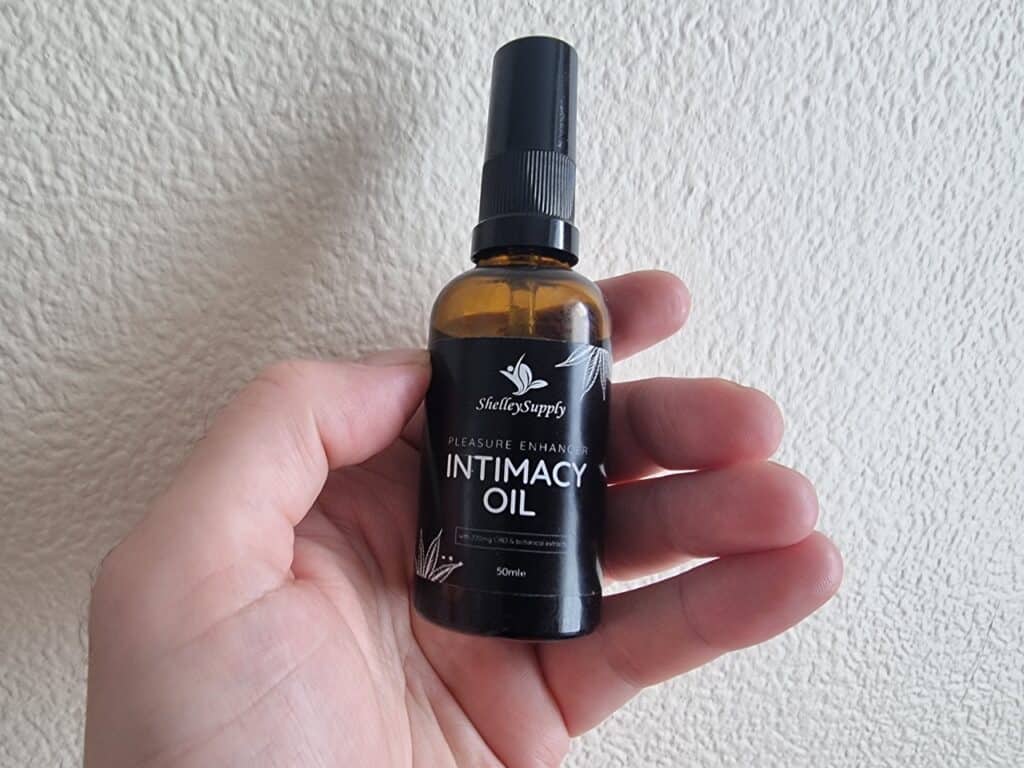 What is CBD lube like?
I've been using ShelleySupply CBD intimacy oil for around a month. And while my partner and I started out just using it for sex, we've also used it for a number of other applications including a quick back rub and some other bedroom-based fun.
The 50 ml bottle is nicely designed, with a simple label and an easy-to-use pump dispenser. With 220 mg of CBD isolate in the bottle, a single pump or two at most is perfect for application to the penis, vagina, or anus.
The oil feels nice and smooth on the hand and is pleasant to apply. And with the nice smell, it's quite easy to use more than is necessary. But it does go quite a long way, even if you only use one or two pumps.
It does take a while for the CBD to take effect, for me it's usually anything from around ten minutes. My partner took a little longer to feel it, but when it comes on it's a pleasant buzz and definitely adds to the whole sensual experience.
Because of the slow come-on, it's best used as part of foreplay when you have time to let it soak in. 
Now, you might see some claims that CBD helps with erectile dysfunction or helps to delay orgasms. I don't suffer from ED myself, but I have found that using ShelleySupply CBD lube as part of my bedroom routine does both improve sensation and even seems to help me last longer… Although that might be my current fitness routine.
My partner, she loves the fact that it adds an extra buzz down there. Just by adding some CBD into the sexual equation, it does turn the heat up during the throes of passion and yes it does also help with vaginal soreness.
We've also both found that the CBD lube gives a better sense of lubrication than the ol' standard KY Jelly. And, ladies, CBD oil-based lube feels much better to apply than cold KY straight from the tube.
Can you use CBD lube with sex toys?
Because of the plant oil content, unfortunately, you can't use ShelleySupply CBD intimate oil with latex-based sex toys. So if you want to add an extra buzz with that turbo massager, you'll need to find something water-based.
However, you can use it with metal or other non-plastic-based sex toys.
Where can I buy ShelleySupply CBD intimacy oil?
ShelleySupply CBD intimacy oil is currently only available from the online shop at ShelleySupply.co.uk. However, keep an eye out for stock in other locations soon.