I've always been quite an anxious person, overthinking everything and struggling to fall asleep at night with thoughts whizzing round my brain, but now with Yield's CBD gummies I finally feel like I've found something to calm my mind and help me relax.
It also helps that I can get them for 20% off with YIELD Discount Code, GFYIELD20.
These fruity little gummies have become my go-to supplement for all-round wellbeing, helping me keep that anxiety in check and drift off to sleep so much more easily at night.
See, I've tried all sorts of things over the years to ease my anxiety. Getting out of the house for some natural daylight and exercise definitely helps, and so does writing down my worries before bed each night.
But I still have so many days when I just feel slightly on edge, with anxious thoughts running through my mind, and I find it hard to relax in the evenings and have trouble falling asleep at night.
Enter Yield CBD Gummies
Each YIELD gummy has 15mg of CBD which is known to help calm the nervous system and reduce feelings of anxiety. Researchers think that this is thanks to the way CBD interacts with serotonin receptors in the brain, helping reduce both anxiety and stress.
And a study carried out in 2019 found that 80% of the participants reported a reduction in their feelings of anxiety after taking CBD regularly for a month, which is pretty incredible!
That's not all though.
CBD has also been shown to help you fall asleep more easily as you feel calmer and more relaxed, and also improves the quality of your sleep so you feel so much more refreshed in the morning.

And there's one more benefit to these gummies that's been a real bonus for me and that's the fact that CBD has also been shown to reduce the effect of DOMS after a hard workout, thanks to the way it soothes and reduces inflammation.
So I can get the physical and mental health benefits of working out and not have to worry about experiencing any aches and pains the next day!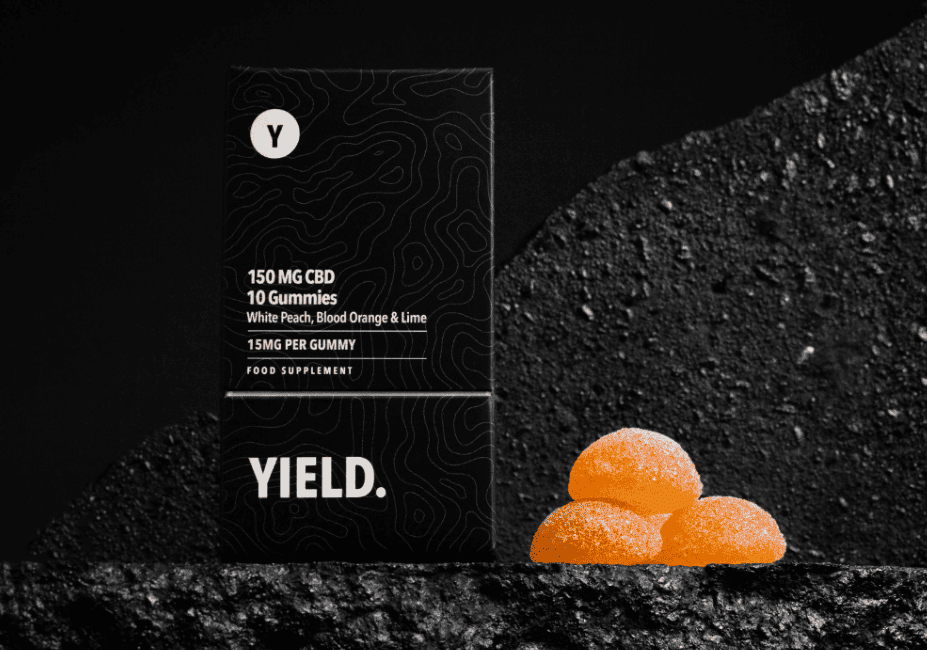 You might be thinking that you could get these benefits from any CBD supplement, so why should you choose these gummies from Yield over all the others on the market?

Well for me, a big factor is the fact that these gummies taste amazing.

They have a white peach, blood orange, and lime flavour that is just so, so good. And best of all, Yield have worked some kind of magic on them so there is absolutely no CBD aftertaste.
I also find gummies like these so much easier and more pleasant to take than swallowing tablets or using oils or tinctures.
All you need to do is enjoy one of the fruity gummies any time you need a bit of help to calm your mind and feel more relaxed. Just know that it takes an hour or two to feel the full effects of the CBD gummies so it might be worth taking one at the start of your evening or bedtime routine so you're lovely and calm by the time you hit the sack.
A pack of Yield CBD Gummies costs £9.99, and there are 10 gummies in each pack, which is great for someone like me who doesn't necessarily need to take one every day but instead reaches for them a few times a week to help take the edge off a long day.
If you do want to stock up a bit more though you can get free shipping if you spend over £25 with Yield, and if you live in London and want your gummies in a hurry you can use their same-day delivery service.
Fancy saving some money off your order? Then take advantage of our exclusive discount code which gets you 20% off, just use the code GFYIELD20 at the online checkout.
With their delicious flavour (and zero aftertaste) and amazing ability to help me feel less anxious, more relaxed, and to fall asleep more easily, these CBD gummies from Yield really are my go-to supplement. So why not give them a try for yourself and see what a difference they can make to your life!
Visit the YIELD website here to shop now.