Tala and Gymshark have both built brilliant reputations for themselves over the last few years, making gorgeous activewear that helps women feel good and look great in the gym. You might think that one gymwear brand is pretty much the same as the next, but these two both have their own unique story and ethos.
Tala is a relatively new brand, founded in 2019 by fitness influencers and entrepreneur Grace Beverley. The brand's ethos is centred around sustainability while still delivering on performance, fit, quality, and style. Their activewear is designed to be versatile and comfortable, with a focus on inclusivity and body positivity, making sure that everyone can look and feel their best when they hit the gym.
Gymshark, on the other hand, was founded in 2012 by fitness entrepreneur Ben Francis. Their ethos is built around inspiring people to be their best selves through fitness. Gymshark's activewear is designed to be high-performance and functional, while still putting a focus on style.
Both brands have amazing ranges of activewear that are as stylish as they are functional, so which one should you pick when you're looking to update your workout wardrobe?
We reckon the best way to help you decide is to break down how they compare when it comes to two key pieces in any girls gym kit – seamless leggings and sports bras.
Seamless Leggings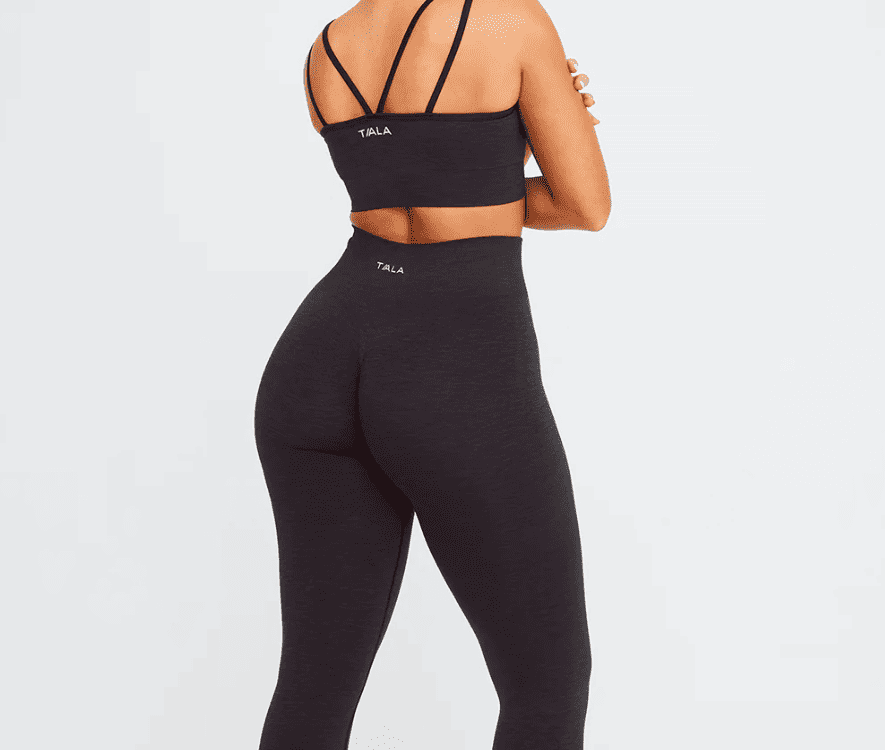 Tala and Gymshark both have amazing leggings in their ranges, and among our favourites are Tala's Sculpt Seamless Scrunch leggings and Gymshark's Vital Seamless 2.0 leggings.
Let's take a look and see how they measure up against each other in a few key areas.
Size options:
Tala Sculpt Seamless leggings – XS, S, M, L, XL
Gymshark Vital Seamless leggings – XS, S, M, L, XL, XXL
Colour choices:
Tala Sculpt Seamless leggings – 11 options including Cacao Marl, Black Marl, and Teal Green Marl
Gymshark Vital Seamless leggings – 17 options including Woodland Green Marl, Pearl Blue Marl, and Black Marl
Price:
Tala Sculpt Seamless leggings – £52
Gymshark Vital Seamless leggings – £45
Both Tala and Gymshark's seamless leggings have a flattering high waist, and while Gymshark's Vital leggings are made with sweat-wicking fabric to keep you cool during your workout, the leggings from Tala are made with super-soft material for the ultimate in comfort.
We love the classic styling of the Gymshark Vital leggings, as well as the fact that you can get them in so many gorgeous colours and a good range of sizes, but for a real confidence boost in the gym you can't beat the Tala Sculpt leggings.

Like the name suggests, they're sculpting and smoothing, and they also have a subtle and discreet scrunch bum design that flatters and enhances your natural curves, so you'll feel amazing wearing them.
Tala also show off their eco credentials with these leggings, with them being made from recycled polyester and recycled polyamide which helps reduce Co2 emissions and save on energy and water compared to using new materials.
Sports Bras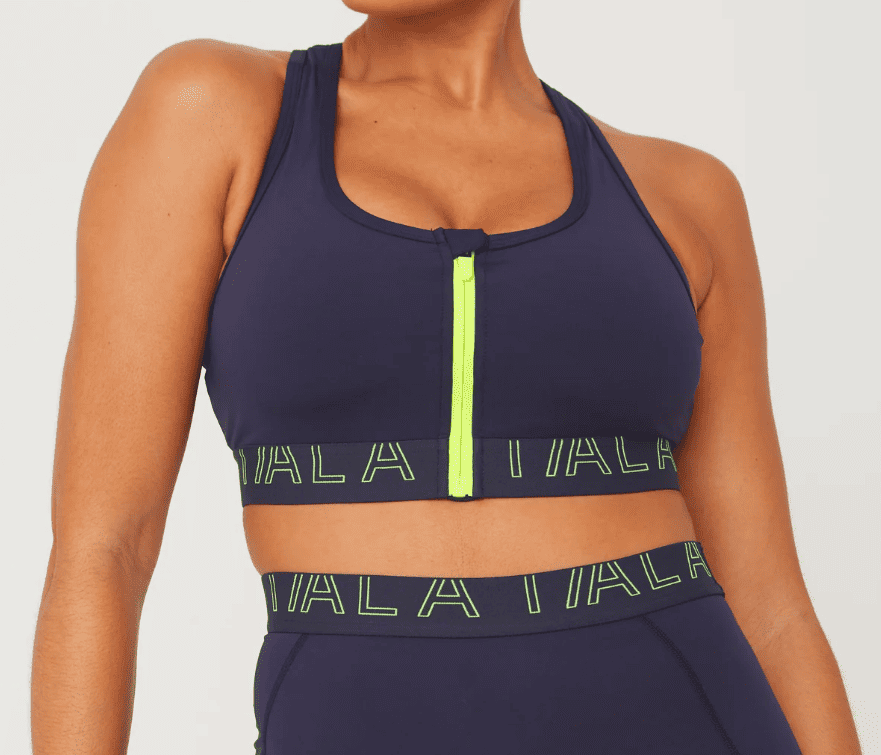 Tala and Gymshark both have really impressive sports bra ranges, with light, medium, and high support options in a variety of styles and colours.
When you want to push hard and train harder you don't want anything to hold you back or get in your way, so you need a sports bra that gives you total support and keeps you comfortable throughout your entire workout.
The Formtech Zip Front High Support Sports bra from Tala and the Racerback High Support Sports bra from Gymshark both offer incredible support for high impact exercise and will see you through the toughest of workouts.
Let's take a look at a few details:
Size options:
Tala Formtech Sports bra – XS, S, M, L XL
Gymshark Racerback Sports bra – 32B/C to 42D/DD
Colour choices:
Tala Formtech Sports bra – Black, Navy, and Khaki
Gymshark Racerback Sports bra – Black, Hoya Green, Cherry Brown, and Hazy Pink
Price:
Tala Formtech Sports bra – £40
Gymshark Racerback Sports bra – £40 (but currently on offer for £28)
We love the fact that Gymshark use actual bra sizes for their sports bras so you can find your perfect fit more easily, but still have some wiggle room for fluctuations thanks to the dual-cup sizing.
We're also big fans of the racerback styling which gives the Gymshark sports bra a classic look that is perfect for layering under tops or wearing on its own with leggings or shorts. The Racerback bra is lightweight and breathable so it's super comfortable to wear, while the thick supportive straps give you the protection you need for intense, high-impact exercise.
The Tala Formtech sports bra is also made to keep you cool with its moisture-wicking fabric that moves sweat away from your skin as you exercise. It's also incredibly comfortable thanks to its 4-way stretch, wide elastic underband with a soft, brushed finish, and front zip fastening that does away with that awkward moment of trying to pull a sweaty bra off over your head at the end of a gym session!
Conclusion
If you're looking for a sports bra that looks great, feels amazing on, and supports you through your workouts then both the Tala Formtech and the Gymshark Racerback are amazing options. And with so many different things going for them it's tricky to pick one above the other, so it'll come down to personal preference with things like the sizing options steering you towards the Gymshark and the ease and style of the front zipper making the Tala the sports bra for you.
Ultimately, the whole question of Tala Vs Gymshark and which brand you should go for to refresh your activewear collection will come down to personal preference.
Both brands have fantastic ranges that include leggings, shorts, tops, and sports bras, although Gymshark's pieces often come in a bigger range of colours, so if you like having plenty of choice then you might want to start with them.
We have got a real soft spot for Tala though, thanks to their focus on sustainability and making great quality activewear accessible and inclusive with their project size expansion that's seen them launch more and more pieces in sizes 2XS to 4XL.
Head over to the Tala website now to shop these amazing activewear.