Andrei Deiu is a fitness model, bodybuilder and YouTuber who has become a source of inspiration to many bodybuilders. Although a Romanian by birth, Andrei Dieu has lived most of his life in the UK.
Like many famous bodybuilders, Andrei's rise to fame didn't come on a platter of gold. He worked hard for the recognition he has today. Andrei has undergone impressive physical and mental changes, from growing up as a chubby kid to becoming a fitness model for clothing brands and fitness apparel.
With many laurels to his name already as a bodybuilder, including his feats at the 2014 Miami UK Fitness & Model Championships and 2022 IFBB Texas Pro, Andrei Deiu's transformation is worthy of note.
Not only is Andrei's ripped physique one to envy, but he also has a great personality, as seen in his YouTube channel, where he posts lifestyle and fitness videos.
Without further ado, let's explore everything to know about Andrei Deiu.
Andrei Deiu's Transformation
Andrei Deiu was born on May 8, 1996 in Romania. The 27-year-old grew up as an introvert with few friends, and the situation worsened after his family moved to the UK. Due to a lack of companionship, Andrei found solace in video games while feeding on junk.
His new way of living cost him as he developed a body image issue in his early teens due to his sedentary lifestyle and unhealthy eating habits. These, coupled with the bullying from schoolmates, affected Andrei mentally, messing with his self-confidence. At 15, Andrei decided to stop the pity party. He picked up himself and began his transformation journey.
Although the road was hard and the future was bleak, Andrei never gave up. Little wonder many look up to him today not only for his outstanding success but also for his determination.
During his journey, Andrei learnt to adapt to a healthy nutritional diet, which was the most challenging aspect of his fitness journey. Steadily, he began to lose weight, with his physique improving.
Andrei Deiu's Professional History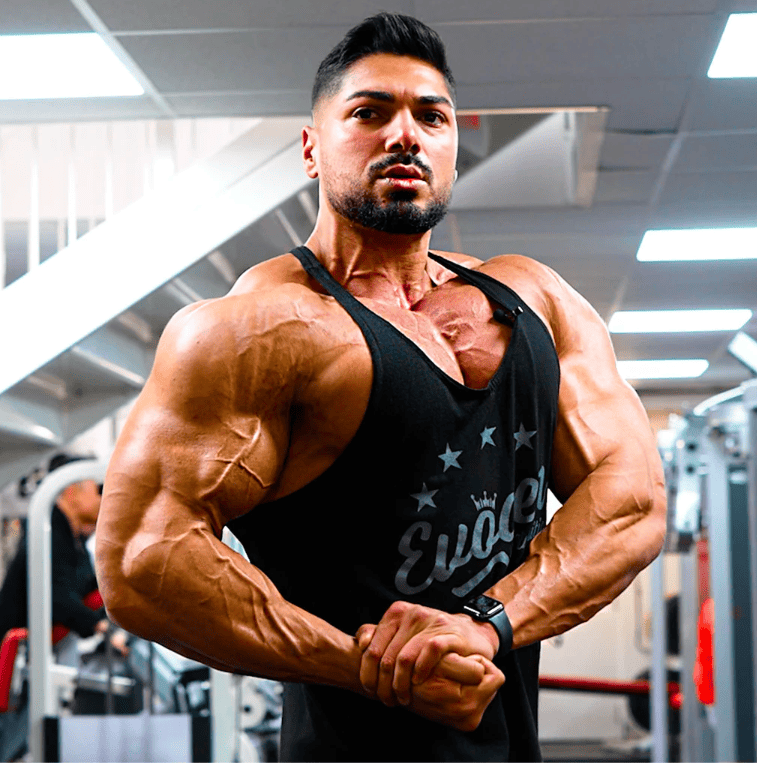 Before Andrei Deiu became Mr. Olympiad, he was only a teenager kicking off a career in bodybuilding. At 17, Andrei decided to delve into bodybuilding after two consistent years of training and bodybuilding.
Even though Andrei's first attempt at a Men's Physique contest was not entirely successful, he returned to the gym and kept training. His return to bodybuilding contest was at the Miami UK Fitness & Model Championships in St. Albans. Unsurprisingly, at the competition, he emerged as the overall winner.
After his win, Andrei kept the momentum. He attended several outings within the Bodybuilding Federation in the UK. He recorded success several times, including emerging in 2nd place at the 2017 Arnold Classic Europe. Showing that determination and consistency pay off, Andrei earned his Pro Card at the 2017 Amateur Olympia. This turned his interest to the IFBB Pro League.
After being under the tutelage of Hany Rambod, an iconic trainer, in 2018, Andei subjected himself to a more intense training environment to prepare him for more successes ahead. In 2019, he competed in Romania Muscle Fest Pro and emerged the winner.
After landing this victory, he qualified for the 2020 Olympia and finished fifth place. Landing in the fifth place announced Andrei as a future threat in the Olympia competition, especially as he backed it up with a victory at Texas Pro in 2021.

Andrei Dieu's Workout Routine and Diet
With a physique like his, it's not surprising to know that Andrei Deiu works out every day of the week. On each day, he has different workout routines to keep him shredded. With him being active in bodybuilding and even modelling, Andrei Dieu is always on top of his game.
Here's a breakdown of his workout routine throughout the week
Monday: Chest/Shoulders
Tuesday: Back/Abs
Wednesday: Shoulders
Thursday: Cardio/Abs
Friday: Quads/Calves
Saturday: Arms/Abs
Sunday: Hamstrings/Calves
Andrei Deiu's Net Worth in 2023
While Andrei Deiu gained popularity and wealth from his bodybuilding records, he also has an influential social media presence as a fitness model. He has over 6 million followers on Instagram, an impressive 1.12 million subscribers on YouTube and has modelled for Man Active, Evogen, Father Sons Menswear, and many others.
Andrei Deiu's fitness journey extends beyond his physical prowess, extending into a realm of influence that resonates with individuals worldwide. His captivating social media presence has become a platform for inspiration and transformation.
Andrei's social media accounts have attracted a massive following, replete with his workout routines, fitness tips, and personal insights. He shares glimpses of his workouts, nutrition plans, and personal milestones through platforms like Instagram and YouTube.
Beyond amassing followers, Andrei's transformation from an ordinary individual to a fitness icon is a powerful example of what consistent dedication and hard work can achieve.
Andrei Deiu has been deemed to have an estimated net worth of $3 million in 2023.
Andrei Deiu's Height, Weight, and Arm size
Andrei Deiu boasts impressive physical stats that showcase his success as well as aesthetic appeal. Andrei Deiu's weight ranges between 79.4-83.9kg depending on whether he's on or off-season. With his weight, he has achieved a balanced body composition that aligns with his bodybuilding goals.
Standing at a height of 5'11" (180cm), Andrei Deiu's height enhances his overall presence and physique on the stage.
Similarly, one of Andrei's attractive features is his remarkable arm size. Andrei Deiu's arm size measures about 18.9 inches, symbolising the result of his impressive training routines and focused dedication to building muscle mass.
Wrapping Up
Andrei Deiu's journey demonstrates that fitness is not merely about aesthetics. It's a journey toward better health and well-being. His journey encourages people to prioritize physical health while cultivating mental strength and discipline.
As a testament to his commitment to health and wellness, Andrei Deiu actively promotes physical fitness and holistic self-improvement. His posts and videos often delve into the importance of mental resilience, discipline, and maintaining a positive mindset.
Andrei humanises the fitness journey by sharing his challenges and triumphs, making it relatable and accessible to a diverse audience.