If like me, you are an absolute pasta fiend but in the back of your mind are acutely aware of the unforgiving macros, you have to try ZENB! Their pasta is made from 1 simple ingredient: 100% yellow peas with each serving delivering a fantastic 17g of protein. They also offer a range of delicious Gourmet Sauces that pair perfectly with yummy Pasta. So, for those of you looking for a, more macro-friendly version of pasta, you'll love this.
ZENB, whose name comes from the Japanese word zenbu (全部), meaning whole, has used this ideology to drive their approach to use the whole plant as part of their whole food experience, minimizing waste and utilizing all parts of the plant. ZENB is passionate about providing a new way of thinking about what plants can actually do for us and our bodies. ZENB Pastas are not just made using yellow peas, but their skin as well to make the most of all nutritional elements. They are also a great source of iron which helps reduce fatigue and tiredness, which I reckon, we could all do with.
With sustainability being an ever-growing concern in this modern day, ZENB is striving toward more mindful food production. They aim to raise awareness of food waste and educate consumers about using parts of a vegetable that are often overlooked, and that contain fibre, such as seeds or stems. ZENB recipes explore innovative and exciting ways to bring out the natural flavour of ingredients which lends itself to a more exciting food experience. Having sampled some of the products myself, I can confirm that they have achieved this.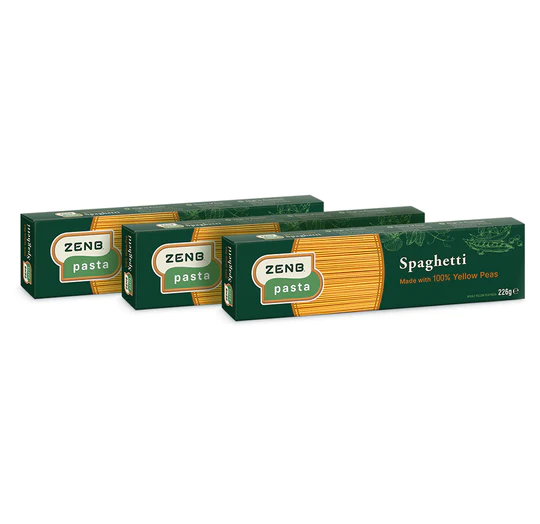 ZENB's website and the overall shopping experience are straightforward, easy to navigate, and quite a delight to the senses. They show a number of fantastic pictures of their Pasta and sauce creations, that will leave your mouth watering and basically wanting to buy everything on the site. Their main products sold include Pasta (Spaghetti, Penne, Macaroni, Fusilli), Pasta Agile (which is ready in 2 minutes), Pasta Sauces (Cherry Tomato, Red Pepper, Sweet Carrot), and a number of Veggie and Fruit-Bite Snacks. All wholesome and delicious!
Once I'd finally narrowed down my choices to what I wanted and placed my order, delivery was really quick and arrived within 2 days. The box was well-branded and recyclable. Luckily for me, and I'm sure many of you can relate, all the products have clear and simple cooking instructions of them to make for a more stress-free cooking experience.
I followed the instructions and managed to make an absolutely delicious dinner for myself. The best part is, it only took 15 minutes, and that's because I cooked a bit of chicken to add to the sauce (all about that extra protein life)! The pasta and sauce itself only take 5-7 minutes to cook, which is perfect for all of us who are a bit time-poor or who, when they want food, want it right now.
The ZENB Spaghetti, although made from yellow peas, still had the same shape and similar texture as regular spaghetti, and I was pleasantly surprised by the incredible flavour of simply the pasta by itself! Once I added the sauce to it, it was game over. The medley of flavours and smells was amazing. I didn't feel the need to add salt or any other spices as the sauce was already so well done.
I have been recommending ZENB's Pasta and Gourmet Sauces to my friends and family since trying them! It's a 10 out of 10 from me!