Gym user or influencer? Finding the best activewear for both function and fashion has not been easy due to the vast amount of brands now catering to the gym goer market. We, at Gymfluencers have tested them all and have come up with the definitive 20 best activewear brands for you to wear in 2021.
Our criteria when it came to finding the best gym activewear brands in 2021 was fashion, function, price, delivery costs and what the company stands for. We have checked out the biggest designer activewear brands all the way down to the independents who are only just starting.
1. Nike
It's hard to look past Nike when it comes to activewear due to the vast amount of products they offer, how big the brand is, their delivery and returns policy plus the styles, fit and functionality are all 10/10. Nike also offer something that not many other brands do and that is of course trainers (or sneakers) which are the best looking and fit in the world.
Recommended products include their Metcon 4 trainers which are idolised by CrossFit superstars and their Nike Flex Stride shorts for me which are so far unbreakable no matter how hard you are pushing yourself in the gym.
2. SQUATWOLF
Having previously reviewed SQUATWOLF we had to include them in our 20 best activewear brands list. They have not only created this brand from scratch but they have also built a successful business due to the gym wear they sell. Being built for fitness and function, created by two gym goers and tested by UAE trainers, you are guaranteed the best fits and best designs in the industry.
Their stand out products include the men's 2-in-1 dry tech shorts 2.0, women's core agile bra and SQUATWOLF very own branded skipping rope which is available in silver or black and will set you back only £20.
3. Lilias Active
One thing that will hit you when you first go to the LiliasActive website is branding, diversity and the we fit all mantra they are trying to get across. Being a women's only brand they have catered for all shapes and sizes. Not only do they do this but they show it off by using plus and minus size models alongside athletes. We LOVE this approach and it was only fitting that they made this top 20 activewear brands in 2021 list. First time users will also be able to claim a 10% discount. Being in the low-mid range price bracket you will pick up sports bras for around $40 and leggings for $65.
Our favourite product to check out is their Lilias Active signature seamless sports bra which comes in pink, navy, olive, grey and black and is available in sizes XS – XL.
4. AloYoga
Their "New Drops, New Waves" slogan pays homage to their beach ready looks which work both well in the gym and when you are in the great outdoors. You could even wear some of their clothing at a bar or whilst shopping…it looks that good. Tie dye, plain outfits and distressed looks are all available. AloYoga fit into the mid price range pint and offers both men's and women's choices. Our choice for women has to be the new Alo Airbrush summer sunset dye bra which comes in neon apricot sunset and will set you back £39.
For men it's the Alo highline hoodie which comes in 8 different colours but our choice has to be the new woodrose. Costing £85 it is on the high price range side but if you are looking for a high fashion activewear look this is not a bad price to pay.
5. The Gym King
Founded by Love Island superstars Olivia Buckland and Alex Bowen, the pair have created one of the hottest brands in the activewear market with The Gym King. Originally just for men they have now created women's clothing and accessories. Their core values are mindset, resilience and community. their clothing is comfortable, affordable and fine for both the gym and outside of the gym thanks to their fashion forward designs.
For women you have to try their unique Gym King Aura Ribbed Tank dress which flatters all body types and shows off your glutes like no other outfit does. Only costing £27.99 and available in black you are going to look drop dead gorgeous on a budget. For men it is their lifestyle products which grabbed our eye and their Gym King Riviera Polo in Latte which give you the smart fitted look for your days on the beach or even on a night out. Costing £31.99 it is about half the price of a Ralph Lauren polo.
6. Free People AKA FP Movement
FP Movement create clothing for all occasions including activewear, dresses, jeans, intimates and swimwear. You can even find shoes, accessories and beauty and wellness.
For women we recommend their Early Riser track jacket which costs £140 and brings this brand in as our highest priced in our top 20 activewear brands list.
Nux Active bring you women's only activewear and land themselves in the low-mid priced bracket with top quality sports bras costing $53 and their leggings being $68. You can save 10% on your first order by just adding you email address at the bottom of their page.
Our favourite stand out NUX Active product has to be their Mineral High Rise Mesa Legging which comes in bright vibrant colours such as pink, mint musing and Cerulean. With an RRP of $98 you are assured to get the highest quality material and a fit which shows off your glutes and legs perfectly.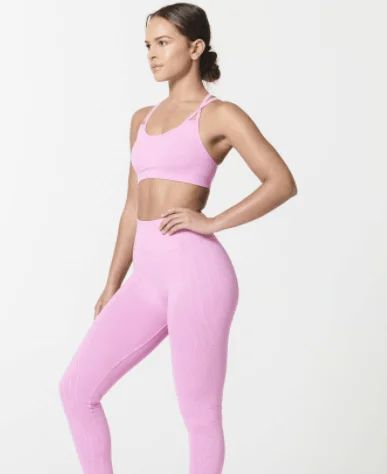 8. Spiritual Gangster
If you want an activewear brand full of personality and community then Spiritual Gangster is for you. The men and women's brand are not shy to say what they are thinking or to even write it on their clothing in GIANT text. Their Take It Easy range is full of comfort whilst their activewear range is full on durable and squat proof thanks to the top quality stretch material that they work with.
The mid-high price bracket means you pay a little extra for this sass but it's well worth it. Figure forming, fun and highly functional these are some of the best items we have ever reviewed. Our pick for women has to be their Love Sculpt Legging and for the men it's their classic SG Varsity Old School Sweatshirt.
9. Yoga Outlet
The name gives it away. The Yoga Outlet focus on Yoga wear at affordable prices. The average item is under $50 and with their afterpay buy no. pay later. scheme you can spread your payments over 4 months.
For women try the Yoga Outlet Slim Racerback Cropped Tank in Jet Bank which will add a little sexy to your functional yoga session.

Primarily women facing Beyond Yoga's online store offers you top quality garments in the mid price point range. The site screams yoga, lifestyle and maternity.
For the fashionistas we would recommend trying their new Jacquard range, especially the camo high waisted biker shorts for $70.
11. Lacausa Clothing
LA-CA-USA aka Lacausa means "The Cause" where the company stands being comfort and style for the modern woman. Founded in 2013, Lacausa have grown their online store to offer activewear, swimwear, accessories, jumpsuits and so much more. Definitely a fashion conscious brand and in the mid price range bracket, you will feel like a model everytime you wear their brand.
Try the High Rise brief swimwear for just £47.50 which is made of recycled material for the eco friendly wearers among us.
12. Public Rec
With the tag line "Public Rec makes absurdly comfortable athleisure clothes you'll want to live in" instantly makes you aware that although these are activewear garments you will also be able to find fashion and comfort friendly options throughout their online store.
A men's facing store but also offering women's items you will instantly see more leisure wear than typical gym leggings or tank tops. For men we love their Weekend Short's in heather silver spoon and for women you have to check out their Luxe Fleece Short which flatter your curves at every angle.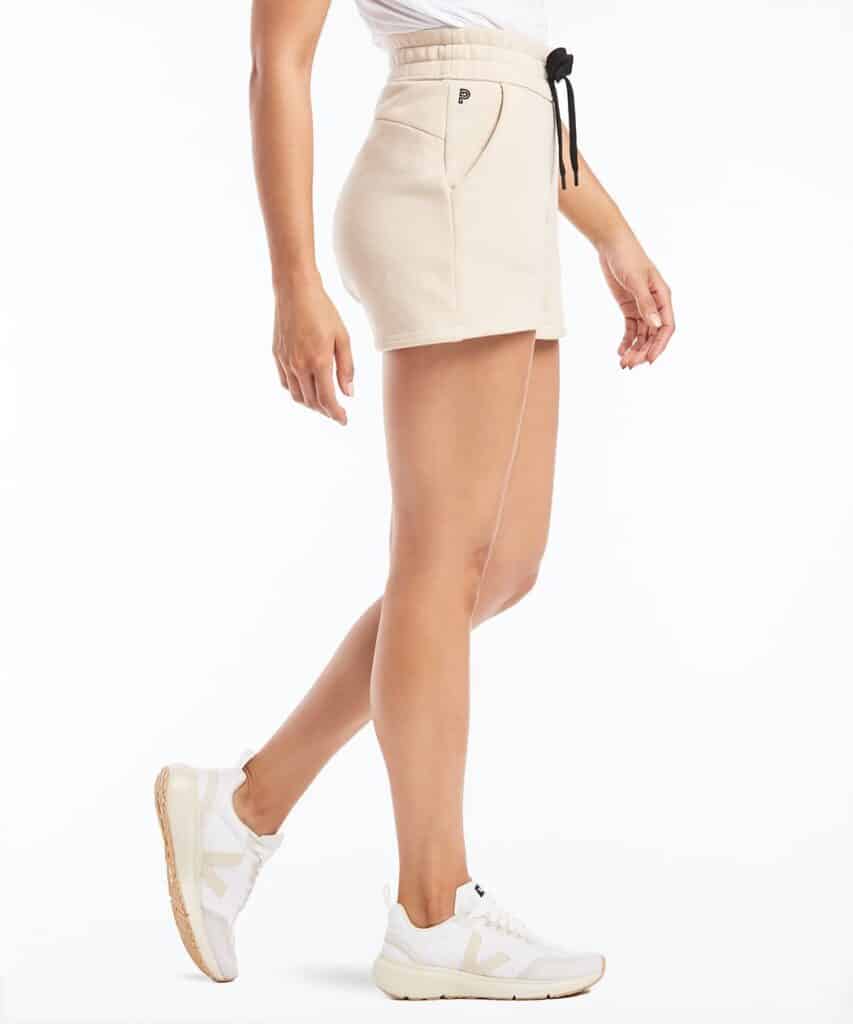 13. Outdoor Voices
Offering technical apparel for recreation the Outdoor Voices online store offers everything from gymwear to leisurewear to swimwear. For men you have to try their Pickup Sweatpants that are a relaxed fit and super comfortable and for women the must have item is their Exercise Dress.
14. Fabletics
A once women's only brand, Fabletics now also offer mens items which are currently promoted by everyone's favourite comedian Kevin Hart. The low priced, budget outlet let's you wear top quality garments for the lowest prices online. Women can pickup two pairs of shorts for £24 and for men it's the exact same offering.
Our top Fabletics choice for women is their Quantum 2 piece outfit which offers a tank top and joggers for just £64.
15. Grenade
We bet you didn't know that Grenade now offer clothing for both men and women. It's not the most functional activewear in the industry but we support these giants who brought us Carb Killa bars and shakes.
Men can pick up Grenade branded T-Shirts for just £14.99 and women can find cropped hoodie's for £29.99. You can even use a 20% discount code to get these incredible items for even better prices.
16. Gymshark
The £1Billion brand founded in England by Ben Francis is probably the most popular choice thanks to their low prices, free next day delivery and mass social media promotions which can save you up to 50% during their peak sale seasons.
Every woman should own a Gymshark Fraction Crop Top, whilst men need a classic pair of crest joggers for both in the gym and for lazing round the house.
17. Pursue Fitness
The adapt seamless shorts for women at £28 have to be one of the best we have seen on the market. Figure shaping, squat proof and fashionable they are a must have for any serious gym goer out there. For men their core seamless t-shirts look great out and about and will stand the battering a heavy lifting session will deliver when in the gym.
18. Boohoo
Boohoo bring the ultimate budget clothing to the activewear industry. These items may not stand the test of time whilst training hard but for price, style and delivery speed these could be the best choices on the market.
The active raglan funnel next top for women is perfect to slip over your outfit or sports bra and for just £10.80, you will never find a cheaper or better option out there for you. Men can clip into their classic boohoo man active side strip t-shirt and short set for just £17.50. Discounts are also found widely available online, via their app or through social media platforms.
19. AYBL
Want to show off your glutes, be able to squat safely and look absolutely fabulous no matter what angles are showing? The selfie ready items from AYBL are priced fairly and offered in some of the best colours on the market. Activewear has never looked so good for women, especially with their Core Shorts in Steel Blue for just £22.
20. BoandTee aka Bo+Tee
Fashion forward and on trend brand boandtee have brought the activewear fashion industry back to life thanks to their colour pallets, designs and social media presence. Summer ready, sexy and needed are just a few ways to describe their Move It ribbed tie front mini shorts in lilac which will just cost you £30.