Fashion gym wear, men's gym clpthing, cheap gym clothes, gym wear sets and gym clothes sales are the most searched for terms on Google but what about which ones look the best or feel the best? With companies popping up almost daily selling the 'best gym clothing' available or showing off your glutes in a more pronounced way it's hard to know exactly which gym clothing brand to choose.
The gym wear industry is growing daily with the leaders being GymShark, Nike, Under Armour and Fabletics. We have looked at all of these brands plus anywhere from micro-mid sized companies and here are our top 3 best gym clothing brands you need to try in 2021.
GymShark
Let's face it GymShark had to be in this ranking. They are quite simply the biggest and the best around. They offer mens and women items and use the best quality gym friendly fabrics and at affordable pricing. They also offer next day delivery, an app and an online shop that is easy to navigate. You can also get GymShark discounts from social media accounts, sites like Gymfluencers and directly through their promotional adverts.
Gymshark was founded in 2021 by Ben Francis who has since then turned it into a company with a £1Billion valuation. They set trends, get to market the fastest and care about the end-user.
Top GymShark gym wear for men
The Crest Shorts. For just £18 these look great, feel fantastic and are super comfortable. They are gym friendly and very hard to ruin no matter how much weight you are squatting or pushing. They can even be worn to the shops or the beach.
Top GymShark gym wear for women
It has to be the GymShark Vital Seamless 2.0 Leggings which are available in black, grey, yellow, light grey, blue, pink and white. We dare you to try and rip these whilst squatting…not possible!!! At £40 they are mid-range pricing wise but at the highest standard when it comes to quality, design and fit.

Maybe an unheard-of brand for some but once which is ever-growing thanks to their social media marketing, eye-grabbing designs and free delivery on orders over £80.
The founders were previously two corporate professionals living in Dubai who had a passion for fitness and fashion. They wanted to make gym wear both stylish and durable, no matter how demanding the workout was. The clothing was designed and tested by UAE training and everyday gym users to assure the gym wear met its criteria's.
Top SquatWolf gym wear for men
SquatWolf warrior jogger pants are stylish and high functioning for those tough training days. With the logo on the top of the leg and handing drawstrings, these grab the eye instantly. Fitted to the body thanks to its tapered fit these show off your legs and glutes that you have been working hard on training. At a cost of £60 per pair, these are on the higher price scale but well worth it.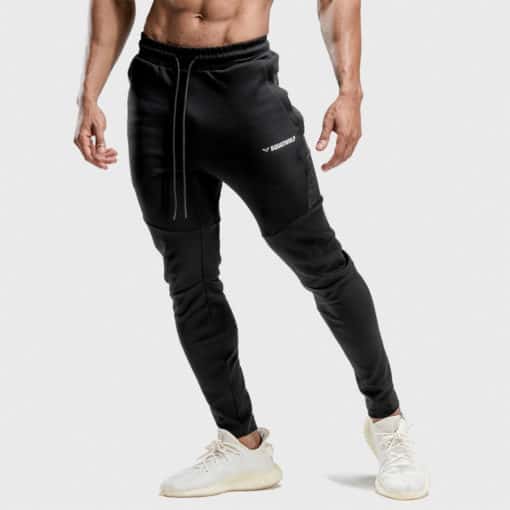 Top SquatWolf gym wear for women
SquatWolf Primal Bra is functional, affordable and minimal. The logo is across the chest with a small icon on the upper back strap. At just £17.50 these are some of the cheapest sports bras on the market. The primal bra features 4-way stretch fabric and allows you to remove the bra cups for easy cleaning.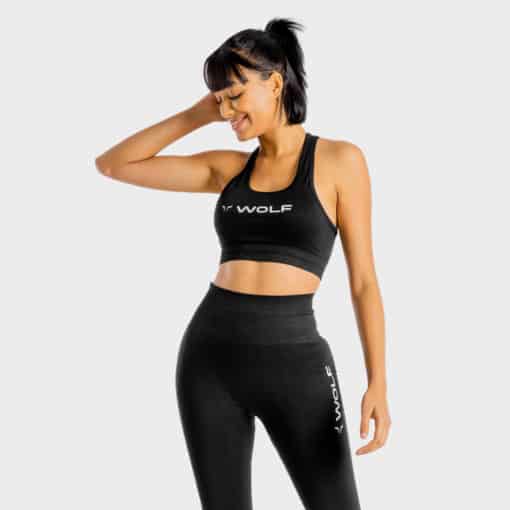 The brand that exploded from nowhere and is now seen as one of the best in the world Ryderwear offers men's and women's gym clothing at competitive prices with guaranteed high-quality fabrics used throughout. Ryderwear was created in 2009 in Australia where the brand stands behind fitness plus fashion as their motto.
Ryderwear gym clothing is mid-range for pricing and they also offer free next day delivery. You can find discount codes across social media and make the most of their up to 70% off on-site sales.
Top Ryderwear gym clothing for men
Their Ryderwear essential Iron t-shirt has been created solely for comfort so you can focus on performing. Durable stretch material supports your workout goals and tapering panels means your body will be flattered to accentuate your physique.
Top Ryderwear gym clothing for women: The Ryderwear base high waisted shorts are guaranteed to show off your glutes, whilst allowing you to squat confidently knowing their stretchy material will not rip or fail you even during your most extreme and vulnerable lifts. Priced at £29.99 they are mid-range in the gym clothing market but offer the best quality we have seen online.