Founder Jamie Wykes-Hobday was dumped weeks before competing in an important bodybuilding show. His solution? Launching the first ever fitness dating app: FITFCK
FITFCK was designed to connect like-minded gym goers, whether that be finding a training partner, or something a little more serious. The aim is that you will then take it offline and attend some fitness dating events together.
As someone who maintains an intensive gym and dieting routine, I have found it can sometimes be daunting to find a partner who isn't on the same wavelength. After all, if you don't include training or dieting into your daily routine, being with someone who goes to the gym at 5am and meal preps won't exactly be your cup of tea either. Also, when I imagine my perfect relationship, it'd be someone who wants to be my gym buddy, go on adventurous dates, and make healthy yet tasty meals together. That's why I decided to try FITFCK.
On downloading the app and making a profile, FITFCK will ask you the basics, such as your name, age and some pictures of yourself, but also orientates the more in-depth questions to include your fitness level, your diet and training routine, and space to include your fitness goals. There are also some more personal questions which will allow people to get to know you better, such as "What is your favourite meal" and "Why did you start training?". After all these questions are answered, there is an opportunity to add your socials.

For instance, in my profile I included a couple of pictures of myself training at the gym, and a couple of chill ones at the beach. I listed my current diet and training routine as cutting for summer, and doing HIIT 4x a week, with a morning swim before I start work each morning. My fitness goals were to compete in a marathon by the end of the summer, hence the intense cardio. To find someone to run a a marathon with would be pretty special !
What I liked most about the FITFCK profile setup was the personal questions. My favourite meal is tacos dorados de barbacoa, or lamb tacos with soured cream and avocado salsa, and I feel like this is a great question as it leads to being able to share my love of Hispanic cuisine and culture in general. Similarly, the "Why did you start training question" links into my motivations for running the marathon, which would be really special to share with the right person.
After answering these questions, I added some of my social media. This is a great way to take things "off-app" and get a feel for the person you match with, before meeting them IRL.
I matched with Jamie*, a 22 year old personal trainer in my area. We bonded over our love of Mexican food, and having swimming and sauna time before heading to work. While maybe not keen to do a marathon as he focuses more on bodybuilding, he said he'd definitely be keen to help me train and keep me motivated before the big day!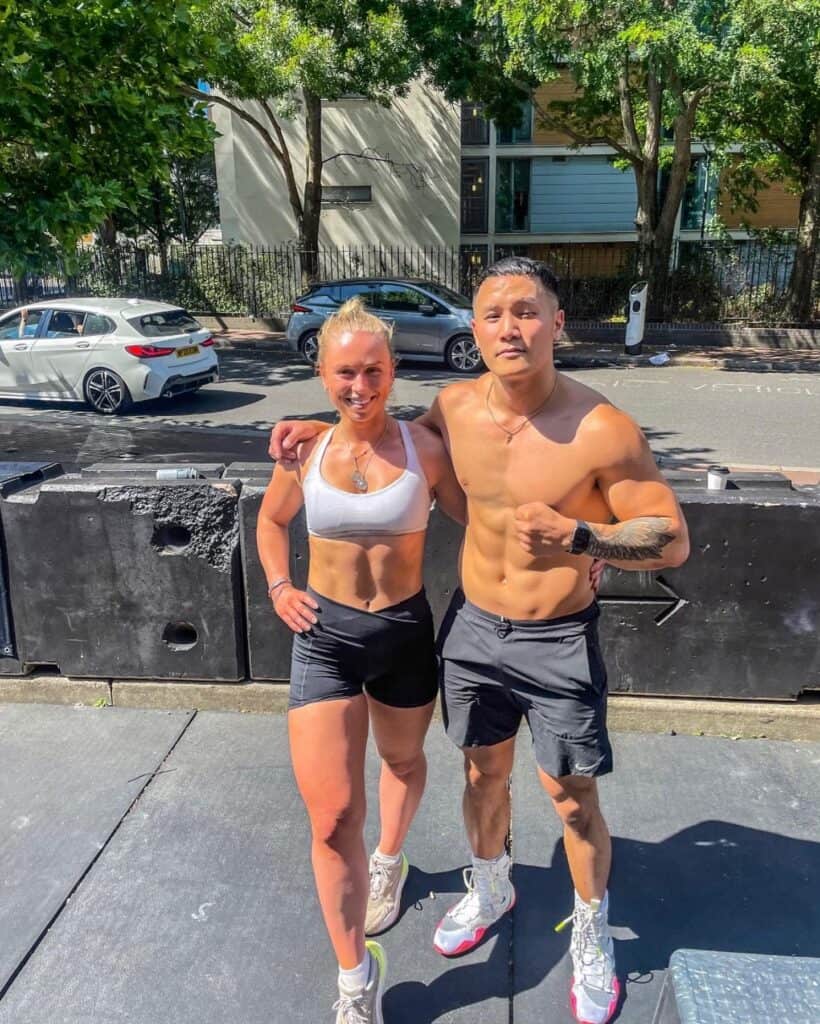 The messaging feature on FITFCK isn't dissimilar to iMessage or Instagram DM, which helps the conversations to feel authentic and less forced, as they sometimes do on other dating apps. What's more, the fact that the app is entirely geared towards fitness fanatics means that, if you're not feeling the romantic connection in a chat, you might have found your next platonic gym-buddy who will push you to achieve your fitness and training goals!
FITFCK have definitely kept up with other dating apps in terms of inclusivity; offering straight, gay and bisexual pairings, and not limiting the gender options to just male and female.
I had such a positive experience using FITFCK, and would definitely recommend it as more authentic in comparison to other dating apps, and definitely more effective to use as a fitness fanatic looking for other like-minded individuals.
Altogether, FITFCK seems like a great innovation that promises to create a community in which gym-lovers can connect, while also offering the opportunity of potential romance. What's not to love!