As I enter my 20s, I am starting to notice that my skin, hair and nails aren't as strong and shiny as they used to be— my hair and skin look dull and I struggle to grow my nails.
I relate to the saying 'If you feel good you look good' more than ever right now; I'm really striving to find supplements and multivitamins that will help my body work as efficiently as possible and 'feel good', knowing this will be translated into my external appearance also.
In the past, I have used Feel's Vegan Pro Collagen, which I found absolutely amazing for restoring my skin's elasticity and brightness. The fact that it was 100% plant based, and therefore a cruelty-free and ethical alternative to animal-derived collagen sources was also a major plus for me. However, due to study and sport commitments, I was looking for something that was a bit more accessible for on-the-go travel, and also with a heavier focus on my hair and nails.
And then Feel released their brand new Feel Beauty Gummies. I also love that you can get these for 20% off using our Feel discount code, PARTNER20 on checkout. How great is that?!
Let's Talk about the Feel Beauty Gummies
Feel Beauty Gummies include the new star ingredient Careflow™, their patented and scientifically proven ingredient to prevent collagen breakdown and improve skin microcirculation. What's more, they have transformed Hyaluronic Acid into the edible format of Sodium Hyaluronate that promises to replump and repair skin. However, what stood out for me in my journey for stronger hair and nails is the inclusion of Biotin and Selenium, which maintain and also protect hair, skin and nail cells from oxidative stress.

Careflow™ has been used by Feel as it is a sustainable and naturally derived form of collagen, containing powerful antioxidants and has scientifically proven to be incredibly effective. It works by repairing the elastic fibre network under the skin, which allows for good microcirculation of essential nutrients and oxygen to your skin cells. The fact that Feel uses these cutting-edge innovative products really puts it above the other collagen brands out there.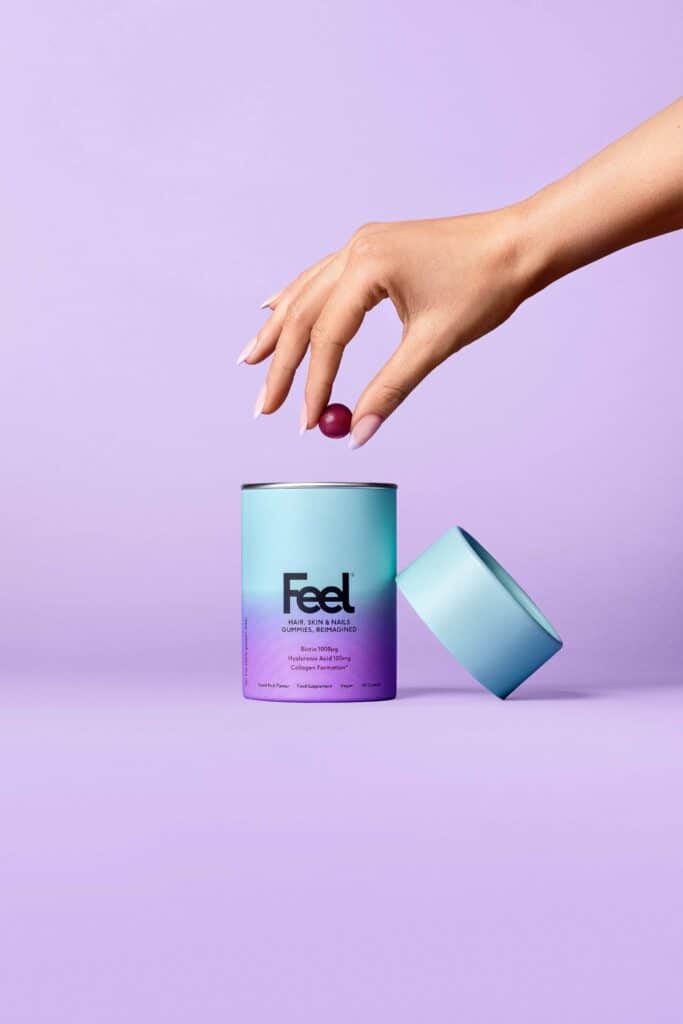 The gummies come in an eco-friendly box which is very portable and great if you're looking to keep up with your multivitamins while on the go or when traveling. The gummy format is also incredibly juicy and means you can take these quickly without needing to reach for a drink to help get it down. I found that I wanted to take them more than twice a day for the taste alone!
After a month of taking the gummies consistently, I started to notice a real change in my hair. It went from being dull to looking so much shinier, and it also felt a lot denser. I'd say it took a little bit longer to see the changes in my skin and nails, but it was worth it; my skin felt so plumped and constantly hydrated, and my nails stopped constantly snapping off.. I was amazed! The changes have really given me a boost of self-confidence, and I cannot thank Feel enough!
Sometimes, it can feel like a chore to remember to take your multivitamins. The fact that these Feel Beauty Gummies taste exactly like a Haribo Strawb sweet means I always take them 2x a day as I actually look forward to eating them! They are tasty, fuss-free, and so easy to swallow and digest.
Feel recommend taking the gummies for at least 3 months; while they start working their magic right away, it can take ~90 days to see an external difference as a result of hair and nail growth cycles. Consistency is key, but with Feel Beauty Gummies being as tasty as they are, it is definitely not a chore!
But don't just take my word for it; Feel has over 4000 5 star reviews, with customers raving about the innovative and highly effective new gummies. Many of these reviews mention the yummy taste and thus the fact that they rarely forgot to take them!
If you're looking for a supplement that will give you a complete makeover, without breaking the bank, then Feel Beauty Gummies will be perfect for you! Retailing at £28 for 60 gummies on a one time purchase, or £21 if you opt to Subscribe & Save, we can't believe that such a ground-breaking new supplement can be purchased for less than 50p per serving!
Head over to Feel's website here now and use code PARTNER20 for 20% off!