'Fast, Fit Foods with Full on Flavour!' – The Protein Works (TPW) Instagram Bio
When scrolling through The Protein Works Instagram page you are flooded with photos of indulgent bakes, smothered in their Zero Syrups, topped with their Ridiculous Bars or a dollop of their Loaded Nuts on the side.
The current craze now is Baked Oats. However, I feel the effort required to make this breakfast is an unachievable activity early in the morning. But their bio states, 'Fast, Fit Foods' so they must be able to provide this! So, I decided I had to give it a go as you can't class yourself as an influencer if you haven't tried every new craze on Instagram. Right?
For the base of my Baked Oats, I selected the Protein Porridge 360 Milk Chocolate flavour. The reviews online state easy to make, gorgeous flavour and great texture. Some even go as far as claiming it removes the horrible sludge texture of adding protein separately into your oats. For one serving, you are getting a massive 21 grams of protein for 279 calories! This combination of protein and oats could save me a lot of time, effort and even money, two products in one. 

For toppings, I decided to pick the Protein Brownie and drizzle it with Zero Syrup. The Protein Brownies are TPW's original protein brownie baked locally in the UK but with a new and improved recipe. With only 1g of sugar and 10g of protein, it is the perfect indulgent snack without guilt. Naturally, there is a wide range of options to pick from as with all TPW products, but I went for the likely choice of Choc Peanut Butter. 
Zero Syrups are the go-to for a large majority of fitness connoisseurs as a way to pack their meals with flavour whilst keeping in mind what they consume. The varieties are fairly predictable honey, choc fudge, golden syrup, to name a few. They seem popular as these were all out of stock, so I selected the maple syrup as I thought it would be a good combination with the rest of the bake.
Love Protein Powders? You NEED To Try The Protein Works
The overall verdict, did I recreate the perfect Protein Works Baked Oats? Yes, I would say so!  The milk chocolate taste of the protein oats is sweet without being overpowering. It mixes perfectly with just water as recommended and thickens up to give you a bake. The addition of the Protein Brownie takes things up a notch. Whether you are bulking or cutting this Protein Brownie is as close to as you will get without having a high-calorie brownie. Be careful with adding the brownie to the bake whilst it is in the oven. It will burn, so I suggest adding it in once cooked and allow it to warm through.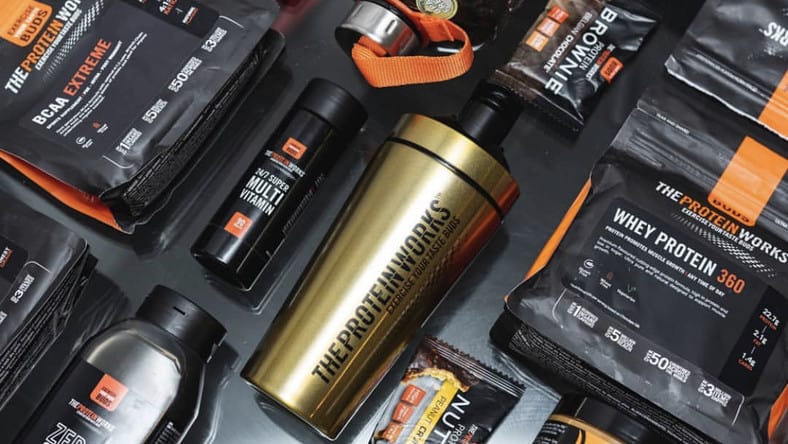 Personally, adding the Zero Syrup isn't necessary, but I'm glad I did! It tastes sweet but not sickly. It tastes exactly like maple syrup and provides a nice contrasting texture to the oats and brownie.
Baked oats tried and tested. TPW has made it quick and easy to make and provided high-quality indulgent toppings to accompany it. I will be making this again! Next time I will be more adventurous with flavours and even add some Loaded Nut Butter and switch up the Brownie for their more premium offering of the Loaded Legends. TPW has thought of it all with a broad range of products, a wide variety of flavours and an affordable price point. Just maybe next time I need to make it Instagram worthy!
Use code FIRST20 to get 20% off the Entire Collection.