Erectile disfunction (ED), Hair Loss, Skin and Daily health vitamins and minerals are all on offer thanks to the new online dispensary Manual who also offer direct clinician support. Created by Dr. Earim Chaudry (Medical Director) the purpose of this is to provide a fast, friend, efficient and discreet service to men who want to improve their health but may not want to discuss this openly with their registered GP.
Products on offer range from testosterone support, wrinkle warrior, sildenafil, Finasteride plus regular vitamins and minerals. All of these come in a secure box which is posted direct to your door with no branding on the box. Internally the box is branded with tissue paper and inner box. Here you will find your ordered products which are of the highest quality branding.
With the tag line "Men's health. The way it should be" the Manual team have finally created a brand and area for men who want to improve their physical and mental health in a secure, friendly and trusted environment. This is not any ordinary dispensary or vitamin store, upon landing on their site you will find a Quiz to start immediately. This allows you to answer questions such as what areas you need help with or even if you need a blood test or treatment sent before continuing. As a personal user of Manual this was refreshing as it was very quick and got straight to the point. Within just a couple of minutes I had all the relative products on offer now available for me to buy (at a nice first purchase discounted rate). Within 48 hours I received my products and I have been using them ever since.
Discreet: Erectile disfunction and hair loss are for some not something you want to talk publicly about or feel comfortable asking for Viagra connect over the chemist counter. Manual have solved this. You can now finally get what you need and feel zero shame, embarrassment or face any taboo. This is a health store that cares about you.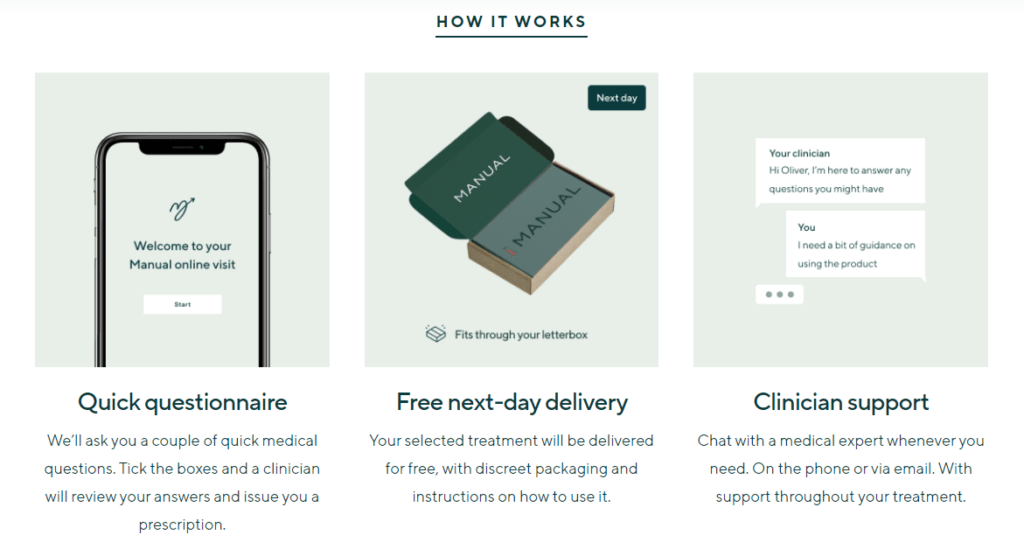 Monthly plans: Once you have signed up you will now start to receive your package every month. It turns up in its neat parcel and you are good to go. Never will you go without the healthcare products that you need to improve your health and wellbeing.
Price point: For a bespoke product in the health care industry, Manual rank mid range on the pricing scale. £45-£80 per month will get you everything you need. If purchased individually from other online stores the price may vary 10-20% either side.
Blood test kit for men: You can order a blood test kit for men to check for intolerances, health issues, vitamin deficiencies etc straight from Manual which are then reported directly to your phone in an easy to understand format which will help Manual create the best treatment package for you.
Next, check out our review on Save 15% Off With Our Built For Athletes Discount Code