If you go to the gym, I can guarantee you have tried countless protein bars in your life. The notion of getting all your protein in without having a shake or a bar is madness, things get in the way of preparing high-protein meals 3 – 5 times a day…kids, work, social life, football, holidays, etc.
So what do we do?
We make a shake or head into the cupboard and grab one of 6 different protein bars; cookies and cream, strawberry sundae, salted caramel, or if you're lucky, a protein flapjack!
The issue is there are so many types of protein bars, with more coming out every day, it's hard to pin down a favourite, what you need is a well-educated, fit, handsome, funny, intelligent, and charismatic individual to make a power ranking of bars for you to choose your favourite.
Well, he wasn't available but whilst I'm here I might as well help!
So, here we go, my Protein Bar Power Ranking…you need to try these bars. I might have a few cheeky codes for you to use too that will make them a bit sweeter.
1 – VITL Vitamin and Protein Bars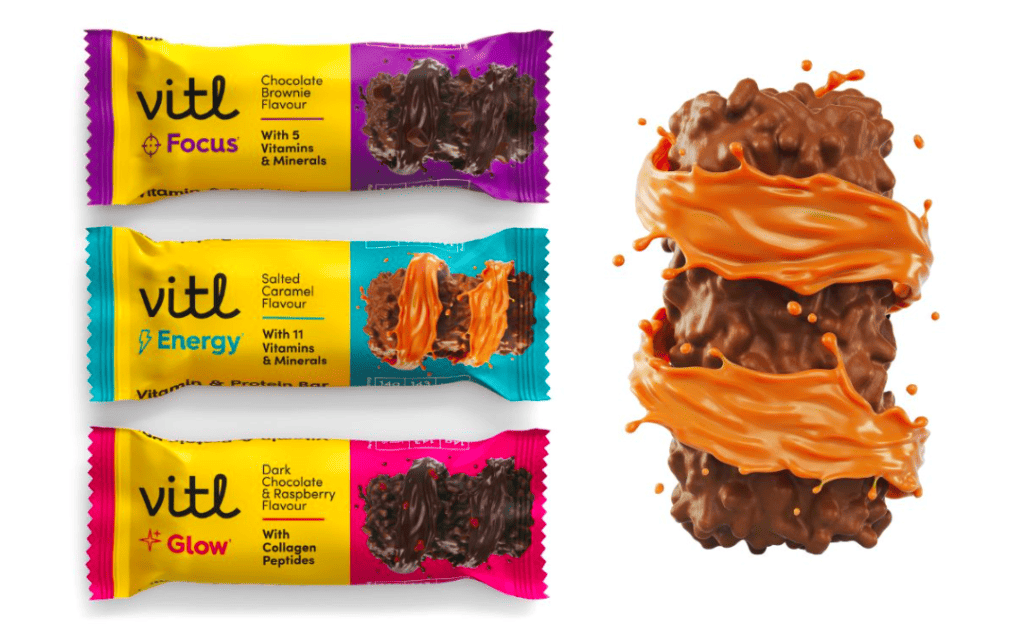 The team over at VITL has created an absolute beauty here, if you don't know VITL, you should. They are making health and wellness easy and convenient, doing things like creating a tailored package of daily vitamins designed to enhance your day based on requirements you need to improve on.
But they aren't just a vitamin brand, oh no, they have a selection of fantastic protein bars too.
The Energy Bar – Salted Caramel
The Glow Bar – Dark Chocolate and Raspberry
The Focus Bar – Chocolate Brownie
Now, I hope you realise these aren't just normal protein bars, each one serves a different purpose. The energy bar is stuffed with vitamins that will, well, give you energy! The glow bar will feed your hair, skin, and nails with collagen, enhancing their glow, and the focus bar is packed full of vitamins that will help elevate your concentration.
Amazing, right? But you're here for protein bars…
Each of the VITL vitamin and protein bars comes with 14g of protein, around 3g of fibre, and only 140 kcal (ish). 
So you're getting good protein for not too many calories, tasty flavours, and the added benefits of whatever bar you choose! You can pick up 15 bars for as little as £26.95 or if you don't know what one to go for yet, a taster box consisting of 6 bars or £11.95.
If you know VITL, you know that you'll be able to purchase their products as a one-off or on a subscription basis and to top it all off…enjoy this VITL discount code…
GFBARS30 for 30% off. Visit the VITL website here to shop.
2 – Warrior Crunch Protein Bars
I am a big fan of the people over at Warrior, I've used various products of theirs and have never once been disappointed. One product I particularly enjoy is their Crunch protein bars. As we all know the texture of a protein bar can really change the enjoyability factor, there are so many out there that have a sort of, soggy, chewy, cardboard feel to them.
Not these. The clue is in the name, Crunch!
Warrior has designed these bars for functionality but also to be enjoyed, the crunchiness of them makes you feel like you're eating a chocolate wafer or something, it's a far cry from the almost fake nougat feel some bars give you.

They're the perfect snack to grab out of your bag at any time of the day and let's talk about those flavours; White Chocolate Mocha, Key Lime Pie, Banoffee Pie, and Raspberry Lemon Cheesecake to name just a few. The variety is what sells me here, Warrior has added to the standard cookie dough and birthday cake flavours you'd expect to give us dessert-level additions!
£16.99 for 12 bars of whatever flavour you choose, or go for the variety pack.
Have a go on this Warrior Crunch discount code… GF30WAR for 30% off! Visit the Warrior Crunch website here to shop.
3 – Oreo x Grenade Protein Bar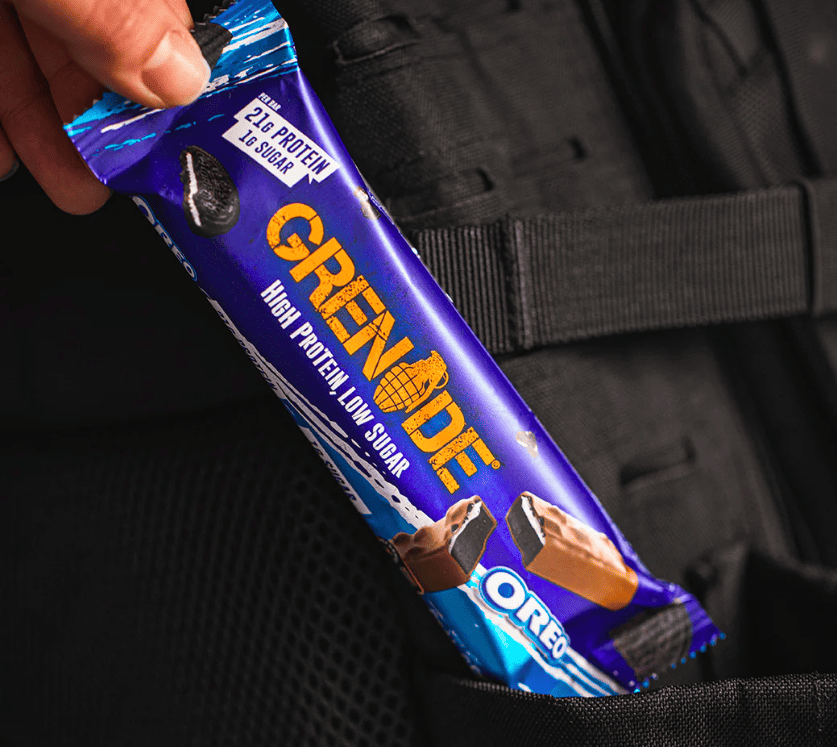 We've had the pleasure to witness some unbelievable duos in our lifetime; Messi and Ronaldo, Jay-Z and Kanye, Venus and Serena…Ant and Dec BUT NOW Grenade and Orea have teamed up for an unbelievable protein bar.
If you don't know who Grenade is, you don't know protein bars. Head into your local WHSmiths, Sainsbury's, or every petrol station in the country it seems and you'll find Grenade protein bars, they have a monopoly on the market of gym snacks.
Although now, they may have won in the flavour department because they have managed to get one of the world's favourite biscuits, the Oreo.
I don't want to say much more, because you just need to try it. How about 12 bars for £25, better yet Subscribe and Save and pay £22.50 monthly, BETTER YET use our Grenade discount code GF10 for 10% off.
BOOM!
Visit the Grenade website here to shop.
4 – Mountain Joe's
Now this not be the first name on your lips in the world of gym snacks, but if it's not in the conversation then you're doing something wrong.
Mountain Joes has an incredible selection of bars, brownies, blondies, cake bars, and so on with all manner of wild flavours…white chocolate blondie, millionaire, chocolate candy cream, etc.
I love the array of treats here, with variety packs on offer too it would be hard to find something you wouldn't try. A bar I'd like to point out and recommend is there Chocolate Eggsplosion bar, yeah you are right, think protein bar meets Mini Eggs, doesn't that sound amazing?
What's even more inviting is that with a lot of 12-pack purchases, you'll receive a free 10-pack of caramel brownies, so 22 snacks in total for much less than you'd pay anywhere else.
The Eggsplosion bars will supply you with 18g of protein and will cost you £29.99 (don't forget the free brownies).
If you haven't yet, get over to Mountain Joes. I almost forgot about our Mountain Joe's discount code, GYM20 for 20% off!!!
Visit the Mountain Joe's website here to shop.
5 – Aldi Protein Bars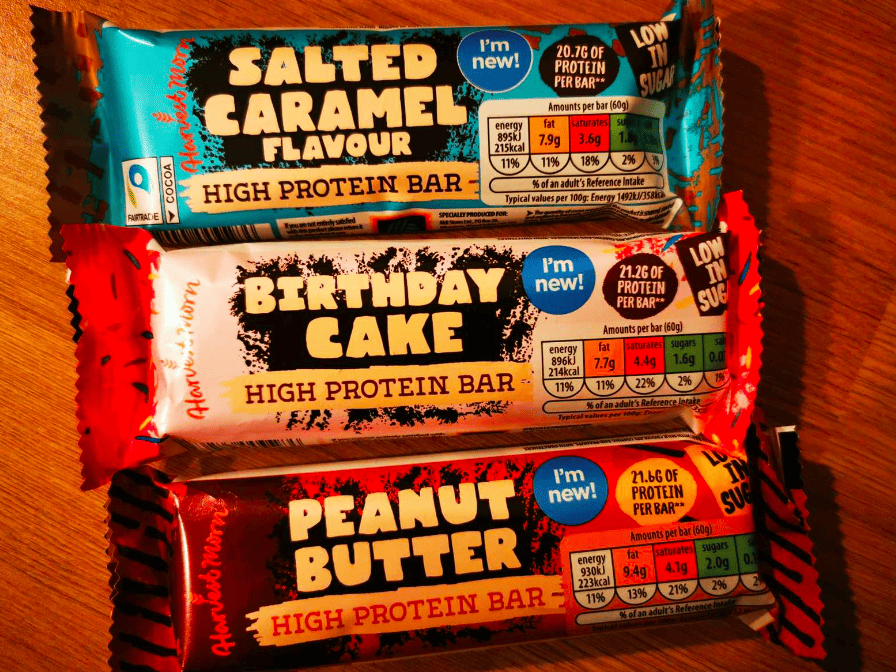 Yes, yes, you are reading that correctly. The nutters over at Aldi have smashed it again with their own cereal protein bars. Indulge in their Cookie Dough and Salted Caramel flavours and indulge in something else from the illustrious middle aisle because these will only cost you £1.09.
£1.09!!
Don't rub your eyes, that is correct, around half the price of most other bars on the market.
20.07g of protein per bar…it just keeps getting better doesn't it.
I'm done talking about these, there aren't enough superlatives to describe these high-protein yet cheap pre or post-workout snacks.
Just go and get them!!!
Visit the ALDI website here to shop.