We've been big fans of supplement brand Vitl since we first discovered their brilliant personalised vitamins, and now with delicious protein bars added to their range we're even bigger fans.
There are three different protein bars in the range – Focus, Energy, and Glow – and what sets them apart from other protein bars out there is that they all have carefully chosen added vitamins and minerals for extra, health-boosting benefits.
So along with a great hit of protein to help you build muscle mass and strength, recover after exercise, and stay fuller for longer, you also get specific extras that help you get mental clarity and focus, give you a super boost of energy, and help you glow from the inside out.
All three protein bars are amazing, but there is something special about the Glow bar. I mean, it's basically a chocolate bar that is good for your skin. Actually, it's great for your skin. It's great for your hair too. Basically it's an all round beauty booster, giving you glowing skin, strong nails, and healthy, shiny hair.
The Glow bar is the ultimate glow supplement, packed with 14g of protein which is a key building block of healthy skin and is essential for keeping it plump and healthy. It also has Vitamin E, Biotin, Zinc, Selenium, and Iodine, which all work together to reduce inflammation, boost the skin's firmness, hydration and smoothness, and give the skin that gorgeous glow.
With all those skin-boosting, healthy ingredients you might think that there's no way that the Glow protein bar could taste great, but you would be oh so very wrong.
Vitl's Glow protein bar is an indulgent Dark Chocolate and Raspberry flavour, that tastes absolutely incredible. It has a zesty raspberry dough base with a velvety raspberry flavoured centre and a silky dark chocolate coating with a soy crispy topping.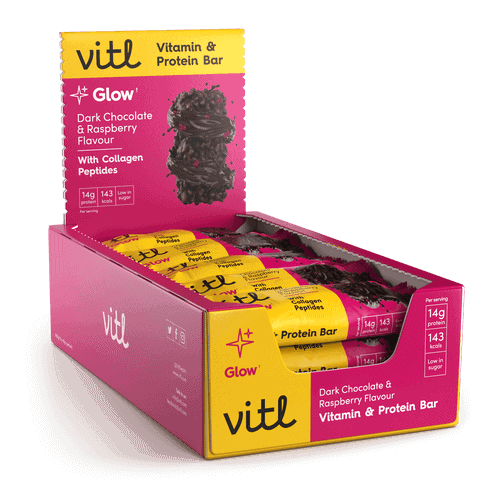 The mix of rich dark chocolate and sweet raspberry just works so well and makes the Glow protein bar the perfect treat to have with your afternoon cuppa to see you through the afternoon. It's also great to have after a workout for a little boost or in the evening when you want something sweet to eat while you're binge-watching Netflix (just be mindful that there is caffeine in them so maybe don't have one too late at night if you know that impacts your sleep!).
You can get a box of 15 Glow protein bars for £29.95 from Vitl's website, or you can set up a subscription with them and get a box delivered right to your door every month for £26.95 each time. I have to admit, I do love the idea of a fresh stash of these gorgeous, glow-inducing bars arriving at my front door every month.
I mean, who wouldn't want to have one of these delicious, chocolatey, healthy protein bars ready to go at any time you need a tasty, feel-good snack!
Vitl Discount Code
Here's something to give you even more of a glow – a gorgeous discount code to get you 30% off your order of Vitl protein bars. Just load up your basket with your favourite flavours and then use the code GFBARS30 at the online checkout. Looking great has never tasted so good!
Visit the Vitl website here to shop now.