Working out can take its toll on all of us and with heavy squats, deadlifts and brutal back machine exercises our shoulders, neck and back will take a lot of beating and need repairing. We have reviewed other recovery products including massage balms, BCAA's and supplements but nothing quite like the Donnerberg Das Original Klopfy Massager.
Donnerberg is the massage king of Germany who offers neck massagers, vibration plates, massage guns, back support and a whole host of other products to help people recover whilst at home and without assistance.
Donnerberg Das Original Klopfy Massager
The Donnerberg Das Original Klopyfy NM-088 tapping massager is not your everyday purchase but it should be. It features a vast range of settings to help with your recovery including:
Tapping massager
Shiatsu & tapping massage in one
Infrared heat
Crafter with the finest German engineering and manufacturing this is a product that will last and is even backed by a 7-year warranty which makes it the best value workout recovery product on the market.
What Does It Do?
Quite simply it replaces an incredibly expensive masseuse! Simply get comfortable, find your perfect setting and let it work its magic. Infrared heat soothes you whilst the tapping or Shiatsu massage works its way in multiple directions to loosen up stiff and sore muscles.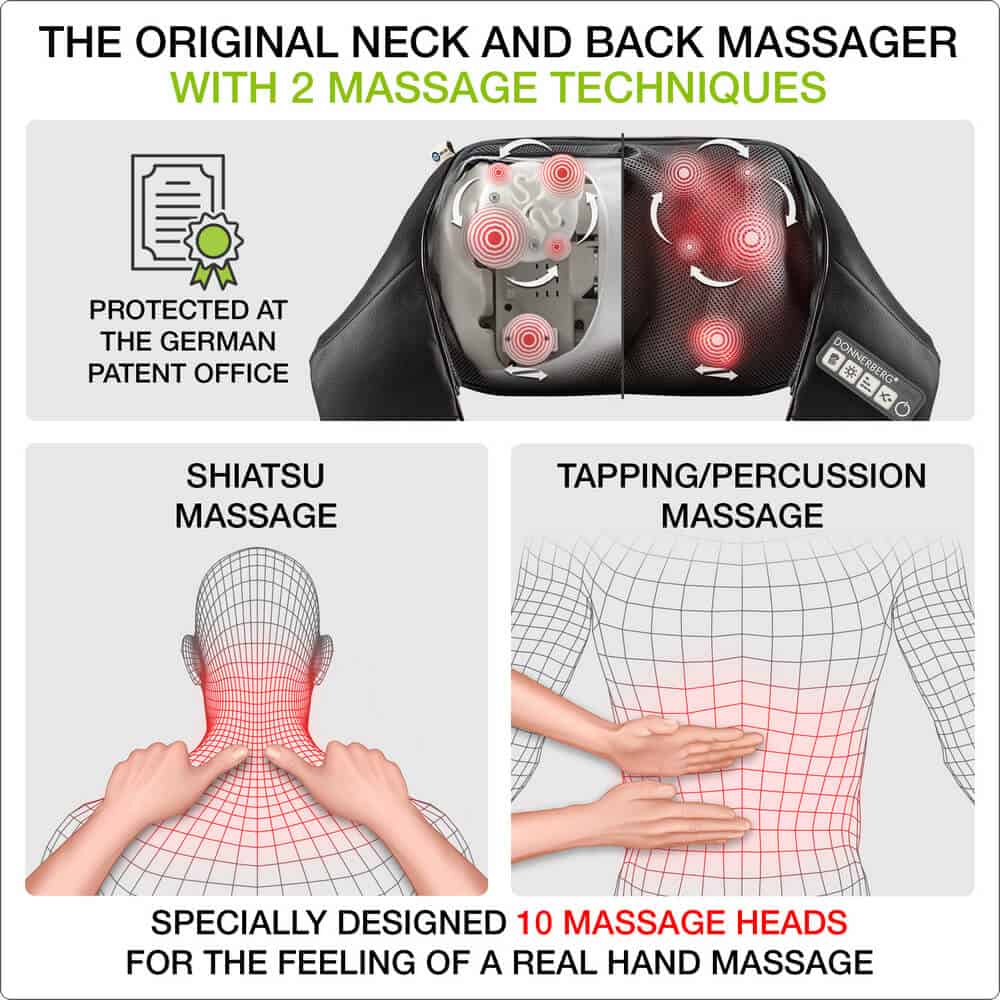 The Donnerberg Klopfy has two levels of adjustable infrared heat, a silent drive motor and 10 massage heads which feels way better than just 2!
How To Use
Simple! Put your arms through the loops and align it with your target area, select from the 5 setting buttons for tapping/percussion, infrared heat, speed, Shiatsu massage and turn it on/off when needed. Sit at your desk, stand up, lie down or make it work how you want it to. Just play around with the settings until you find that perfect massage feeling.
Donnerberg Das Original Klopfy Massager Review
Here at Gymfluencers, we like to make sure every product is tried and tested by our team of health and fitness professionals so with that in mind we have all spent many an hour 'working' on this review playing with all of the different settings and heat functions.
Our verdict is simple – buy it! It's an interesting device at first and feels a little strange due to the way you loop your arms through the handles and manoeuvre the equipment to find the perfect spot. After a few tries, it becomes logical and actually achieves what so many other massagers cannot… a targeted massage without you needing to lift a finger.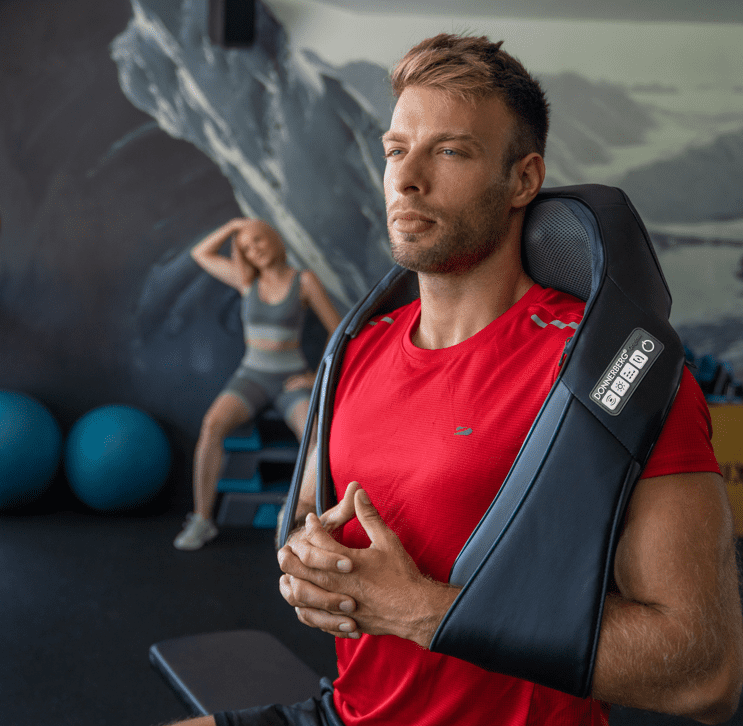 The ultimate method to using this wonderful massager is to lay on a bed on your front, loop your arms through the holes and align it to the target area on your back and shoulders and then just let it work its magic. You can pull it in tighter if you want the harder/deeper massage feeling or loosen it up and feel soothed with the light tapping setting.
Most other massage products require you to move the object, be awake and essentially do it yourself. This one you can turn on and even have a light snooze whilst it works its magic.
Price
The Donnerberg Klopfy will set you back €199 (or save 10% when using code GF10 at checkout on the Donnerberg website) which works out to cost the same as just 4 real-life massages. With a 7-year warranty and unlimited uses, this price gets our thumbs up. Why drink BCAA and spend £500 on supplements that don't work when you can buy this amazing product that will last for years to come?
If you are looking to save a little more money and only want a back massager then the Donnerberh Krafty RM-099 back massager will only cost you €139 and do the job you need.
Alternative Recovery Methods
Many like to use supplements, cryotherapy or even be like Eddie Hall and try a Hyperbaric Chamber for maximum recovery.