The human metabolism is a critical pillar of our health and wellness, often compared to a furnace that efficiently burns energy derived from our food intake. When we exercise, lose weight, or gain weight, it's our metabolism acting as the maestro orchestrating these bodily changes. Today, we aim to unfold the importance of metabolism in our health journey and introduce an effective aid, the JSHealth Metabolism + Sugar Support supplement.
When we work out, our bodies ramp up metabolism to meet the increased energy demands. During this process, carbohydrates, lipids, and proteins are broken down, converted into glucose, and then utilized for energy. A balanced, efficient metabolism ensures that these processes occur smoothly, contributing to optimal workout results.
Similarly, in weight management, metabolism plays a quintessential role. To lose weight, the metabolic rate must exceed caloric intake, promoting fat burning. Conversely, to gain weight, caloric intake should be more than the metabolic rate, enabling the body to store excess calories as fat.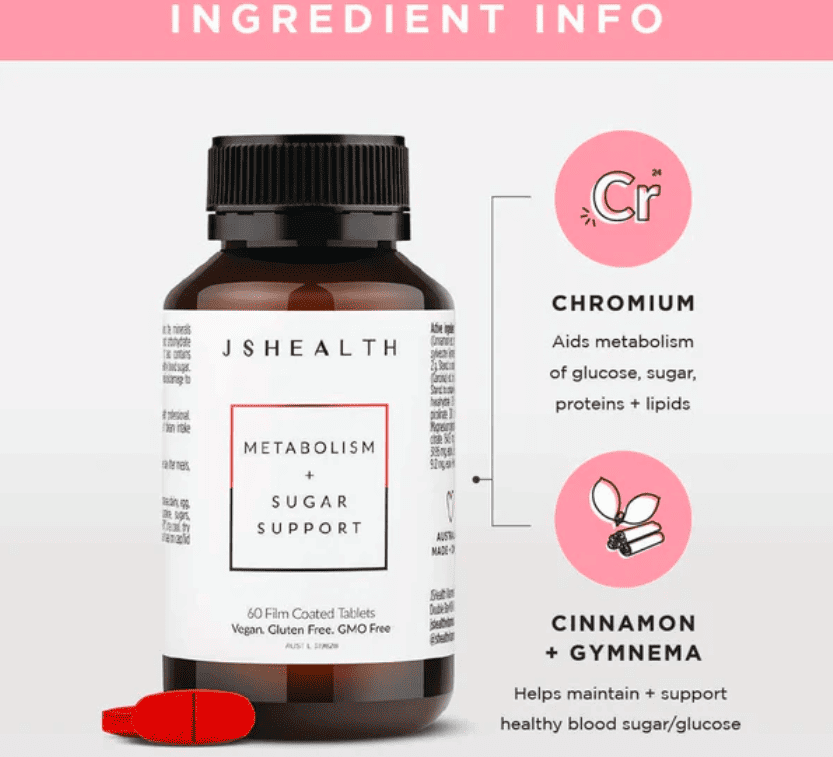 Now that we understand the pivotajs healtl role metabolism plays in our health, let's introduce an effective way to support it: JSHealth's Metabolism + Sugar Support supplement, a global best-seller in metabolism support, nutritionist formulated in Australia. The supplement contains a carefully selected blend of ingredients that support metabolism and maintain healthy blood sugar levels. It's no surprise that this has become a community-loved formula.
What sets the JSHealth Metabolism + Sugar Support supplement apart is its holistic approach. The ingredients are designed to work synergistically, providing comprehensive support for glucose, sugar, and carbohydrate metabolism, maintaining normal blood sugar levels, and preventing energy slumps.

Key ingredients include Zinc, Chromium, Vitamin B6, and Magnesium, each contributing uniquely to support your metabolism. For example, Zinc aids glucose, sugar, and carbohydrate metabolism and helps maintain skin and immune health. Chromium assists with glucose, sugar, and carbohydrate metabolism while helping maintain healthy blood sugar levels. Vitamin B6 supports nervous system health, energy-yielding metabolism, and protein and glycogen metabolism. Lastly, Magnesium maintains and supports energy levels, essential for those grueling workout sessions or busy days.
For the best results, adults should take one tablet with water twice daily, ensuring not to exceed the recommended daily amount. Like any supplement, it is essential to consult your healthcare professional if you are pregnant, breastfeeding, or under medical supervision.
The convenience of this product lies in its simple twice-daily dosage. Coupled with the rigorous quality control procedures and thoughtful formulation, it truly stands out in the market of metabolism supporting products.
The JSHealth team prioritizes quality and care in sourcing the ingredients of their products. They believe in nourishing your health, confidence, and wellbeing with a holistic approach, and this product is no exception.
Now, to make your journey towards a healthier metabolism even more accessible, make sure to use our 20% off JSHealth Metabolism and Sugar Support Discount Code. This discount allows you to start or continue your health journey while ensuring your pocketbook stays healthy too!
In summary, understanding the role of metabolism in our health journey can open doors to achieving our wellness goals. And with the help of supplements like JSHealth Metabolism + Sugar Support, we can give our bodies the right support to enhance metabolic function and maintain healthy blood sugar levels. Remember, a well-functioning metabolism is a stepping stone to an overall healthier you. Embrace the journey with us today!
Visit the website here to shop now.